Ask a seasoned backpacker about their bucket list and they'll name-check some of North America's most legendary routes. Pacific Crest Trail. Appalachian Trail. Continental Divide Trail.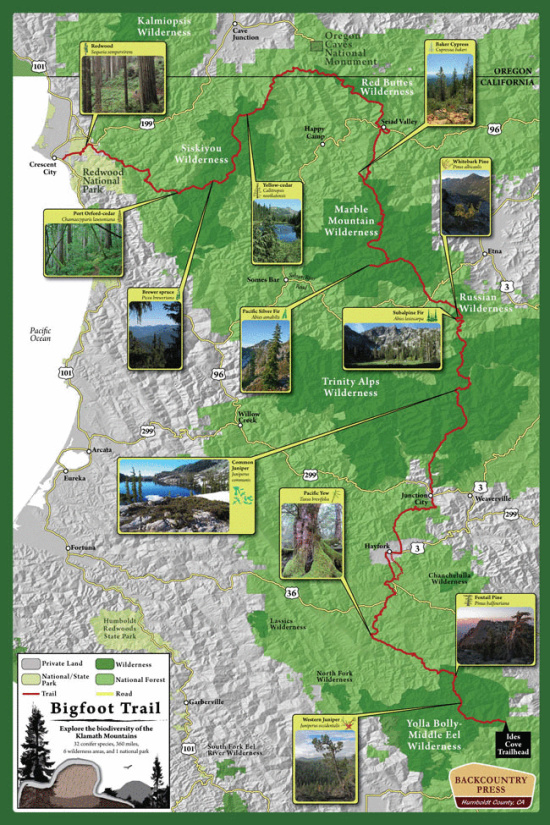 One local group is trying to add another name to that list: The Bigfoot Trail, and they're off to a strong start.
And after you poke around photos of the trail, you can see why.
While savvy hikers with decent maps can already string the route together using existing trails and roads, organizers want to unify this unique part of the world by establishing a through-hike that travels through its best biomes.
After the Bigfoot Trail Alliance Kickstarter campaign surpassed its goal three times over, author and organizer Michael Kauffmann is feeling confident that a 360-mile hike through the Klamath, Marble, and Trinity wilderness deserves a spotlight.
Via BigfootTrail.org:
The trail begins on the subalpine slopes of the Yolla Bolly-Middle Eel Wilderness, traverses the Klamath's most spectacular peaks, crosses all its wild rivers, and ends at the edge of the continent in the temperate rainforest.
The trail traverses at least six major watersheds and one national park.
"And then somebody pointed out…that if you end with a toe in the Pacific ocean, you're in the California coastal national monument," Kauffman told KHUM earlier today.
He said that the Klamath mountains offer a multitude of hidden gems, from caves littered with saber tooth tiger fossils to majestic trees that require marble in their diet.
"You've heard of the Marble mountains. Well, Marble mountain is a giant chunk of marble. It's been eroded for millions of years, there're caves all over it.

There's a relic stand of trees at the top called foxtail pines, which happens to be my favorite conifer. These things… it's just like a museum."
Although the fundraising goal was met, they will still absolutely take your donation.
From their Kickstarter page:
All additional funds will go towards meeting the mission of the BFTA: creating a community committed to constructing, promoting, and protecting the Bigfoot Trail. We need a nest-egg to get off and running (or, hiking, for that matter). It has been beyond wonderful to see such support for the future of the Bigfoot Trail Alliance!
Click below to hear Kauffman try to make you take a month off to hike the Bigfoot Trail.
Previously: