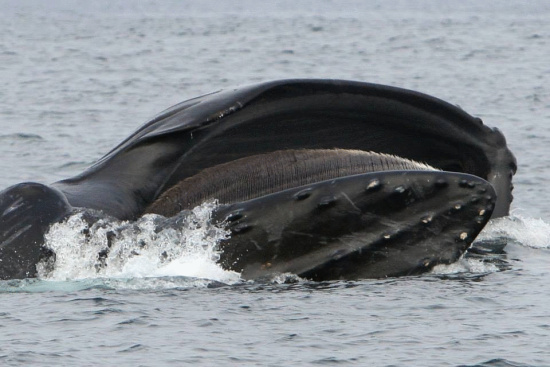 Endangered Humpback whale
On Monday, news that the Obama administration approved Royal Dutch Shell's proposal to drill for oil off the Alaskan coast this summer was characterized in the New York Times rightly as "a major victory for the
petroleum industry and a devastating blow to environmentalists" — the area where Shell plans to drill is one of the most important late-summer animal refuges, home to half of all U.S. polar bears and is an important habitat for many at-risk animals, including endangered humpback whales.
This is a wrenching disappointment to those who've fought to keep Shell out of the Arctic; the potential devastation to the wildlife within the Chukchi Sea is real – and given the industry's track record, the question is sadly not "if?" but "when?"
Cindy Shogan, executive director of Alaska Wilderness League, recounted Shell's ugly history in the Arctic:
As we all remember, Shell's mishaps in 2012 culminated with the Kulluk, its drilling rig, running aground near Sitkalidak Island, Alaska. And, just last week, Vice reported that in April the Coast Guard held the Noble Discoverer in Honolulu for a day until engineers could repair the device that separates oil from the water in the ship's bilges. This is the same ship whose operators pled guilty to eight felonies after Shell's last failed season in the Arctic. You might also remember that the Noble Discoverer had 16 safety and environmental violations and slipped an anchor, nearly running aground, and caught fire at one point.
In contrast, legislation to permanently ban offshore oil drilling along California's coast is moving through the Senate. State Senator Mike McGuire — representing the coast north of the Golden Gate bridge to the Oregon border — introduced SB 788 last month, and the bill has passed handily through the state's Senate Natural Resources Committee.
Now, you may be asking, didn't California already ban offshore oil drilling? After that time in 1969 when, for 11 days, more than 4 million gallons of crude oil blew into the ocean just off of Santa Barbara's coast? And two hundred square miles of ocean and 35 miles of California coastline were oiled and thousands of animals were killed?
Well, sort of. Mostly. But a loophole has existed, which means new offshore oil leases are a real possibility in California and developers are already testing the political waters.
SB 788, The Coastal Protection Act, will close this loophole in the Coastal Sanctuary Act that currently would allow the State Lands Commission to grant new leases for offshore oil and gas development.
Senator McGuire joins co-hosts Mike Dronkers and yours truly on today's Coastal Currents (noon on KHUM) to discuss why oil drilling off California's coast is still a bad idea and why all Californians should support his bill.
Meanwhile, as Shell's drilling rigs muscle toward Seattle's port, pro-Earth activisits are planning a more direct action approach.
Jennifer Savage serves as the Northcoast Environmental Center's Coastal Programs Director. The NEC has signed on in support of SB 788.