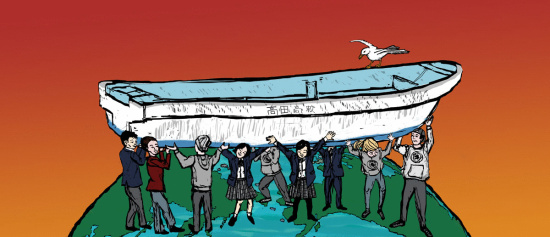 In need of a heartwarming story of success and hope? Not to undermine the horrific tragedy of the 2011 Japan earthquake and resulting tsunami, but there is a silver lining. Back in 2013, a small fishing boat that had been swept away by the tsunami washed ashore in Crescent City. A group of hard-working Del Norte high school students rallied together and succeeded in sending the boat back to the high school in Rikuzentakata, Japan, where it came from.
You can now read this story as it is told in a children's book freshly released this month through Humboldt State University Press. The book — "The Extraordinary Voyage of Kamome: A Tsunami Boat Comes Home" — is co-authored by Humboldt State University Emeritus Geology Professor Lori Dengler and Amya Miller, the Director of Global Public Relations in Rikuzentakata, and features illustrations by Arcata artist Amy Uyeki.
You can also listen to the recent Coastal Currents podcast "Tsunami Boat," featuring guest Lori Dengler, for insider details on the story.
We are still receiving debris from the Japan tsunami and expect more to show up on our coast over the years. Join the Northcoast Environmental Center (NEC) this weekend in an effort to monitor tsunami-related debris and clean up two local beaches!
Monitoring allows us to track and better understand the amount of debris that went into our oceans and the possible impact it can have on our natural resources, marine life and coastal communities. Items from the tsunami are often distinctly puzzle-like wood/building materials, buoys, bottles, plastics or any other item with Japanese characters.
There are two opportunities to help the NEC with monitoring and beach cleanups this weekend:
Saturday, Nov. 14 at 10 a.m.: Samoa beach (Power Poles) Humboldt County
Sunday, Nov. 15, 10 a.m.: Point St. George beach, Del Norte County.
Speaking of ocean debris … California's plastic bag ban is in jeopardy. On Nov. 8, 2016, state citizens will vote on the "California Plastic Bag Referendum," which will underscore last year's legislation banning single-use checkout bags. Leading the "no" campaign is an industry group called "The Progressive Bag Ban Alliance," which is spending millions of dollars in an effort to overturn the ban.
There are already over 100 plastic bag ordinances in California and municipalities are permitted to pass more. The Humboldt Surfrider Chapter helped the City of Arcata pass their own "Reusable Bag Ordinance," which went into effect in 2014.
The Surfrider Foundation is one of the organizations leading the charge to keep the bag ban alive and has helped launch the campaign California vs Big Plastic. Keep informed and take the pledge here to support the bag ban.
###
Delia Bense-Kang serves as the Northcoast Environmental Center's Marine Protected Area Outreach Coordinator and chairs Surfrider Foundation's Humboldt Chapter.