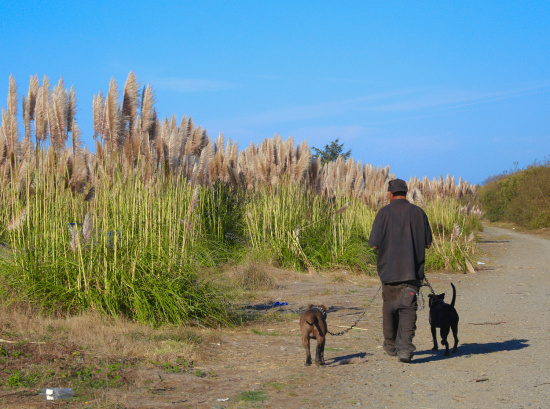 From the City of Eureka:
On March 18, 2016 the City set a date of May 2, 2016 for individuals camping in the Palco Marsh to leave the area. The City has been working local service providers to coordinate efforts to assist those camping in the marsh to obtain temporary housing, bus tickets back to family, or other services such as treatment options for drug or alcohol abuse. In March of 2016 there were 180 individuals living in the marsh area. As of today, 113 individuals remain illegally camped in the area from Palco Marsh north to West Del Norte Street.

Beginning on May 2nd through at least May 6th 2016, the waterfront greenbelt areas between Truesdale and West Del Norte Streets west of Broadway will be completely closed to all pedestrian bicycle, or vehicle traffic. This closure is due to the planned police enforcement and property maintenance operation being conducted during that period. Unauthorized person(s) entering this police operational area will be subject to arrest upon entry.

Any illegal campers still remaining in the Palco Marsh area will be subject to arrest. All entrances to the area will be monitored and entry restricted. All remaining illegal campers in the marsh are urged to seek services or temporary housing from one of the many service options. A service fair will be held on Friday, April 29th from 9 am until Noon at the parking lot behind the Bayshore Mall. An additional special fair will be held at the foot of West Del Norte Street on May 2, 2016 from 8 am until 5 pm.

Camping in any City park or greenbelt is prohibited. Anyone who notices camping in a City greenbelt or park should contact the Eureka Police Department. EPD and City staff will respond to calls for camping within the City of Eureka as time allows.