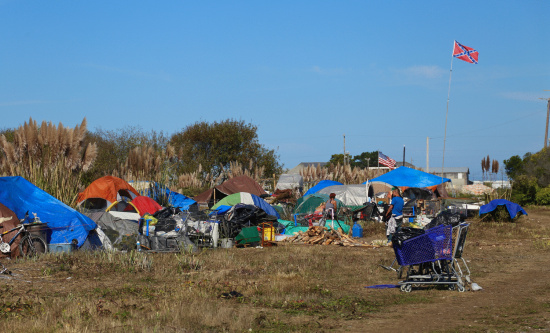 PREVIOUSLY:
###
Yesterday we mentioned that a federal court ruled, largely, that the city of Eureka would be free to carry out its plan to dismantle the longstanding homeless encampments in the Palco Marsh, aka the "Devil's Playground" — the waterfront green belt between the foot of Del Norte Street and the Bayshore Mall.
The only hitch that Judge Jeffrey S. White threw in, as he ruled on a temporary restraining order requested by attorney Peter Martin on behalf of 11 marsh residents, was that the city would have until 5 o'clock today to demonstrate that it will house those 11 petitioners in some other spot, and care for their stuff.
This afternoon the city did that, filing a proposed order for the court to sign. In it the city (the defendant in the case) stipulate that
Defendants must provide emergency shelter, not at the city-owned parking lot located at the corner of Washington & Koster Streets, for all eleven Plaintiffs beginning on Monday, May 2, 2016. Such provision is not indefinite and Plaintiffs stay at any emergency shelter within the City of Eureka shall be subject to the rules and limitations of such shelter.
Also, the city promises to park a shipping container either in the North 40 parking lot, adjacent to the Bayshore Mall, or at the city's corp yard, and to store the Marsh 11's personal belongings in that container for no longer than 90 days.
Link to full proposed order below. The city will empty the Palco Marsh Monday, forcibly arresting those who refuse to leave.
###
DOCUMENT: