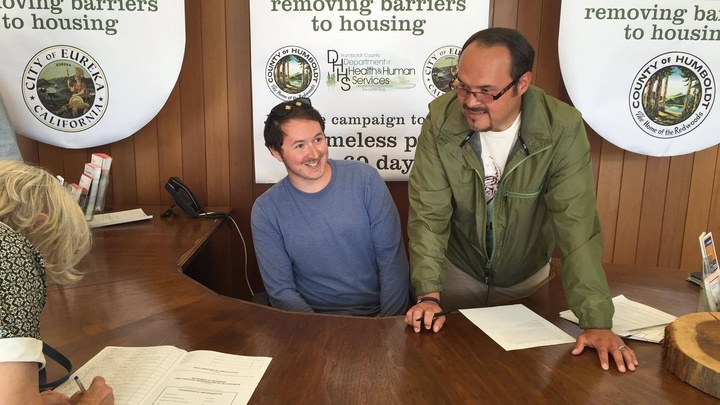 Back in August, Eureka City Councilmember-elect Austin Allison qualified for the ballot at almost literally the last minute, in part by collecting his qualifying signatures on deadline day in the foyer of Eureka City Hall. Now, following Allison's upset victory over public accountant John Fullerton on Election Day, a Eureka resident has filed complaints with local and state agencies alleging that Allison's signature gathering constituted "campaign activity" on public property, a violation of the state's election code, and that therefore Allison should be disqualified from serving on the council.
Robert Tuel, a Fullerton endorser, first made the allegation in a comment on John Chiv's blog and has made it on the Outpost as well. Since then both Chiv and the anonymous blog The Humboldt Consequential have run with the accusation, agreeing with Tuel that collecting signatures on City-owned property is, "like, totally illegal."
Tuel has since filed complaints with Humboldt County District Attorney Maggie Fleming and the California Fair Political Practices Commission (FPPC).
"My official complaint and concern is that this candidate, as well as 3 other members of our City Council, did engage in unethical practices prior to his being nominated for the ballot," Tuel's complaint reads. The three councilmembers in question are Linda Atkins, Natalie Arroyo and Kim Bergel, all of whom signed Allison's nomination papers.
"In the final hours before deadline, they held a signing of his nomination papers in the lobby of our City Hall," Tuel wrote (the bolding is in the original). "This is a violation of the Election Code. … For these reasons, Mr. Allison should not be allowed to sit on our City Council. I am aware that ballots/votes are to be certified very soon — please consider this complaint with urgency, as time is of the essence."
So, is Mr. Tuel correct? Did Allison — or anyone else — break the law? And if so, what's the penalty?
Fullerton, for his part, suspects rules were broken, though he admits that he's not a lawyer. "It has always been my understanding that a city or a school district can't have activities — political activities — on its grounds related to any election," he said. "I would not have done anything in the lobby of the city hall, but what the law is I don't know for certain."
Tuel doesn't specifically identify which section of the law he believes Allison violated. (The Outpost reached out to him for clarification but has yet to hear back.)
[UPDATE: Tuel responded vial email: "I think it would be best if i refer all questions regarding Austin Allison to the Fair Political Practice commission and the California State Attorney generals office Investigative Services."]
The relevant section of state government code appears to be 8314, which states, in part, "It is unlawful for any elected state or local officer, including any state or local appointee, employee, or consultant, to use or permit others to use public resources for a campaign activity, or personal or other purposes which are not authorized by law."
The first thing to note in the text is that this rule applies not to candidates (much less aspiring candidates) but to elected officials and employees. According to Allison he'd gotten permission from city officials to set up in the foyer of City Hall, and the signature-gathering was organized not by the three city councilmembers who signed his nomination papers but by eventual campaign manager Tamara McFarland.
"Considering multiple city staff officials, councilmembers [and] the city clerk all knew what we were doing — and had no problem with it — I don't see how we could have possibly violated any law," he told the Outpost. Bergel said City Clerk Pam Powell had approved the activity.
[UPDATE: In an email to the Outpost, Powell stated, "I was aware that signatures were being gathered in the City Hall Lobby, but no one asked me for permission and I did not approve or object to the activity."]
Asked if any City rules had been violated, Powell forwarded a policy memo adopted 40 years ago that addresses "the improper use of public resources for political purposes," as defined by the California Attorney General. As with the state elections code, this policy applies only to municipal employees, so presumably Allison would not be personally liable if a violation occurred.
In the list of activities that are "clearly illegal when they occur in a context relating to gaining or retaining public office," the City's policy lists:
Any use of telephones, paper, envelopes, duplicating facilities, stamps, postage meters, bulk rate permits, office space, credit cards, automobiles, other forms of transportation or any similar items belonging to a public entity or purchased with public monies. [Emphasis added.]
Does the foyer of City Hall count as office space? Going back to California Government Code Section 8314 we find an apparent contradiction. Subsection (a)(2) states, "'Campaign activity' does not include the incidental and minimal use of public resources, such as equipment or office space, for campaign purposes … ."
Still, if we assume that the law was indeed violated, the penalty would not be disqualification of Allison but rather "a civil penalty not to exceed one thousand dollars ($1,000) for each day on which a violation occurs, plus three times the value of the unlawful use of public resources," according to the Elections Code. That fine would be levied not against Allison but rather any city employee(s) found to have violated the law. Even that would require a civil action brought by the state's Attorney General and an eventual conviction, according to the statute.
So, are any of the agencies Tuel complained to likely to instigate such a prosecution? Fleming — who, incidentally, caught some mild flak for launching her own campaign on the steps of the county courthouse — referred Tuel to the Secretary of State, explaining, "that office is responsible for investigating violations of the California Elections Code."
The Outpost contacted the Secretary of State's office and asked whether any rules had been violated. Press Secretary Sam Mahood responded via email, "I'm not aware of any specific California Elections Code Sections specifying where signature gathering can occur" and suggested contacting the FPPC.
A spokesman for that agency, in turn, suggested contacting either the Secretary of State, the county District Attorney or the Eureka City Clerk. However, he also noted, "It doesn't sound like it's anything within the purview of the Political Reform Act. … Most of the misuse-of-public-funds stuff is not in our jurisdiction."
In short, it appears that none of the agencies overseeing elections in California are eager to prosecute based on Tuel's complaint, and if they were, any resulting penalties would would consist of fines levied on city staff.
Councilmember Linda Atkins suggested that Tuel's complaint was politically motivated. "This does seem like an extreme case of sour grapes at losing the election," she said. "I'm disheartened that anyone would go to this length to attempt to overturn the will of the voters."
Allison, meanwhile, said he had to block Tuel on Facebook after being barraged with accusations. "He's probably the most negative person I've ever talked to," Allison said. "Sometimes I had to answer his question three times. He is convinced I was doing something illegal and that I'm unfit for council duty. You can only deal with that for so long."