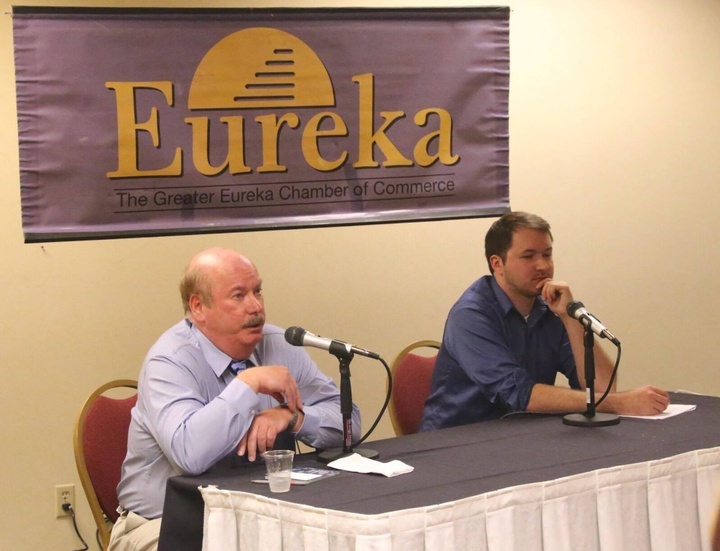 Eureka City Council candidates John Fullerton and Austin Allison have engaged in a number of debates during this campaign season, and for the most part they've been real snoozers. The two contenders share similar views on many key issues, including economic development, homelessness, Measure S and Measure U. And they're both fairly soft-spoken in the public forum.
But when it comes to typed and printed words things have gotten rather testy. Back in September, for example, Fullerton took umbrage with the "negative" tone of some letters to the editor supporting his opponent. "Allison Austin [sic] cannot feign ignorance as he has thanked the letter writers several times on his Facebook page," Fullerton noted in a letter of his own.
Fullerton also linked to his letter on Facebook with the following message: "I am calling upon my opponent to change the negative tone of his campaign and stick to the record instead of making up stuff."
Last month Fullerton offered a $1,000 reward for information leading to the culprit(s) who stole and defaced a number of his campaign signs, a crime he attributed to Allison supporters. (Allison condemned the vandalism.)
Yesterday tensions reached a new high after Allison's campaign manager, Tamara McFarland, took to Facebook to rage about the latest letter to the editor from Fullerton. Fullerton and Allison themselves soon joined the ensuing comment battle, and their argument is notable not just for the sparks it generated but also (and more importantly) for the fact that it seemed to reveal a genuine philosophical difference between the two men, a contrast that might (or might not) predict how each candidate would serve as a public official.
The context of the argument involves the ongoing shit-show surrounding the planned closure of three skilled nursing facilities in Eureka. Allison, who works at St. Joseph Hospital and is a member of the National Union of Healthcare Workers, has actively engaged in protests over those planned closures, often speaking to reporters. In a letter published in last week's North Coast Journal a supporter commended Allison for his involvement while criticizing Fullerton for focusing instead on the "childish pranks" played on his campaign signs.
Fullerton returned fire with a letter in this week's Journal wherein he argued that the nursing home issue, while tragic, "has nothing to do with the Eureka City Council and is totally out of the city's hands." The closure involves private negotiations between Rockport HealthCare Services, the Medi-Cal provider and the state, Fullerton reasoned, so anyone not directly involved doesn't have all the facts. Allison's public involvement in the protests amounts to grandstanding, he suggested: "It is political pandering at its worst and cheapest to speak out when you are uninformed. Our senior citizens deserve better."
The Facebook argument followed the same contours, with Allison and his supporters arguing that community leaders should speak out on matters of principle, regardless of whether they fall under one's jurisdictional authority while Fullerton dismissed such displays as "[p]osturing in front of TV cameras."
It was idealist versus pragmatist, and things got spicy.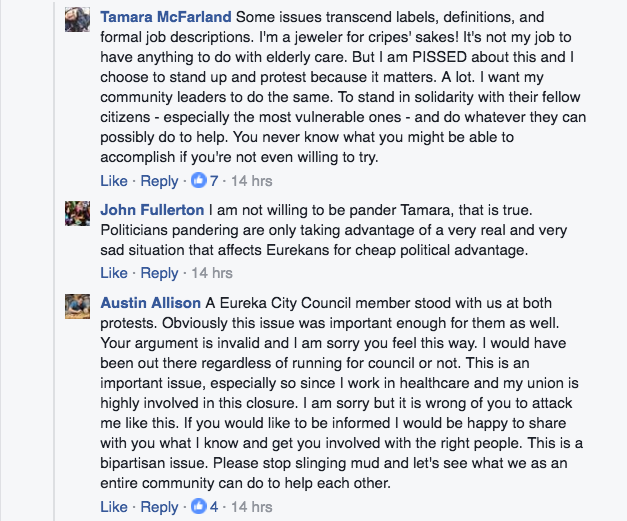 Fullerton, who faced the disadvantage of fighting on enemy turf, continued to characterize Allison's actions — especially appearing on TV news cameras — as posturing while Allison and his supporters insisted his actions were based on principle.

McFarland then stepped in with examples of Allison's prior community involvement, including union advocacy and the Occupy Wall Street movement.
The philosophical divide here extends to each candidate's supporters. "The current liberal majority on the council have started to get involved in issues that don't have any concern for the city of Eureka," Mayor Frank Jager told News Channel 3 early last month. Allen McCloskey, who had planned to run in Allison's place until dropping out at the last minute, countered that as mayor Jager "should be advocating for a wider spectrum of [public] participation."
Do purely idealistic gestures have a place in government? The Arcata City Council has a history of such actions, including its 2002 proclamation opposing the Iraq war and their subsequent resolution demanding the impeachment of George W. Bush and Dick Cheney. On Tuesday California voters will have an opportunity to weigh in on whether the Supreme Court's Citizens United ruling should be overturned, a vote with no legal consequences.
But the skilled nursing home closures would have a direct effect on Eureka residents, and the company that owns them seems to care enough about the public protests that it manufactured one of its own. Still, Fullerton is correct that the Eureka City Council has no jurisdiction on the matter.
Which style of leadership will Eurekans choose Tuesday?