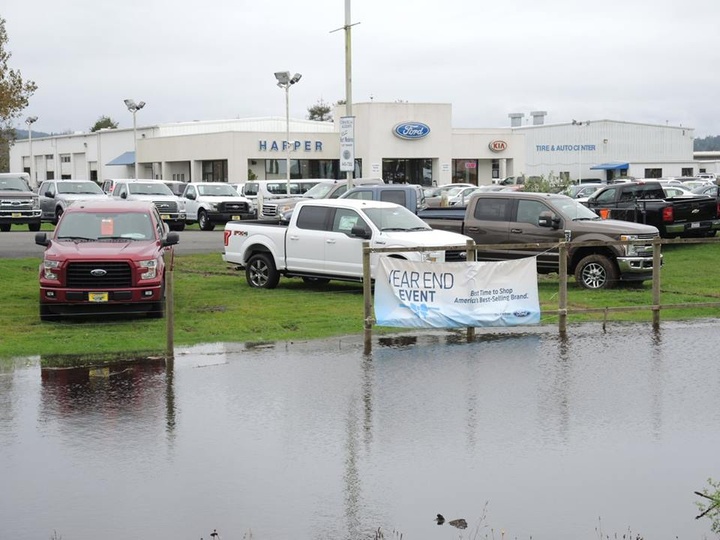 Humboldt Bay has been "higher" than usual the past couple of days due to the King Tide events. Wednesday's King Tide set an all time record, measuring 9.56 feet on the North Spit tide gage, nearly 1 foot higher than originally predicted. Yesterdays King Tide also proved to be more than 1 foot higher than predicted, with an observed height of 9.35 feet. The elevated water level can be attributed to the onslaught of rain and wind among other factors. To view historic and real-time observed vs predicted water levels of the North Spit tide gauge go HERE.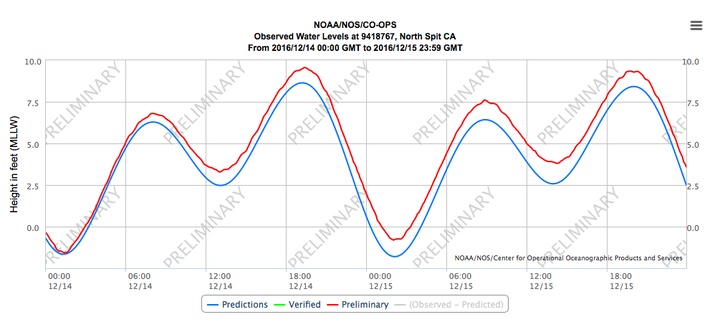 While the term 'king tide' isn't a scientific term, it is used to describe an especially high tide event, when there is alignment of the gravitational pull between sun and moon.

When king tides occur during cyclones, floods or storms, water levels can rise to higher levels and have the potential to cause great damage to property and the coastline.
The king tides are no more than the very highest tides that occur at each place. They:

occur naturally and regularly,
are predictable and expected, and
are not an every day occurrence.
Window into the Future
King Tide events give us the opportunity to peak into the future and see what the impacts of sea level rise could look like on our coastal communities. Primary impacts include increases in flooding and erosion. The Humboldt Bay region is predicted to have the highest local sea level rise rate in California due to land subsidence from relatively large tectonic vertical land motions associated with the Cascadia subduction zone. Sea level is projected to rise approximately 55 inches in California and 68 inches in the Humboldt Bay Region by 2100.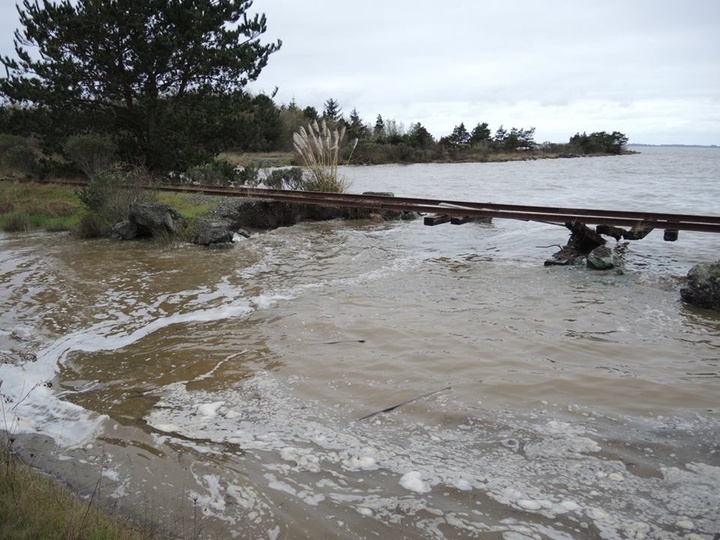 Exercise your ability to be a citizen scientist
Help Humboldt Baykeeper document these events in their King Tides Photo Initiative. This is part of a larger California King Tide Photo Initiative, which Baykeeper has contributed to since 2010.
When: The next King Tide event will be the first of 2017, Jan. 11-12. (could break the record again)

Where: Recommended locations to observe high tides include Halvorsen Park and the F Street boardwalk in Eureka, Woodley Island, the Mad River Slough Bridge on Highway 255 in Manila, Liscom Slough on Jackson Ranch Road in Arcata, Fields Landing and King Salmon. The tide levels in these locations vary in both height and peak time - check out NOAA's tide predictions.
How: All you need is a camera or a smartphone. Submit photos to KingTidePhotos@gmail.com.
*Be very cautious of rising water, eroding shoreline, flooded roadways, and high winds during any extreme high tide events.
Why: By capturing images of these extreme high tides, scientists and planners hope to gain insight into how rising sea levels will impact coastal areas in the future. The long-term dataset, helps inform residents and decision makers about the need to plan for the coming changes to our natural and built environments.
For more info on high tides, sea level rise and Humboldt Bay in particular, check out Humboldt Baykeeper's sea level rise site; theHumboldt Bay Harbor, Recreation and Conservation District's Humboldt Bay Sea Level Rise Adaptation Planning Project.
Photos from past years' King Tides are online at the Humboldt Bay King Tides Photo Initiative album.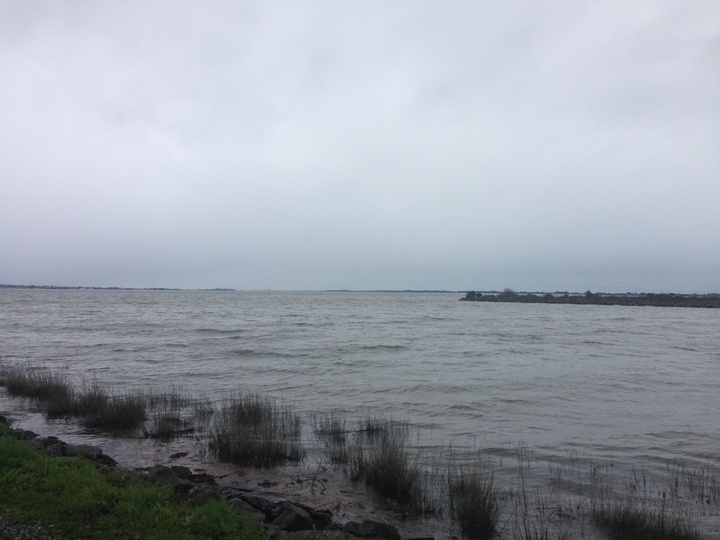 ###

Delia Bense-Kang serves as the Northcoast Environmental Center's Marine Protected Area Outreach Coordinator and chairs Surfrider Foundation's Humboldt Chapter.