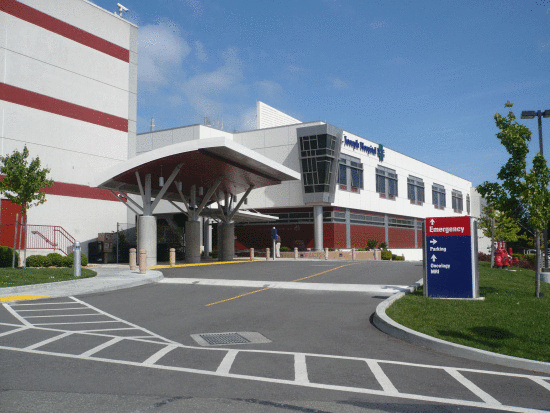 Two gay couples employed by Eureka's St. Joseph Hospital have filed a lawsuit against the Catholic institution alleging that hospital staff discriminated against them by refusing to let them work in the same unit with their partners while allowing straight couples to do so.
Nurses Donna Rotan and Pamela Hinson and lab workers Allen McCloskey and Antonio Moreno filed the suit last month in Humboldt County Superior Court, accusing the hospital of sexual orientation discrimination under the Fair Employment and Housing Act.
Hired as nurses early last year, Rotan and Hinson initially did work together in St. Joe's progressive care unit, but when Hinson transferred to the intensive care unit (ICU) last October, Rotan requested to be transferred there as well and was denied, according to the complaint.
"Ms. Rotan was advised that her transfer to the ICU had been denied because she and Pamela Hinson were in a relationship and that such transfers would violate [St. Joseph Health - Humboldt County's] employment of relatives policy," the complaint states.
Straight couples, meanwhile, have regularly been allowed to work in the same unit, even when one partner is supervising the other, according to the suit.
Eventually, hospital administrators backed down, telling Rotan last November that after reviewing hospital policy they'd determined that transferring her to the ICU would not, in fact, violate that policy, the complaint states. But the plaintiffs allege that they were asked to accept conditions on their behavior that were never required of heterosexual couples.
"Ms. Rotan advised [staff] that she and Ms. Hinson simply wished to be treated the same as heterosexual couples employed by [the hospital] and refused to agree to any terms and conditions not uniformly imposed on all employees in relationships regardless of their sexual orientation," the suit states.
McCloskey and Moreno's allegations are similar. The two are married, and last May McCloskey asked to be transferred to the St. Joseph Hospital laboratory as a lab assistant, the same location and position as his husband, Moreno. But according to the complaint, a supervisor first hesitated, saying he needed to check with Human Resources and later suggesting the position had been filled, and then denied the transfer request citing the hospital's "employment of relatives" policy.
Another supervisor later repeated the claim that the transfer would violate policy, the complaint states, and last October McCloskey accepted a lab assistant position at Fortuna's Redwood Memorial Hospital, which is also owned by St .Joseph Health System. While there, McCloskey noticed straight couples working together in the same department on the same shifts, the lawsuit states, adding that McCloskey asked administrators to apply the policy consistently.
McCloskey again asked to be transferred to the lab where his husband works but, the suit alleges, he's been given the runaround in the months since and still hasn't been transferred.
The suit was filed on Jan. 22 by attorney Benjamin Mainzer of Eureka firm Zwerdling, Bragg, Mainzer & Firpo, LLP. It alleges discrimination as well as failure to prevent discrimination and seeks damages for lost or diminished professional opportunities, humiliation, mental anguish and distress.
In an email to the Outpost, Mainzer said, "It is disappointing for St. Joseph Health to claim two of its core values are 'dignity' and 'justice' but simultaneously treat its nurses and technicians differently based on their sexual orientation. Donna, Pam, Allen and Antonio simply wish to be treated equally. They are not asking for special treatment, only for St. Joseph Heath to apply its policies consistently and fairly."
In response to a request for comment, St. Joseph spokesperson Tim Brunicardi told the Outpost, "the hospital cannot comment on pending litigation."
DOCUMENT: Rotan, et al. v. St. Joseph Health