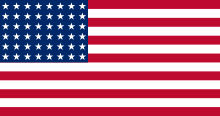 In case you, like other Outpost readers, were wondering why U.S. flags countywide are flying half-staff today, here is your answer.
In light of the recent death of Supreme Court Justice Antonin Scalia, the White House issued a proclamation last Saturday stating that "the flag of the United States shall be flown at half-staff at the White House and on all public buildings and grounds … throughout the United States and its Territories and possessions until sunset, on the day of interment." Scalia's funeral is scheduled for this Saturday.
The Outpost noted this morning that flags in Arcata and Eureka were flying low — we've compiled an incomplete gallery below — save for the one in front of the U.S. Post Office at the corner of Fifth and H streets. There, Old Glory is hanging on for dear life.