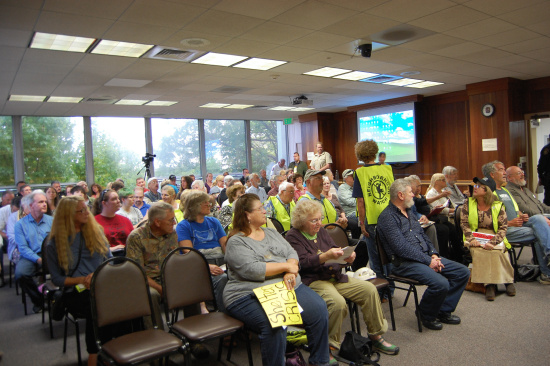 With all due respect to property crime and drug abuse, Eureka's most talked-about, most fought-over, most challenging problem has to be homelessness. For more than a year now the city has been working with county officials and a Sacramento consulting firm called Focus Strategies to analyze the complexities of the problem in Eureka, where 730 homeless people were tallied on a single night last year, as well as the best approach toward solutions.
On Tuesday afternoon at 2 p.m., the Eureka City Council and the Humboldt County Board of Supervisors will have a rare joint meeting in supervisors' chambers to receive the latest report from Focus Strategies, called "Homeless Strategy and Implementation Plan — Phase 1."
The report, which is available through the link at the bottom of this post, suggests a four-pronged strategy to reduce homelessness in Eureka and the county at large.
Suggestion No. 1 is deceptively simple and already well underway — the adoption of a "Housing First" approach. In years past, governments and nonprofits often attempted to address homelessness through a "housing readiness" approach, forcing people to take life skills classes and complete detox programs before they'd be accepted into permanent housing. But there's been a sea change in recent years as research has revealed that people fare much better when placed into permanent housing as the first step.
"Some programs in the community already operate using this approach," the report notes, "but there is no consistent county-wide understanding or implementation of Housing First."
The consulting firm suggests an official policy statement from the City, the County and the Humboldt Housing and Homeless Coalition, a group that includes representatives from non-profit housing and service providers. Focus Strategies also suggests a summit to provide training for the leadership stakeholders in the city and county governments.
Suggestion No. 2 involves the Mobile Intervention and Services Team (MIST), a joint city-county effort launched a year ago to connect local homeless people with services. "This has been a very positive step," the report says. "We recommend continuing and expanding MIST's ability to directly offer housing assistance to people as part of the outreach process."
Suggestion No. 3 is a bit more complex, even if it sounds simple: We need to make housing more available and easier to get into. The solution is not to reinvent the wheel but rather "to begin re-structuring and re-aligning existing efforts, including funding strategies" to make an array of housing options available.
Possible options range from moving in with a family member to emergency shelters, short-term rentals and, for those with severe mental health and/or substance abuse problems or a long history of homelessness, permanent supportive housing. The report also suggests recruiting local landlords who are willing to rent to the homeless, something the county Department of Health and Human Services has been working on for a while now.
Suggestion No. 4 calls for using data to track the progress being made. "Much of the success of the new approach will depend on being able to analyze what is working, what is not, and make adjustments as needed," the report states.
Last week the Eureka City Council declared a shelter crisis, which allows the city to bypass certain regulations and make city-owned properties available as emergency shelters. But with ongoing humanitarian, environmental and criminal concerns arising from encampments in the Palco Marsh, the City is looking for long-term solutions. And while the recently repurposed Multiple Assistance Center offers rapid re-housing to the neediest and highest-risk chronically homeless people, hundreds more remain unhoused.
Again, this joint meeting will take place Tuesday at 2 p.m. in the supervisors' chambers at the Humboldt County Courthouse.
DOCUMENT:
PREVIOUSLY: