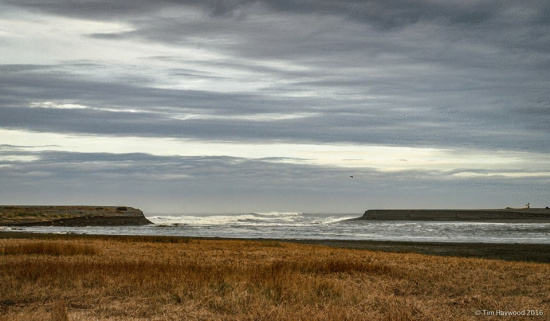 Stone Lagoon has breached!
Last Thursday, Jan. 21, Stone Lagoon reportedly once again joined itself to the open ocean. While this is a naturally occurring phenomenon, it does not happen every year. It creates a dynamic ecosystem and is just plain cool to see. Being an ocean nerd I wanted to learn more and instantly began researching.
To fulfill my curiosity I talked to local experts, including Marna Powell, who graciously answered my questions. Powell is the former owner of Kayak Zaks, the rental shop at the Stone Lagoon Boat Ramp. She wanted me to note that she is not a fish biologist, geologist, ocean scientist or any other "ologist," but she does spend a majority of her time outdoors and knows a thing or two about the lagoons from her time in and around them. Here is my series of question and answer correspondence with Powell.
YWIO: Does Stone Lagoon breach every year?
Answer: Stone likes to do something like: breach, breach, breach, NOT breach, breach, breach, breach, breach, NOT breach, NOT breach, NOT.
YWIO: Will the breach be beneficial to the lagoon ecosystem? How or how not?
Powell: It is beneficial in that the lagoon becomes mostly freshwater when it fills with rain, and just gets salt water from high tides/big swells washing over the sand spit. The mixing gives us a healthy lagoon and not a stagnant algae-filled environment.
YWIO: What wildlife are affected by the breach and how?
Powell: Wild steelhead and cutthroat trout grow inside the lagoon, and when it breaches they swim into the ocean. At the same time, adults get to swim into the lagoon and up MacDonald Creek to spawn. It is also beneficial in that the New Zealand mud snails can't tolerate all that salinity and they die (but they live in the creeks so they'll be back).
[YWIO research: Steelhead and cutthroat trout can both reach maturity without the lagoon breaching. Since the lagoon does not breach annually, it disrupts the life patters of these species and is why they are rarely seen there. Stone lagoon is usually very productive and is likely to be even more productive when it breaks open early enough in the season to close and substantially refill with runoff from the tributaries.]
YWIO: Can you still recreate, on the lagoon or is it too dangerous with a chance of getting sucked out to sea?
Powell: You can still recreate, but it is tidal and you need to plan for that. This means the lagoon is not just a lake anymore. It is more like the bay; it will fill and drain with the tide swings. So if you plan on going for a paddle take a look at your tide chart first and plan accordingly.
YWIO: That are proper precautions to take if one wants to see the breach in person?
Powell: If on land, don't get too close to the breakout area. If on water, don't get too close to the breakout area. Always wear a properly fitted life jacket. Personally, I also always carry a marine radio and a bunch of safety stuff, but I'm a gear junky.
[YWIO research: Follow ocean and river safety precautions. As you might have realized by now, we are experiencing extremely large swells. Watch out for surges of water and never turn your back on the water! If you want to keep your distance you can also observe the breach from Hwy 101 turnouts or the access road on the north end.]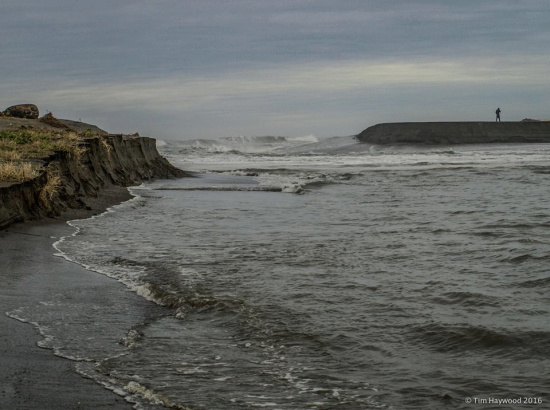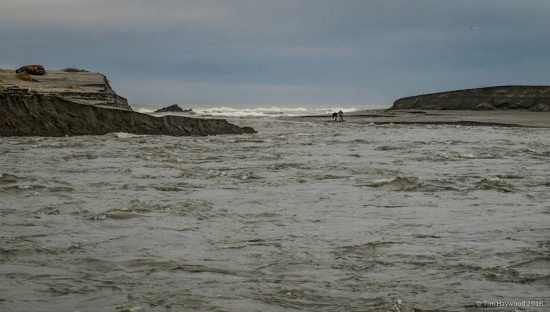 Photo credit goes to Tim Haywood, SUP Instructor/Guide at Pacific Outfitters and founder of PacOut Green Team, who was on site for the breach.
###
Delia Bense-Kang serves as the Northcoast Environmental Center's Marine Protected Area Outreach Coordinator and chairs Surfrider Foundation's Humboldt Chapter.