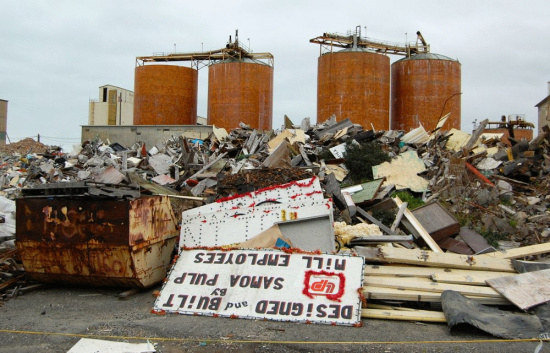 On Tuesday, the Humboldt County Board of Supervisors will make a big decision concerning land use around Humboldt Bay, a decision some see as a fork in the road for the region's economic future. And at a recent meeting some major players in the local business community made their preference known.
At issue are the hundreds of acres surrounding the harbor zoned exclusively for coastal-dependent industrial (CDI) uses. The vast majority of this land — about 95 percent — currently lies vacant, and county staff says the resulting lack of revenue has allowed infrastructure to deteriorate.
The supes will consider a proposal to loosen restrictions on some of these properties so that non-CDI businesses could operate there on a temporary basis (up to seven years) as long as they don't interfere with existing or future coastal-dependent operations.
There are two competing schools of thought on the issue. On one side there's the opinion of rail boosters and the majority of the Humboldt County Planning Commission, who argue that Humboldt's path to economic prosperity depends on transforming Humboldt Bay into a major, industrialized shipping port connected to the national rail system with a newly built railroad.
This side feels emboldened and validated by a $276,000 Caltrans grant awarded last month to the Trinity County Transportation Commission for an east-west rail feasibility study.
On the other side there's the view of the Humboldt Bay Harbor, Recreation and Conservation District's Board of Commissioners, who say the District nearly went broke by pursuing international trade to the exclusion of other interests, and the time has come to loosen restrictions and allow other types of businesses on the bay.
The Harbor District, it should be noted, has a financial interest in the decision. The agency took over the 72-acre former pulp mill property on the Samoa Peninsula back in 2013, and after overseeing the cleanup of some 3 million gallons of caustic pulping liquors on the site the District is looking for new tenants. They've had interest from some local business owners, but not for coastal-dependent uses.
At last week's supervisors' meeting, staff introduced the proposed amendment to the Humboldt Bay Area Plan, with Planner Lisa Shikany delivering a report. Allowing interim uses on some this property, Shikany said, would increase the land's potential to generate revenue, thereby generating funds for infrastructure repairs and, in the long run, actually improving the prospects for future coastal-dependent uses.
Opponents, however, maintain that allowing anything other than CDI on these lands could stymie future opportunities. It would be a signal, they say, that Humboldt County doesn't believe in a new rail line or major shipping opportunities.
Since Fifth District Supervisor Ryan Sundberg was absent the board elected to postpone a vote on the item until this coming Tuesday, July 19.
Nonetheless, the public had a chance to weigh in, and those with a direct connection to bayside commerce seemed to form a consensus.
Local realtor Scott Pesch, who has been trying lease out some of the Harbor District's space at the former pulp mill site, said "it's been really hard to do so with just the coastal dependent uses." Countywide, he said, "there's a lack of warehouse space available for general contractors. … And with cannabis becoming more popular, that's even more demand for warehouse space." He urged the supervisors to allow interim uses on the bay.
Next up, Gary Rynearson spoke on behalf of Green Diamond Resource Company, and he, too, urged support of the ordinance. Green Diamond owns 80 acres in the coastal-dependent zone, he said, "and what we would like to see, of course, is maximum flexibility for that."
Charles Benbow, the former owner of the pulp mill, noted that the issue has become politicized, but he said the public has effectively endorsed the Harbor Commission's viewpoint by reelecting commissioners Greg Dale and Pat Higgins and electing current commissioner Mike Wilson to the Board of Supervisors.
"So unless the board has something they would rather see out there and brings a proposal forward for productive use, other than the east-west railroad, I don't see how you can be against doing something productive with this land," Benbow said.
In a letter submitted to the board, the Greater Eureka Chamber of Commerce also backed the proposed changes. "We believe that the proposed amendments offer the opportunity for near-term economic development while protecting the potential for coastal dependent industrial development in the long-term," Chamber President Ken Musante states in the letter. "We further believe that it should be the County's policy to encourage investment in abandoned industrial areas to reverse the degradation of infrastructure on these sites, reduce blight, and encourage investment."
Arguably the most powerful advocacy came from Leroy Zerlang of Zerlang & Zerlang Marine Services. Describing himself as "probably the most pro-shipping and barge person in this area," he said that even he has come to the conclusion that the dream of large-scale shipping is just that, a dream.
"Our bay's too small; our entrance is too shallow; we're in bad shape," he said. "We can dream for 100,000 years about an east-west railroad. We're not a seaport; we're a timber port. We haven't been a seaport since the 1890s. I don't see it happening. It won't happen."
Harbor Commissioner Chair Pat Higgins and fellow commissioner/supervisor-elect Mike Wilson also spoke in support of the ordinance, but their view wasn't unanimous. Karen Brooks of Bayside, a former supervisor candidate, said she worries that if the county isn't "all in" with its commitment to shipping, the Army Corps of Engineers may stop funding dredging the bay's shipping channels. And she strongly condemned the prospect of allowing marijuana-related businesses in the coastal zone.
Monty Provolt suggested the board should postpone the decision until after Trinity County's east-west rail feasibility study is completed. Allowing non-coastal uses in the meantime, he said, would show a "lack of will" for supporting shipping.
The fiercest objections came from Eureka attorney and longtime rail advocate William Bertain, who described the proposal as "an effort at stopping the development of jobs" and accused the Harbor Commission of being flat-out opposed to shipping. Allowing interim uses in the coastal zone, he said, "will have the effect of putting up a big sign to potential developers of the port and rail … that says, 'We don't want shipping here.' I think that's unfair to our children and our grandchildren."
While the board didn't vote on the issue, some supervisor comments may have hinted at their positions. Second District Supervisor Estelle Fennell expressed some skepticism, asking, "Is there some burgeoning, gnawing interest out there that says we have to make this happen now? And is it marijuana? And are there other businesses that really want to locate in this area? What's going on?"
Fourth District Supervisor Virginia Bass, meanwhile, mentioned the Chamber of Commerce letter and noted that she's been hearing about the need for relaxing zoning regulations in meetings with county staff, the California Coastal Commission and the City of Eureka.
Next Tuesday's meeting will begin at 9 a.m., and according to Supervisor Mark Lovelace the CDI item will be heard during the afternoon session, which starts at 1:30 pm.
PREVIOUSLY