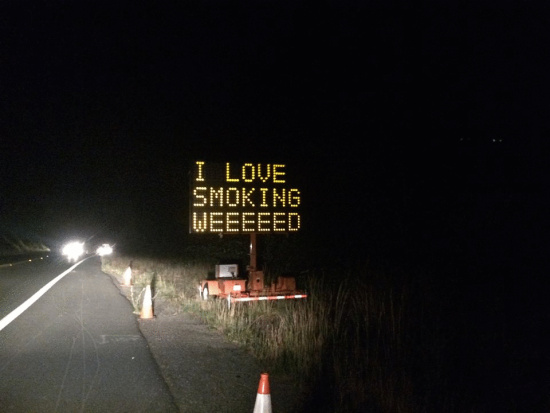 One of Caltrans' changeable road signs was left unlocked on the north interchange of the Willits Bypass last night, allowing an opportunistic prankster to alter the message to read "I Love Smoking Weeeeed."
Caltrans District 1 Public Information Officer Eli Rohl told the Outpost that the sign was supposed to alert motorists of changing conditions up ahead.
"Apparently one of our contractors left the board unlocked overnight and someone got in and changed the message," Rohl said. "The contractor changed the message back as soon as they found out about it and will now be locking the control panels for the boards at all times."
Willits man Gabe Gardenhire told the Outpost he was on his way to work when he snapped the a pic of the sign posted above.
"I saw it at about 4:20 this morning on my way to work, I had to turn around and reread it," Gardenhire said via Facebook message. "Thought it was funny."
Rohl said that the sign has since been changed back to its original message.
###
Correction: Caltrans PIO Eli Rohl informs the Outpost that the sign is not owned by Caltrans, but by the Contractor hired by Caltrans.