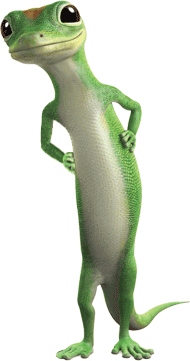 Gah! Hate that gecko. And yet, there he is in a recent GEICO ad using our beautiful redwoods as a backdrop to tackily shill car insurance which, OK, I guess people need. In the spot, the gecko and his female companion call for some roadside assistance after their vehicle just happens to overheat while passing through what appears to be the Tour Thru Tree up in Klamath. Way to clog up our tourist traps, stupid gecko!
(In case you fear LoCO is engaging in some stealth marketing, here, I just took an informal poll of the LoCOHQ and discovered we are predominantly a AAA family. We are happy with our plans. Don't call us.)
Hey. You know who else doesn't like GEICO commercials? LoCO's Redding travel pal Donald Trump, a man so offended by the insurance giant's schlocky ads that he called on America to boycott the company back in 2011 … because Donald. If you've forgotten what Trump looks and sounds like because you have not seen him in the last 18 seconds, remind yourself below.