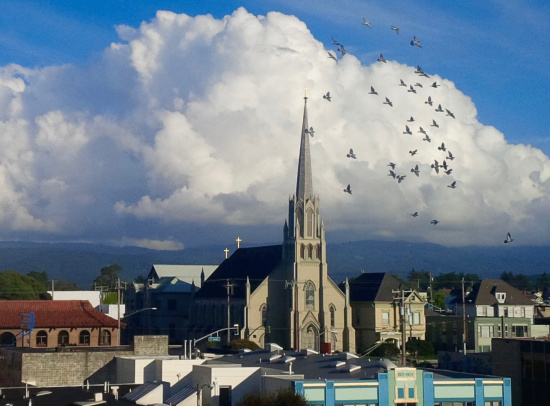 Warning: This post contains graphic descriptions of evidence from a violent crime.
It was a short day of testimony in the ongoing murder trial of Gary Lee Bullock, but the evidence virtually eliminated any doubts that Bullock killed Father Eric Freed in the rectory of St. Bernard Catholic Parish during the wee hours of New Year's Day 2014.
According to the testimony of two California Department of Justice criminalists, Bullock's DNA was found on a broken pilsner glass that was shoved into Freed's mouth that night as well as a cigar found at the scene; Father Freed's blood was identified on a blue thermal shirt Bullock wore that night; and both Bullock's and Freed's DNA were identified on Freed's fingernails and the late priest's wristwatch.
Bullock has pleaded not guilty and not guilty by reason of insanity to seven felony counts including murder, torture, carjacking and attempted arson.
On the witness stand, Kay Belschner, a senior criminologist at the Department of Justice's Eureka lab, described how evidence was collected from various items found at the crime scene as well as Bullock's clothing, found at his mother and stepfather's house outside Redway.
Two detectives with the Eureka Police Department — Ron Harpham and John Gordon — explained to the jury how the collected samples were handled and booked into evidence.
And Amy Rojas, a senior criminalist at the DOJ's lab in Richmond, explained the basics of DNA analysis and gave her expert opinion on the results in this case. DNA recovered from swabs on the broken pilsner glass belonged to Bullock and Freed, Rojas said.
That very glass, smeared with blood, was shown to the jury earlier this week. In opening arguments Deputy District Attorney Andrew Isaac said the glass was shoved into Freed's mouth and twisted until it bore hole in his tongue.
Rojas also testified that Freed's DNA was a match with a sample taken a blood stain on Bullock's blue thermal shirt. And fingernail clippings taken from Father Freed's left hand had Bullock's DNA on them, she concluded. The odds of any of these DNA matches occurring randomly ranged from one in several billion to one in several septillion, Rojas testified.
The exception was DNA found on a metal wristwatch recovered in the church rectory. Freed's DNA was present, and Bullock "can't be excluded" as the source of secondary DNA found on the watch. The odds of that match occurring randomly are merely one in 350 to one in 600, depending on race.
During cross examination, attorney Kaleb Cockrum questioned several of the witnesses about the measures taken to ensure accuracy in the evidence, though he didn't challenge any of them about their conclusions.
Isaac said he has only one more witness to call before concluding his case: Dr. Mark Super, the forensic pathologist who conducted the autopsy on Father Freed. He's scheduled to testify tomorrow morning.
PREVIOUSLY: