As expected, Gary Lee Bullock has been ordered to spend the rest of his life behind bars.
After emotional statements from the victim's sisters this afternoon, Judge John T. Feeney sentenced Bullock to life in prison without the possibility of parole for the Jan. 1, 2014, murder of Eric Freed, late priest of Eureka's St. Bernard Catholic Parish. Bullock was also sentenced to a second life term for torture and more than 12 years for felonies including carjacking, first degree burglary and attempted arson.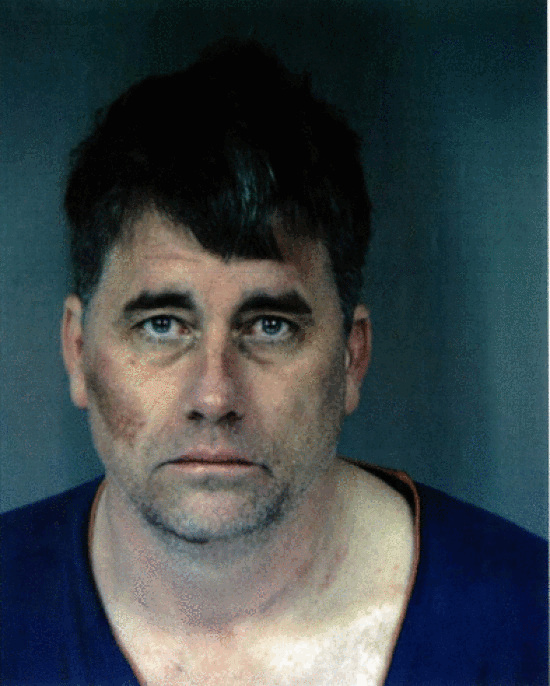 Bullock sat in an orange inmate's jumpsuit, often hanging his head, as Freed's three sisters addressed the court, each reading her own victim impact statement.
First, sister Lisa Wienke spoke on the theme of choices, saying Bullock chose to kill "a man who believed in love and peace … and did what he could to alleviate suffering." Yet she has chosen to forgive Bullock, she said, for two reasons — because it's what her brother would have done ("and probably did," she said) and because her faith as a Seventh Day Adventist compelled her to do so.
"I pray for your salvation as that is what Eric would want, what I want," Wienke said. "God is just waiting to forgive —and he will. But again, it's your choice."
This merciful sentiment stood in stark contrast to the pained and angry statement from Karin Freed, the late priest's twin sister. "Gary Lee Bullock took half of me," she began. Her brother's murder left her crying and screaming, compulsively cleaning her house and barely eating for months, she said.
"Eric was very intelligent," she went on. "He was a compassionate, kind-hearted, caring, giving man with a quick wit. A sports fanatic — and yes, he would yell at the TV when the ref made a bad call. He enjoyed books and learning new things. What you have done is unconscionable."
Her anger seemed to grow as she read. She called his actions "barbaric," "vicious," and "just plain evil," and unlike her sister she said his crimes are unforgivable.
"For how and what you have done to Eric, my twin, is pure evil, and you are a waste of skin," Karin Freed said. "So, Gary Lee Bullock, when you get to hell, you better beg the devil for mercy, because I don't and I won't."
Freed's third sister in attendance, Anita Freed, said that while she and Eric Freed hadn't been especially close growing up, they had begun to close the gap between them a few months before his murder. And then she addressed Bullock directly.
"You schmuck," she said. "You didn't have to kill him. He probably would have given you the keys to the car, or maybe even a ride home." She spoke of her brother's wide influence and the many people who considered him part of their families.
"I don't know how you were raised or what kind of family you had," she said to Bullock. "Frankly, I don't give a rat's butt." But she does feel sorry for his kids. "They have to go through the rest of their lives knowing their father is a murderer and torturer. Nice role model, scumbag."
Bullock's face was red, and he hung his head low.
Judge Feeney expressed his sympathy to each sister for her loss, and he proceeded to read the sentences.
Last month a jury found Bullock guilty of first degree murder with special allegations that the crime was committed while engaged in torture, residential burglary and carjacking. This earned the sentence of life without possibility of parole.
Bullock was also found guilty of two counts of residential burglary, the unlawful taking of a vehicle, attempted arson, and separate charges of carjacking and torture. The torture conviction earned Bullock another life sentence. Collectively the sentences for the remainder of the crimes add up to 12 years and 10 months, though Judge Feeney stayed an eight-month sentence for vehicle theft because that crime was inherent in the carjacking offense. All of this math is irrelevant, though, given the murder sentence.
Bullock had entered dual pleas of "not guilty" and "not guilty by reason of insanity," but he surprised virtually everyone involved in the case when, four days after the verdict, he withdrew the insanity plea, against his own attorney's advice.
District Attorney Maggie Fleming personally appeared in court for the prosecution, and she argued for the maximum sentence. Bullock, she argued, had acted deliberately while committing his crimes, "making a choice to destroy a life and a community."
At one point during Fleming's argument, Bullock's mother, Carol Bruno, blurted out from the public seating area, "That's not true." However, she didn't speak loud enough to interrupt the proceedings.
Fleming concluded by saying Bullock "had never once expressed remorse." Most recently, she said, Bullock was recorded from jail speaking to his family about the possibility of an appeal. According to Fleming Bullock said, "Why appeal? … I'm guilty. I was in the wrong."
PREVIOUSLY: