PREVIOUSLY:
###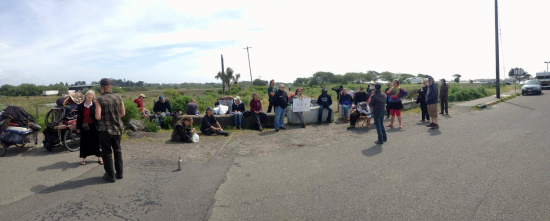 Press release from the City of Eureka:
The City of Eureka began clean-up efforts at the Palco Marsh this morning. The planned police enforcement and property maintenance operation has been in the planning stage since March 18, 2016, when the City Council announced the May 2nd exit date for all illegal campers at the Palco Marsh.

The City of Eureka began planning by working with several shelter organizations, animal rescue groups, DHSS, MIST, and others to relocate the individuals living at the marsh into shelters. Eureka Police collaborated with other agencies to plan for today's operation to ensure the safety of the people living in the marsh, city crews and officers. These extensive and thoughtful planning efforts helped to ensure a safe operation that took place today.

Eureka Police Department, along with all City departments, Humboldt Bay Fire, U. S. Coast Guard, City Ambulance and the County of Humboldt worked diligently to execute the operational plan.

City work crews estimated 88,000 pounds of trash and garbage and over 1,000 used needles were collected today. Campers leaving the area who could not take their belongings with them, were given 96 gallon totes to store their items for a period of 90 days. At this time 3 connex storage containers are full with additional boxes ordered for tomorrow's operation. The City of Eureka will continue to ensure that property is stored and secured according to all applicable laws.

EPD and City Staff will be on the lookout for any obvious stolen property which may be in the marsh and that all recovered stolen property will be returned to its rightful owner.

1 person was arrested for refusing to leave the operational area. All persons entering this police operational area will be subject to arrest upon entry. Any illegal campers still remaining in the Palco Marsh area will be subject to arrest. All entrances to the area are being monitored and entry restricted. Camping in any City park or greenbelt is prohibited. Anyone who notices camping in a City greenbelt or park should contact the Eureka Police Department. EPD and City staff will respond to calls for camping within the City of Eureka as time allows.