Groove across California with the MoJo Coastwalkers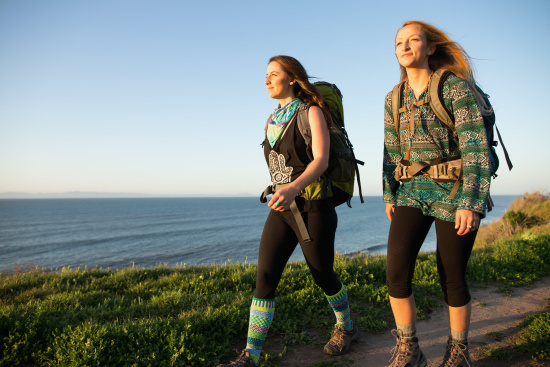 Cue the Austin Powers theme song — the MoJo Coastwalkers are coming to town!
On Sunday May 1st, Morgan Visalia (Mo) and Jocelyn Enevoldsen (Jo), the "MoJo Coastwalkers" embarked on their journey to hike and bike the entire 1,200 mile length of the California to raise awareness for the California Coastal Trail (CCT). These two women are not just some young crazy enviros. They are recipients of masters degrees in marine science from Bren School at UCSB and ambassadors for the California Coastal Trail Association, and have a meticulously planned expedition with a purpose.
Back in the 1970s, Proposition 20 (the "Save our Coast" initiative) and the establishment of the Coastal Act provided a "hiking, bicycle, and equestrian trails system be established along or near the coast." Fast forward to today: The CCT is a patchwork of trails ranging from the Lost Coast Trail to Venice Beach Boardwalk, owned by a handful of different entities, and is only about halfway complete.
Working with the California Coastal Trail Association, Mo and Jo hope that their expedition will re-spark interest to complete the CCT; improving beach access, coastal stewardship and an overall appreciation for our dynamic coast. "The dream for the CCT is to connect trails all along the California coastline, a profound vision we can only achieve together," said Morgan in a press release.
Over the next 97 days the duo will traverse cobblestone beaches, dune forests, city boardwalks and even encounter a nuclear power plant as they follow the CCCT from the Oregon to Mexico boarder. Along the way they will share stories with fellow coastal stewards and collect pictures, videos, and GPS data that will soon be included in a new CCT smart phone app.
MoJo will soon be coming through Humboldt County May 7-20. The Surfrider Foundation Humboldt Chapter has reached out to the team and hopes to welcome and help them along their way. Stay tuned for more updates!
Follow along with MoJo by checking our their hike plan, Facebook page and website!
HSU Marine Science Student Research Symposium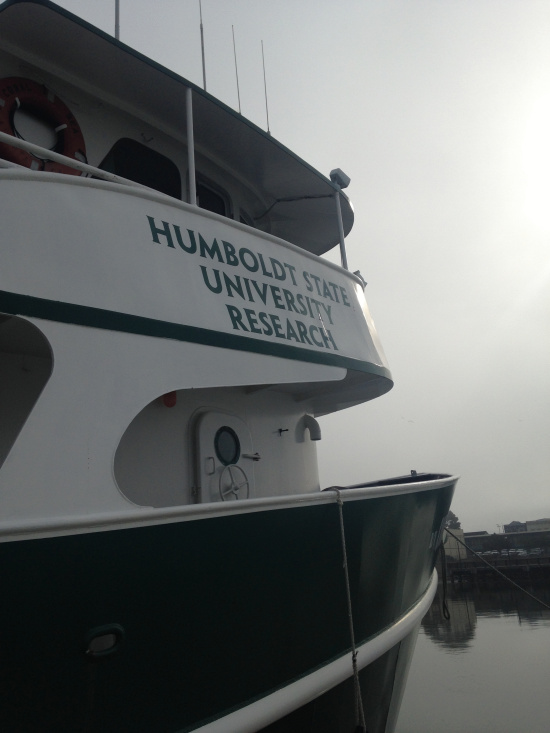 HSU students are gearing up to give presentations on their research topics ranging from estuarine and offshore marine protected area work, aquaponics, the effects of El Niño and more at the Humboldt Marine Science Student Association's 2nd Annual Student Research Symposium. The event is intended to foster communication and collaboration between students across different departments who are studying a range of coastal and marine topics. "The goal of the symposium is primarily to give students a really comfortable place to present new research that might not be quite ready for presentation to a wider audience, or perhaps give a scientific talk for the first time in their lives," stated HSU graduate student and event organizer, Ian Kelmartin. The event is Saturday May 7th from 12-5pm at the Humboldt Bay Aquatic Center, is free, and open to all HSU students.
More Crab!
On May 12th the commercial Dungeness crab fishery will finally be given the green light everywhere in California except one area in Humboldt County! The one remaining closed area is between the southern boundary line of Reading Rock State Marine Conservation Area and the west end of the north jetty at the entrance of Humboldt Bay. Recreational Dungeness crab fishing is currently open across California except that area as well. Health officials still advise diners to tear out the guts before cooking, and say crabs should only be steamed or boiled, not fried or broiled, and that chefs should discard the cooking water. Click HERE for the Humboldt Baykeeper Crab Cleaning Brochure so you can enjoy your feast safely.
Happy Cinco de Mayo - Celebrate with Sustainable Fish Tacos! (Courtesy of Food Network)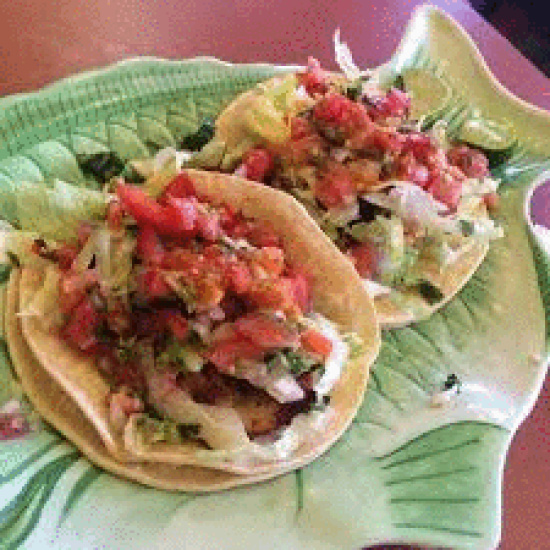 Oil, for frying
1 cup all-purpose flour
1 teaspoon salt, plus more for seasoning
2 pounds Sustainable skinned fish of choice cut into 5 by 1/2-inch strips
Freshly ground black pepper
Corn tortillas
2 cups shredded cabbage
2 cups tomatillo salsa (store-bought or homemade) for garnish, optional
Pickled jalapenos, for garnish, optional
Beer Batter:
1 cup all-purpose flour
1 teaspoon salt
1/2 teaspoon ground black pepper
1 cup dark Mexican beer*
Cream Sauce:
1/3 cup mayonnaise
2/3 cup Mexican crema** or sour cream
1 teaspoon grated lemon zest
2 tablespoons fresh lemon juice
2 tablespoons water
Salt and freshly ground black pepper
###
Delia Bense-Kang serves as the Northcoast Environmental Center's Marine Protected Area Outreach Coordinator and chairs Surfrider Foundation's Humboldt Chapter.