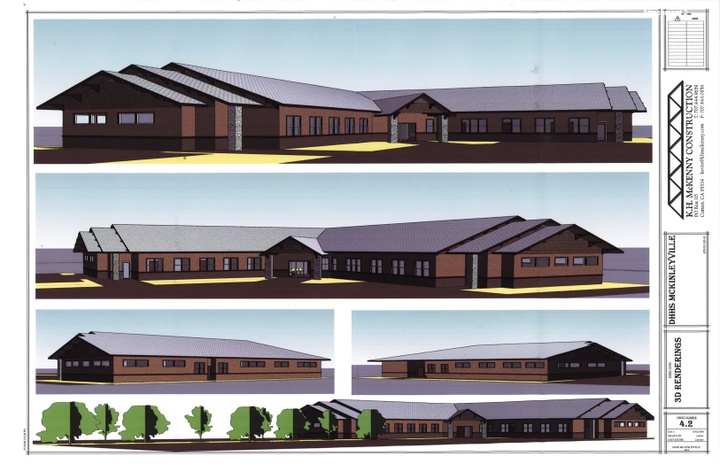 The Humboldt County Board of Supervisors today voted unanimously to select K.H. McKenny, Inc. as the contractor with whom the county will negotiate as it moves forward with plans for a new county facility in McKinleyville. The proposed building, called the Center, will house a variety of mental health, public health and social services.
This project encountered plenty of resistance when it was discussed at a town hall meeting in McKinleyville last month, with locals raising concerns about its centralized location (off Central Ave. near the Burger King and Starbucks) and possible impacts on traffic, crime and the presence of transients.
But the vast majority of public speakers at today's meeting voiced strong support for the project, as did the vast majority of folks who sent emails to the supervisors on the issue. (Read those emails here.)
Back in March the county issued a request for proposals and received only two responses — one from K.H. McKenny, Inc., the engineering/contracting firm owned by Humboldt County Planning Commissioner Kevin McKenny, and the other from the McKinleyville Community Collaborative, which operates the widely beloved McKinleyville Family Resource Center.
McKenny's company significantly underbid the Community Collaborative, proposing to build a 13,400 square foot building at a cost of $28,858 per month over a period of 10 years (with options to renew the lease at years 10 and 15). The county's Department of Health and Human Services (DHHS) chose the McKenny bid as most suitable. (Read more about it in the county staff report here.)
A few people have raised questions about the selection of McKenny's company, suggesting the possibility of conflicts of interest and backroom deals, but Supervisor Rex Bohn today noted that there aren't many companies in the region with the qualifications and capital necessary to complete such a project. His fellow supervisors also noted that the request for proposals was made public not once but twice, and only two bids came in.
Only one public commenter raised the conflict-of-interest issue today, and Board Chair Mark Lovelace explained that McKenny will have to recuse himself when this project comes before the Planning Commission.
Through a collaboration between DHHS and community partners such as the McKinleyville Family Resource Center the facility will provide a wide range of services to families, seniors and students including child welfare services, adult protective services, CalFresh, employment training, Medi-Cal, children's mental health services, a food pantry and more.
DOCUMENT:
CORRECTION: This post has been updated to reflect the terms of the lease.