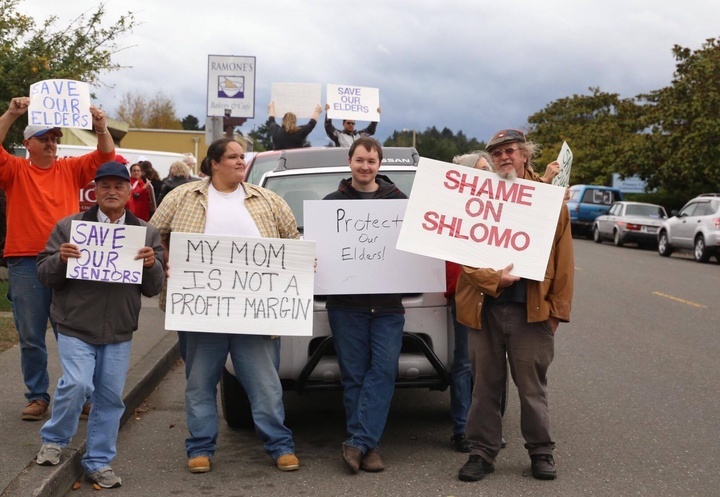 PREVIOUSLY:

###
There's another protest scheduled in Eureka Thursday afternoon over Rockport Healthcare Services' plans to close three skilled nursing facilities in Humboldt County, though unlike the Oct. 13 gathering the target won't be Rockport or its billionaire owner, Shlomo Rechnitz. Indeed, this protest was organized by Rockport employees.
And according to a local activist group, that gathering will be met with a simultaneous protest over the same issue — but with a different target.
The Rockport-organized protest hopes to shift the public's ire over the pending closures to Partnership HealthPlan of California. Partnership is the nonprofit care provider for Medi-Cal patients in the region. As such, it reimburses Rockport for eligible patient care. So the Rockport-organized protest, scheduled for 1:30 p.m. Thursday, will be held outside Partnership's Eureka office at 1036 5th Street.
Meanwhile, members of North Coast People's Alliance (NCPA), the local activist group born from the ashes of Northern Humboldt for Bernie, plan to show up with their own supporters and keep the focus on Rockport and Rechnitz.
This afternoon NCPA sent out a press release announcing the counter-protest. In it the group says that in recent days Rockport employees have been calling relatives of the elderly residents of Pacific Rehabilitation & Wellness Center, encouraging them to attend the protest. Pacific Rehabilitation & Wellness is one of the three skilled nursing facilities slated for closure.
In the press release, which you can read in full below, union member and brief candidate for Eureka City Council Allen McCloskey called Rockport's efforts "a blatant attempt to pit the community against one another, and to pervert the public perception of what's actually happening here."
Another member of National Union of Healthcare Workers, Justin DeFreitas, emailed the Outpost over the issue. "An astroturf protest is cynical enough," he wrote, "but to use employees to do it amid an alleged worker shortage would be especially shameless."
The Outpost reached out to Rockport for comment, and spokesman Stefan Friedman confirmed that tomorrow's protest was organized by company employees. But he said that fact is irrelevant. The point, he said, is that "there will be families, patients, people who are extremely upset at what this agency doing," which he characterized as "stonewalling." "Rockport is under-reimbursed for the services they provide," Friedman said.
He vehemently denied the charge of astroturfing and said the NCPA's claims are "outrageous" and "a complete manipulation."
"We obviously have employees who are involved tomorrow," he said. "We're not trying to hide anything."
Here's the press release from North Coast People's Alliance:
On Tuesday, family members of residents of Pacific Rehabilitation & Wellness Center were contacted by a representative from Rockport Healthcare Group named Anthony who asked them to attend a protest this Thursday at the local office of Partnership Healthcare Plan, the nonprofit Medical distributor for Humboldt County.

Multiple local residents have reported being contacted by the Rockport representative. One woman, who declines to give her name for fear of negative impacts for her mother, a resident of a Rockport operated facility, reports that upon further questioning, Anthony stated that the purpose of the protest was "to encourage Partnership to pay more." He told her that the protest would be on Thursday at 1:30, in front of Partnership's local office at 1036 5th Street in Eureka.

Rockport is controlled by LA-based billionaire Shlomo Rechnitz. Rockport has been locked in a contentious fight with Partnership for months now, with many in the community categorizing Rechnitz's tactics as extortion. Allen McCloskey, a National Union of Healthcare Workers member, calls this latest development "A blatant attempt to pit the community against one another, and to pervert the public perception of what's actually happening here."

In response to the Rockport-initiated protest planned for Thursday, members of the North Coast People's Alliance have announced their own action – one that calls on Rockport and Rechnitz to take responsibility for the situation by providing fair wages to their workers, increasing quality of care for their vulnerable residents, and keeping as many facilities open as possible locally.

NCPA member Tamara McFarland invites interested parties to join: "Please stand with us to call out the true source of this catastrophe – Shlomo Rechnitz's greed and unwillingness to work cooperatively with any of the legislators and community activists who have worked tirelessly in an attempt to solve this problem with him over these past months. Join us to demand fair wages for workers in these facilities and humane conditions for patients. We will not take this abuse fueled by corporate greed lying down – we must stand together to say enough is enough."

For more information, go to BriusWatch.org or find BriusWatch on Facebook.