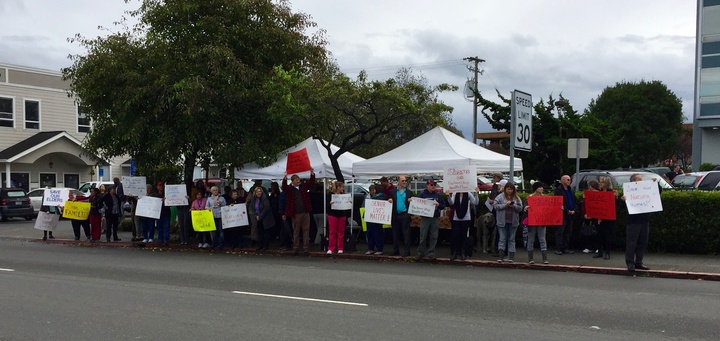 Several dozen protesters gathered under an overcast sky along Fifth Street in Eureka Thursday afternoon to protest the planned closure of three skilled nursing homes in the city, though the picketers were divided into two distinct factions.
One group, which gathered around and under a pair of pop-up canopies and a catered snack table, was dominated by employees of Rockport Healthcare Services, the corporation that owns five skilled nursing homes in the county including the three slated for closure.
This faction held signs directing shame at "greedy" Partnership HealthPlan, the nonprofit care provider for Medi-Cal patients in the region. Partnership reimburses Rockport for patient care, and Shlomo Rechnitz, the billionaire owner of Rockport parent company Brius Healthcare, alleges that the agency has been shortchanging the local facilities, leading to a loss of roughly $5 million over the past 18 months. This part of the protest was arranged by Rockport employees.
The other group of protesters, which gathered just up the sidewalk, was comprised of activists from the North Coast People's Alliance, who blame Rockport and Rechnitz for the pending closures. Their signs aimed shame at "Shlomo" and Rockport, and they say the company's fiscal losses are the product of greed and mismanagement. They also argue that the Rockport-planned protest was a fabricated effort to mislead the public.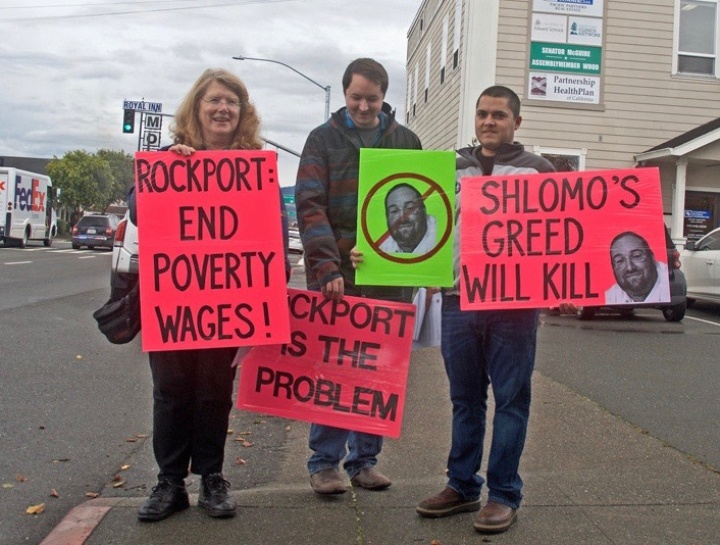 State Senator Mike McGuire shares that view. Later Thursday afternoon his office sent out a statement in which the senator lambasted Rockport's organized gathering.
"This so-called protest would be amusing if it wasn't so sad that Rockport Management was trying to take advantage of families and patients at this difficult time," Senator McGuire said. "There are real issues here – real people being impacted by the threat of these closures and I hope this billion-dollar corporation stops the grandstanding and they start working with us to help the people of Humboldt."
Negotiations over the planned closures have been contentious, with both McGuire and Assemblymember Jim Wood fighting unsuccessfully to prevent regulatory approval from the California Department of Public Health. The negotiations broke down altogether last week.
Earlier today, former state Assemblywoman Patty Berg, founding executive director of the Area 1 Agency on Aging, addressed members of the Senior Action Committee at the Jefferson Community Center.
"The issue of skilled care is a horrendous issue in our community," she said. "You can't believe a thing that's coming out of the Brius network. You have to question everything. Any longtime solution involves getting new owners in here, but the first step is to stop the bleeding."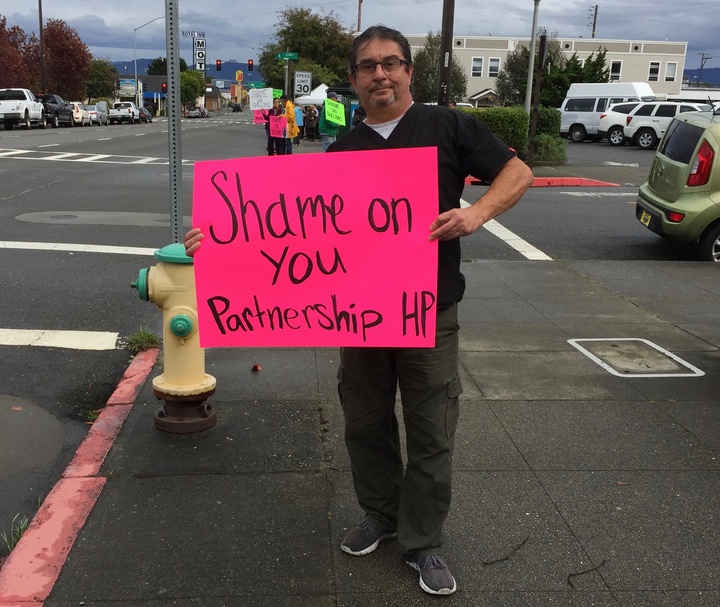 At today's protest, a man named Rodney Fregoso stood furthest west along Fifth Street, apparently angling to be at the front of the line for oncoming traffic. Like many others in his faction of protesters, Fregoso wore a plastic Rockport name tag, as if he'd come straight from work. His hot pink sign read, "Shame on you, Partnership HP."
Fregoso said he's a housekeeper at one of the local Rockport facilities, and when asked why he was protesting he replied simply, "To save my job." And he chose not to elaborate. "That's all I wanna say," he said.
But back in the main pack of Rockport-employed protesters, Assistant Administrator Antoine Goodie was happy to offer more thoughts.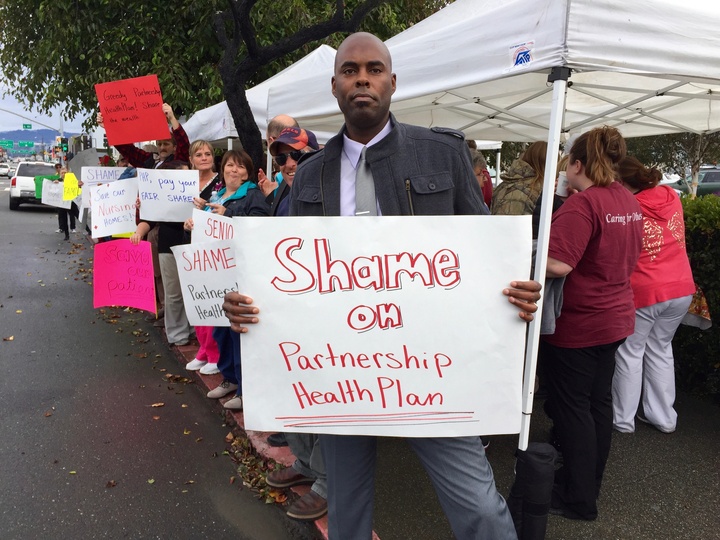 "Our message is, we want the truth to come out, or at least both sides of the story to be shared," he said. "A lot of people are blaming the owner, Brius, and they're not getting a clear picture." Goodie said Parthership's reimbursement rates at Rockport facilities are a fraction of the rates given to local hospitals such as St. Joseph Hospital.
He said Rockport's staff and administrators care about the patients and don't want to see the facilities close. "But at the end of the day you have to balance the budget," he said. "It's just not sustainable. People think, 'Well, [Rechnitz] is rich so he should just finance the company.' What company does that?"
He also denied accusations that the Rockport protesters had been paid to attend. "No one out here's been pushed or bribed or anything like that. I came out here because I see what's happening." In the background his colleagues chanted, "People over profit! People over profit!"
Nearby, the company's chief accounting officer, Brad Gibson, said he really wants Partnership to "come back to the table and talk about reimbursements." Gibson's family owned the skilled nursing facilities back in the 1980s, he said, and he's been working in the buildings for 32 years, since long before Rockport took ownership.
The company's recent losses, he said, are the result of "a perfect storm" of factors, including a severe staffing crisis. "The entire labor market has changed," Gibson said. He pointed to the end of Humboldt State University's nursing program, a waiting list at College of the Redwoods' program and the opening of a local Program of All-Inclusive Care for the Elderly (PACE) as factors in the staffing crisis, which has led the company to fill vacancies with more costly traveling nurses.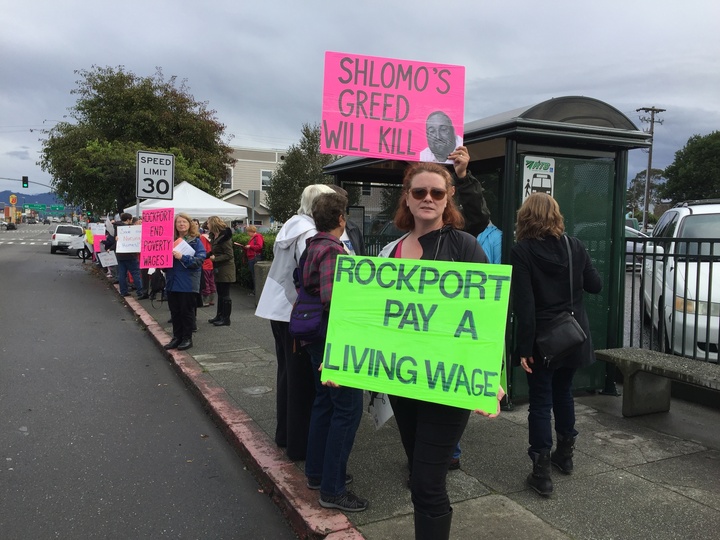 But protesters at the other end of the block had a different perspective. "We're here just to correct the record and show that Partnership's been very generous in what they pay these nursing homes," said Austin Allison, a member of the North Coast People's Alliance and candidate for Eureka City Council.
Allison suggested that Rockport's poor quality of care has led many patients to be admitted into the hospital with bed sores and other injuries, and when the state finds the nursing home at fault then Rockport has to cover the cost of hospital admissions.
"So we're seeing this as more extortion than anything, just asking for more money when in fact Partnership pays [Rockport] some of the highest [reimbursement] amounts in the state compared to other homes," Allison said.
Allen McCloskey, a lab technician at St. Joseph Hospital and a delegate for the National Union of Healthcare Workers, said Rechnitz's massive wealth allows him to manipulate financial reports.
"It's kind of like Donald Trump," he said. "This guy, Shlomo, he owns the facilities, he owns the management company …. You can work the books. You can make it look profitable one year and not that profitable another year. It's not that hard to do when you own every facet of what you're operating."
McCloskey, like Senator McGuire, accused Rockport of trying to mislead the public. "We don't want to allow Shlomo to pervert the public perception of what's happening here," he said. "This is not Partnership's fault. This is not the marijuana industry's fault. This is his fault."
Throughout the dueling protests, passing cars honked their horns in support. It was impossible to tell whether they were honking in favor of one faction over the other — or if, from the roadway, they didn't perceive a split at all. Perhaps they saw one unified group fighting to keep the nursing homes from closing in whatever way possible.
One protester said that's not far from the truth. "It seems like everybody that's here really wants the same thing, which is to prevent these facilities from closing," said Sequoyah Faulk, a member of the North Coast People's Alliance. He proceeded to get in his digs at the opposition, calling Rechnitz a "typical greedy capitalist" whose motives are based in his own profit margin.
But then he returned to his unifying ideal. "I think everyone here just wants to come to some sort of solution," he said. "It's not like we're all enemies or anything."
PREVIOUSLY: