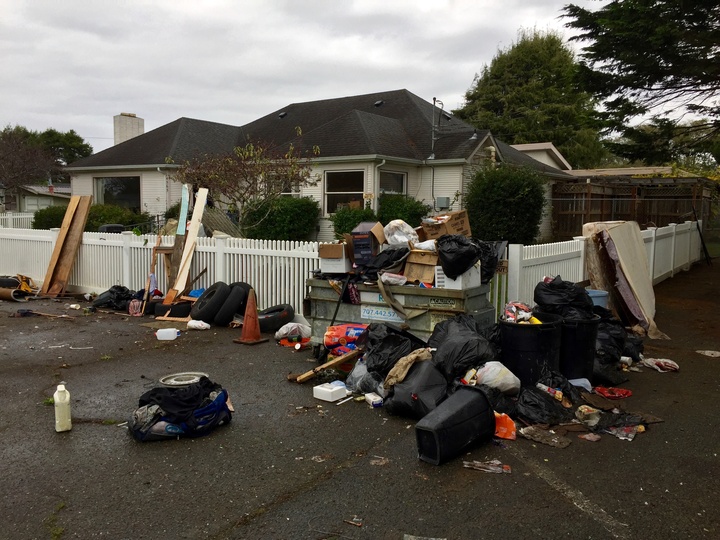 PREVIOUSLY
Residents of Eureka's Pine Hill neighborhood are breathing a sigh of relief this Halloween after the unsanctioned residents of the former Mycroft Supportive Care facility at 4565 Lewis Ave. packed up their belongings and moved out, bringing an end to a months-long property dispute.
The tenants, meanwhile, were left searching for new places to stay, though they have some fresh money in their pockets for rent thanks to a settlement agreement with the property manager.
The property had become the bane of the Pine Hill neighborhood, with neighbors complaining of rampant crime, garbage and noise. But when property manager Robert Figas tried to evict a group of 15 tenants they fought back, obtaining pro bono representation from Legal Services of Northern California. In court their attorney argued that Figas failed to follow state law with his eviction proceedings.
When an Oct. 21 hearing fell through due to a scheduling error, the two sides began settlement talks, and eventually an agreement was reached whereby Figas agreed to pay each of the remaining 12 defendants (after three left voluntarily) the equivalent of two months rent in exchange for their departure from the premises and a signed affidavit relinquishing all claims to the property.
Today, many of the vehicles parked out front in recent months had been removed and tenants could be seen hauling the last of their belongings out the front door. One man pushed a four-wheeled medical walker down the walkway, an old tube television bobbing on the seat. Nearby a woman was carrying cardboard boxes down the steps of a large fifth-wheel trailer on the edge of the parking lot.
"Oh, my little fishies," she cooed to a small fishbowl nestled in one of the boxes.
Property owner Sandy Popko was on hand, along with Humboldt County First District Supervisor Rex Bohn and Lee Figas, brother of property manager Robert Figas. Popko watched the people going in and out of the house. A light post in the front yard had been pushed over and leaned against the white picket fence.
"I haven't been able to go in here for months, so I'm very, very nervous about the amount of destruction," Popko said. She'd already been told about the old growth redwood planks that had been torn out of the shed out back, probably to be sold, she said.
More than 5,000 pounds of garbage have been hauled off the property in the past month, according to Bohn, and several vehicles have been hauled away during the last couple of weeks.
But Nicky Davis, one of the people moving out today, said the tenants shouldn't be blamed for everything that's happened here. She accused Figas of being negligent in his upkeep of the property and then bullying people in an attempt to force them out.
"The plumbing's broken; this place has got mold, cockroaches," she said. "They're trying to make us look like pieces of shit when this is all we could afford." While Davis wasn't paying rent herself, she said her mom and boyfriend were, and she had been staying there off and on for the past four months helping her mom.
While Davis was talking to the Outpost, another tenant walked past. She was angry that her photo had been taken earlier and she had a message. "You publish that picture I'm gonna hunt you down and kill you. You understand?" she said.
Davis didn't seem to register the comment. "People here are getting a bad rap," she said. "Yeah, there's people here with drug issues, but there's people with addictions all over town. We're just trying to make do and survive." There have been dozens of law enforcement calls for service in recent months, but Davis said most of the problems stemmed not from the 15 defendants but others who stayed on the property without permission.
"When everybody was here, yeah, there was conflict because of all the personalities. But for the most part we watched out for each other," she said. "We fed each other, you know? It was a community in this house."
Davis said she doesn't know where she and her mom are going to stay tonight.
Lee Figas stood in the middle of the parking lot watching people come and go. He didn't want to say the exact dollar amount each defendant was receiving, though he said once they all left they'd receive their checks. But that won't be the end of the situation.
"It's not like this is going to be cured," he said. "They were in Devil's Playground and came here. Now they're gonna go somewhere else. The problem's not over. It's solved here, but the community still has a homeless problem to deal with."

Bohn agreed. "It's an epidemic statewide and nationwide," he said.
A few minutes later Bohn walked around the property, noting the missing floorboards and accumulated garbage in the back shed, the broken appliances strewn about the backyard and the graffiti on the walls of bedrooms visible through open doors.
On the north side of the house Popko caught a glimpse inside one room and gasped at the sight. "Oh god," she said, and her face crumpled as she began to cry. The woman who'd been standing in the doorway ducked inside and slammed the door shut. Popko's husband put his arm around her and they moved on.
Gregory Holtz, the attorney for the tenants, was onsite but declined to comment.