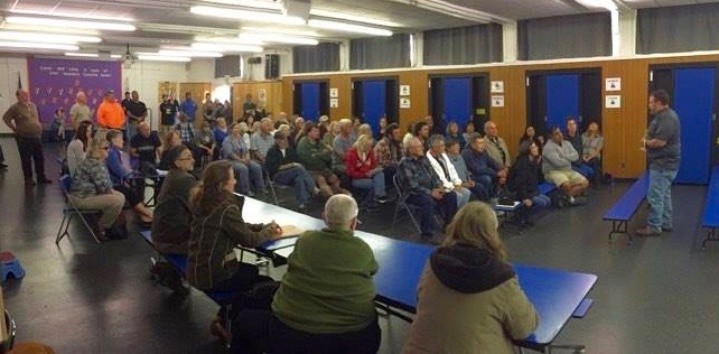 PREVIOUSLY
It was standing-room only last night in Pine Hill Elementary School's multipurpose room as neighbors gathered for a community meeting to discuss the ongoing problems at 4565 Lewis Avenue. The property houses a former senior living facility that over the past year has been overrun by unsanctioned tenants, or "squatters," as Pine Hill residents call them.
As the landowner and property manager fight a court battle over the eviction process, this place remains the scourge of the neighborhood, a trash-and-vehicle-strewn eyesore where crime runs rampant and dozens of residents live in squalor.
Here's how the place looked on Tuesday evening:
After grabbing this footage the Outpost spoke with one of the residents, a man named Jack Sarter who said he's the one who enlisted the help of Northern California Legal Services to fight the eviction. He acknowledges that many of the people living in the main building are squatters who have no right to be there, but he said others, especially in a 15-unit rear building not visible from the street, are legitimate tenants who don't deserve to be thrown out.
"We were just worried about the due process thing," Sarter said. "There's channels to do in evicting somebody. You can't just hassle somebody and say, 'You gotta go.' You have to put some documentation down. They didn't do that. And that's why I got a lawyer."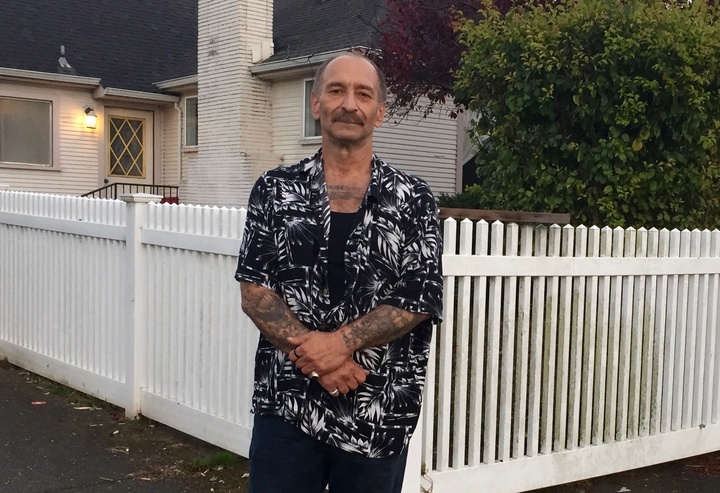 Sarter said that he and his "lady" moved in back in May and started paying rent in cash to an onsite manager named Abby, who was a friend of his. But when Abby moved away things started to fall apart, he said. New people started moving in, bringing vehicles and garbage with them.
Sarter doesn't like being lumped in with them. When he rides his bike in the area people glare at him. "I think it's bad, the fact that we're being judged by a whole bunch of cats that, they don't know what kind of people we are," he said. "Granted, they see this shit out here." He gestured with his arm at the parking lot full of broken down trucks and old RVs, some of which have been filled with bulging garbage bags. Sarter doesn't like the sight either. "it really annoys the fuck outta me," he said. "But what can I do? I can come out here and pick up papers and trash, and then maybe someone will follow suit."
He does so regularly, he said. But the trash keeps coming. He understands the frustration of the neighbors, but he wants them to understand that the people living in the back unit aren't the same. "We all have rent receipts," he said. "We paid our rent on time." That is until June, he said, when the property manager refused to accept any rent and told him he and his lady needed to leave. Sarter, who said he used to manage apartment complexes in Los Angeles, felt his rights had been violated, so he reached out for legal help.
Meanwhile, things have only gotten worse at 4565 Lewis Avenue. Since early February, when the Outpost began tracking the Humboldt County Sheriff's Office's calls for service, deputies have been called out there at least 60 times for calls ranging from disturbance reports to an animal attack, welfare checks, abandoned vehicles and, more seriously, burglary, assault and battery and one call for "promiscuous shooting." Five criminal cases have resulted from those calls, though only three arrests have been made.
Judging by the turnout last night those stats barely scratch the surface of the frustration felt by local residents. Addressing the roughly 80 people in attendance First District Supervisor Rex Bohn said that while it may not look like it, a lot of work has been done trying to improve the situation. The court case on charges of unlawful detainer will proceed after Judge Dale Reinholtsen ruled against tenants on a demurrer filing early last week.
Bohn said a trial date must be set within two weeks, and if the judge decides in favor of landlord Bob Figas he'll issue a writ of protection. Tenants would then have five days to get out.
"What you guys are having to put up with is the biggest pile o' crap I've ever seen." —Rex Bohn
Bohn tried to commiserate with the people in attendance. "I average about 15 phone calls a day on this rest home, and I am fine with that because what you guys are having to put up with is the biggest pile o' crap I've ever seen."
But at least one resident wasn't ready to be placated. A woman seated on one of the room's fold-down benches demanded to know how this situation was allowed to develop in the first place given the fact that the property is not zoned for multi-family dwelling. Bohn explained that Figas had been providing workforce housing for some of his construction company employees, but after handing over some responsibility to an onsite manager Figas got sidetracked by a family emergency and things got out of hand.
"But I called you back then, in April," the woman protested. "It's not zoned multi-family. It's zoned senior residential." She went on to argue that the responsibility lies with the property owner. That owner, Sandy Popko, was present but according to Bohn couldn't talk about the situation due to the ongoing court case. "It shouldn't have been leased in the first place," the woman in the audience continued. "It's a public nuisance."

Bohn agreed but said the only thing to do now is move forward.
A couple of Humboldt County Sheriff's deputies were on hand to explain the eviction process should the court rule in favor of plaintiffs. Law enforcement will be on hand to make sure things go smoothly. "Sometimes emotions can get elevated," said Lt. Dennis Young. "We make sure everyone's safe; then the landlord changes the locks."
Sgt. Samuel Williams said the Sheriff's Office sympathizes with people's concerns and assured the crowd that reinforcements are coming. "Over last two years we've hired an enormous amount of people," he said. "We're just building back from being behind. I can tell you that we're going to be improving our regular presence in the area."
Former California Assemblywoman Patty Berg was in attendance, and she encouraged people to get active with a community watch. "We can take back our own block, and we can take back our own neighborhood," she said.
Also present was Connie Beck, director of Humboldt County's Department of Health and Human Services. She noted that there's not a whole lot her department can do given the fact that many of the residents of the property don't qualify for services, and even those who might have to be willing to participate. The county has done outreach at the property, without much success.
"Most of the folks there are not interested in any services whatsoever," she said. "They are totally fine with being there for free and will probably wait until the last minute, until they're forced to do something."
Beck's colleague, DHHS Environmental Health Division Director Melissa Martel, said her staff has addressed several solid waste violations on the property. "We know that far more serious things are going on because my staff is afraid of going out there," Martel said. Her staff has reported issues to the county's code enforcement unit, but she said that process will likely take longer than the court process.
Sally Hewitt, senior program manager at DHHS, said the county learned some lessons during the evictions of the Palco Marsh and, just last month, Eureka's Budget Motel. When evictions get underway, she said, DHHS staff will be onsite every day to start working with people who have eligibility for the department's programs, particularly seniors, who tend to be the most vulnerable.
As the meeting was wrapping up, Bohn said he'd like to hold another one in 30 to 45 days. He said he'd probably notify Pine Hill residents with fliers, as he did for last night's meeting, because a more public notice might attract the attention of residents at the Mycroft property. They might show up and complain that people don't understand where they're coming from, Bohn said, adding that he's pretty sure people do understand.
Back on the property itself, Sarter said he's expecting to lose the court case. Asked what he'll do if he gets kicked out he said, "I'm gonna be homeless!" He's saved up some money, he said, and he's on social security. But he doesn't have enough to move into a new place. Like everyone else living in the area, Sarter said he's frustrated with how people have taken advantage of the situation — frustrated with the crime and the noise and the mess. "But I need a place to live," he said. "And I was paying my rent."