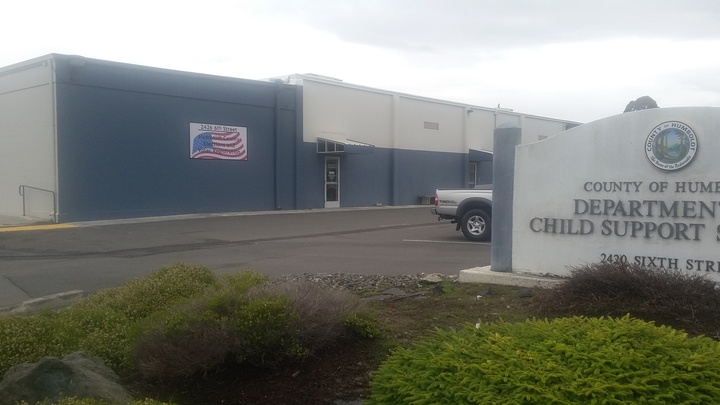 If you've been a fan of the horserace coverage of this cycle's presidential race, then you've been reading and hearing a lot about early voting in the last few days. How many people are turning out to vote early in North Carolina? What about Nevada?
All this talk of early voters reminded your Lost Coast Outpost that Californians can start voting weeks before Election Day, if they like, and it doesn't even matter if you're registered as an absentee voter or not. Since your correspondent has never done that before, this morning he thought he'd give it a whirl.
It's pretty easy! Just walk up to the counter and fill out a quick form. The nice people working the counter at the Humboldt County Elections Office will look up your particulars in their computer, then walk back into the depths of the office and return with your ballot. You can fill it out right there in the office and drop it into the ballot box, or you can take it home with you and return it by mail.
They were doing steady business in the Elections Office this morning. Two out of the four available voting booths were filled with voters as I walked in. Other walked in to request a to-go ballot. One poor guy from Mendocino County discovered with dismay that local people couldn't provide him with a Mendo ballot.

But if you are a Humboldt County registered voter and inclined to get things over with before next Tuesday, nothing could be easier. Took me maybe 10 minutes, from the moment I stepped to the counter to the instant I dropped this election's extra-long ballot into the barrel.
For some reason I felt obscurely guilty walking in and voting like this. For some reason I thought I would be making extra work for elections staffers. But Humboldt County Clerk-Recorder Kelly Sanders, who showed me around the new Elections Office digs in the old Humboldt Plaza mall, assured me that it really made no difference to them. Early ballots, absentee ballots, ballots from your polling place — it is all as one.
So here's how to vote between now and Election Day, if you want to do that for any reason.
HUMBOLDT COUNTY EARLY VOTING FAQ
WHO: You.
WHAT: Early voting in the 2016 general election, nominally held on Nov. 8 but in fact ongoing.
WHERE: The new Humboldt County Elections Office on the very east end of Eureka's Sixth Street, near the Harley-Davidson dealership and the old Circle K as you're driving northbound out of Eureka on Highway 101. That's 2426 Sixth Street, Eureka. See the map below and the picture above.
WHEN: The office is open between 8:30 a.m. and 5 p.m., Monday through Friday. Closed between noon and 1 p.m. Fill out your ballot there, or take it home and get it back to the Elections Office by election day.
WHY: Literally for any reason you like, up to and including a passing whim.