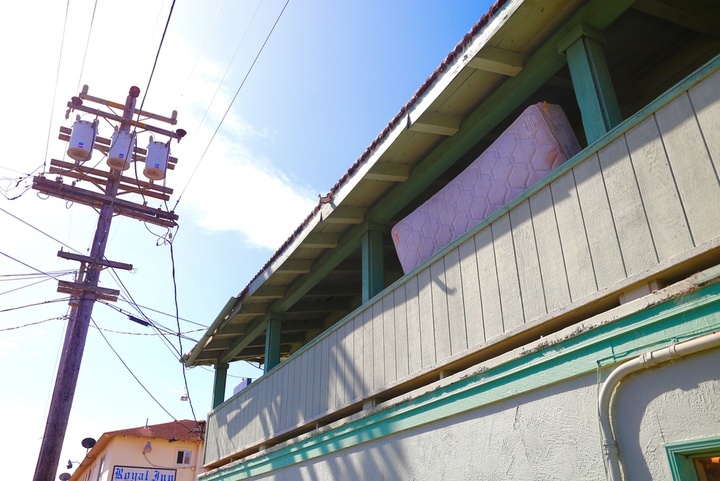 PREVIOUSLY:
###
From the City of Eureka:
Following an extensive history of code violations and incomplete attempts at compliance on the part of the property owners of the Budget Motel, staff from the City of Eureka, Humboldt Bay Fire, and the County of Humboldt Division of Environmental Health executed an inspection warrant at the Budget Motel located at 1140 4th Street on September 13th. The warrant authorized full inspection of the entire premises, which was completed over a four hour period.

After reviewing the documentation from the inspection teams, City staff determined that there were 341 separate code violations at the property, including structural hazards, open wiring, missing plumbing fixtures, mold, severe infestations of cockroaches and bedbugs, and occupancy of fire-damaged rooms. These problems are not new. The City has prosecuted more than 30 code enforcement cases over the last ten years, many of which remain open and unresolved. The owner is adept at doing just enough without actually making substantive changes. To date the City has issued more than $70,000 in fines. Because of the severity and pervasiveness of the violations, Director of Public Works Brian Gerving, who also serves as the City's Chief Building Official, determined the nature and extent of the violations to be significant and an immediate threat to the health and safety of the occupants, residents of surrounding properties, and the general public.

On Monday, September 19, 2016 the Superior Court of Humboldt County issued an abatement warrant to allow the City to vacate and secure the property against entry. Ravindra and Amanda Kushwaha, owners of the Budget Motel, retained local attorney Carlton Floyd to pursue a Temporary Restraining Order (TRO) against the City of Eureka to prevent the City from vacating the motel. Judge Dale A. Reinholtsen issued the TRO on Wednesday, September 21st until the matter could be heard at 8:45 AM on Thursday, September 22nd.

City Attorney Cyndy Day-Wilson presented the City's argument supporting the immediate vacation of the motel property. The Kushwahas' request to continue the TRO for 45 days to rectify the violations was denied by the Court. Judge Reinholtsen stated in his order that he found the violations at the Budget Motel to be "hazardous and pose an imminent threat to occupants of the motel and the surrounding community."

The vacation of the structure will begin shortly after 8:00 AM on Friday, September 23, 2016. Due to the owners' failure to provide relocation benefits to the residents, many of whom have paid their rent through the end of the month, the City is prepared to provide those benefits to the residents. The City will seek to recover these and all other costs associated with this enforcement from the owners. The City is currently developing its enforcement strategy to resolve the violations at the property. The owners will be given a strict time-line with various options for compliance.