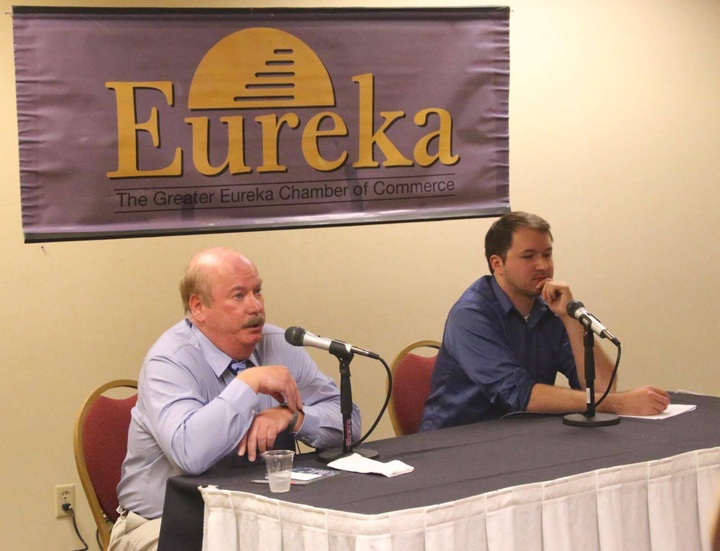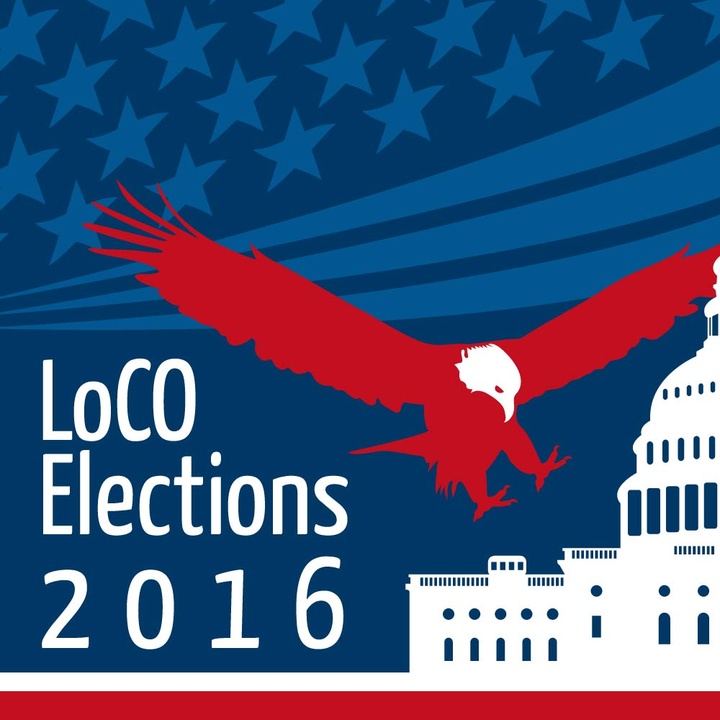 At lunchtime today, Eureka City Council candidates John Fullerton and Austin Allison sat before an audience of turkey sandwich-eating local business leaders and laid out their respective cases for earning votes this November. The candidates spoke at an election forum hosted by the Greater Eureka Chamber of Commerce in a conference room at the Red Lion Hotel.
Despite being roughly four decades apart in age, the two men possess similarly genial, mild-mannered demeanors, so anyone hoping for the type of zinger-filled pugilism of this year's presidential primary debates would have been sorely disappointed. But those seeking a glimpse into the candidates' ideas and thought processes probably came away satisfied.
Allison began with a slightly nervous mike-check. "Can you hear me? Awesome," he said before launching into a prepared statement. He described himself as a 25-year-old cardiac monitor technician at St. Joseph Hospital with a small business making furniture. "I'm young, and I love Eureka," he said.
His top priority would be economic development, he said, mentioning Arcata success stories Holly Yashi and Fire & Light as the type of light industrial business Eureka should try to attract. He also mentioned the region's spotty Internet connectivity, saying he'd focus on improving it. And, reading from his script, he said he would bring a "positive outlook" and an "ability to work as a team player" to the Eureka City Council.
In his own opening remarks Fullerton drew a contrast with his young opponent by highlighting his own experience and long history in the community. He, too, appeared a bit nervous at first, admitting that while he's been a member of the Chamber for 30 years this was his first time addressing the group at large. He said that he moved to Eureka 40 years ago and fell in love with the town.
With three kids living in the area, Fullerton said he and his wife don't plan on leaving. "So I have a stake in the future of Eureka," he said, "and I want to make it better." With a subtle jab at Allison, Fullerton said, "Good intentions are not enough" before outlining his long history of community involvement, serving on a variety of government and nonprofit boards.
"I want to encourage everyone to compare our records and judge for yourself who's best able to lead Eureka into better times," he concluded.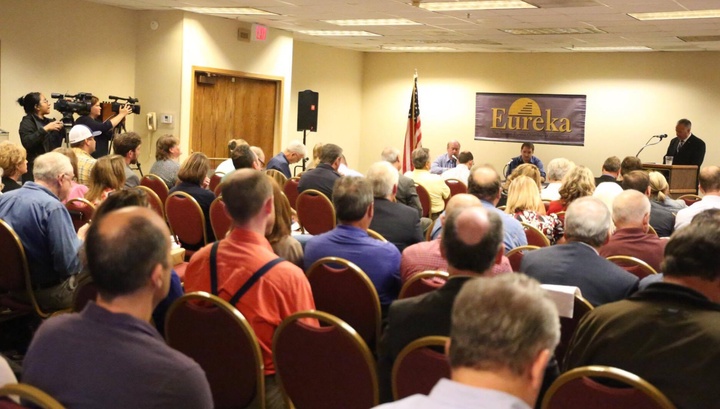 The two then took turns answering questions on specific issues. Allison said unequivocally that he supports both Measure U, the proposed half-percent countywide sales tax aimed at funding road repairs, and Measure S, the proposed marijuana cultivation excise tax. Fullerton was a bit more measured, saying he's conflicted about Measure U. The recent passage of other countywide sales tax measures gives him pause but he's "leaning toward supporting the measure," he said, because, "I, like all of you, am tired of dodging potholes." Fullerton supports Measure S.
The candidates agreed on the importance of addressing homelessness. Allison said he'd focus on the root causes and try to get people into treatment programs and more affordable housing. Fullerton said neglect led to the problems at the Palco Marsh and argued that existing programs — from Betty Chinn's work to the Mobile Intervention & Services Team and the Multiple Assistance Center — are not enough. While he supports the City's "Housing First" philosophy he said he thinks there should be a sanctioned camp for those who are "not ready to be housed."
Asked what's the biggest threat to Eureka's business community, Fullerton said it's crime, noting that the issue is tied to homelessness. Allison said the city has an image problem, also related to homelessness, and residents should reclaim public parks and "invite more business owners" to the area.
Both agreed that Measure R, the minimum wage initiative proposed in Eureka two years ago, would have been bad for the City, though Fullerton, who helped lead the campaign against the measure, was more emphatic about his opposition.
After the candidate forum the Chamber heard pro and con arguments on both Measure S and Measure U. Dani Burkhart, a consultant with Emerald Heritage Farms, argued against the marijuana tax, saying it could "cripple" small growers and the fledgling industry here in Humboldt. Mary Ann Hanson, a children's advocate and educator, argued for the measure, saying funds would be used to clean up environmental damage and support important social service programs, among other things.
On Measure S, Kent Sawatzky of the Humboldt Taxpayers League said that while he is not against all taxes, he and his fellow league members are unanimously opposed to this one because the revenues wouldn't go entirely to road repairs and there have already been too many taxes levied on local taxpayers.
Humboldt County Supervisor Mark Lovelace, speaking as an individual, argued for the measure, saying it's "really about self-reliance." The state has handed local jurisdictions more and more responsibilities while forgetting to supply funding, he said, adding that the vast majority of revenues — 99.5 percent — would be spent on roads and infrastructure in local cities and the unincorporated areas of the county. With declining revenues from the statewide gas tax, Humboldt County has a $200 million backlog of repair work that urgently needs attention, he said.
Stay tuned in the coming days and weeks for more election coverage from the Outpost.