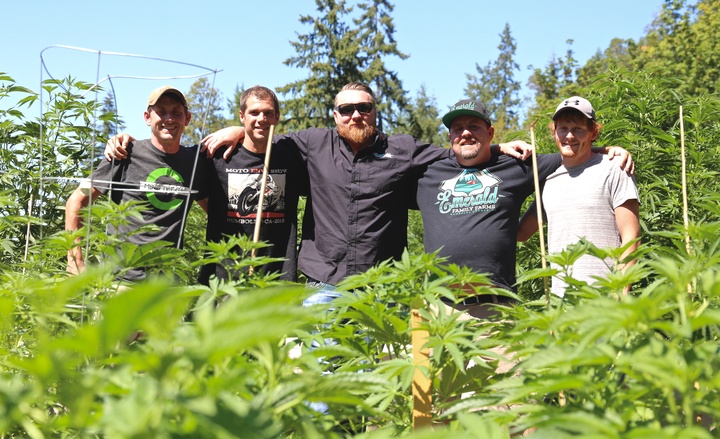 Local marijuana growers are clamoring to go legit. Back in January the Humboldt County Board of Supervisors passed the Commercial Medical Marijuana Land Use Ordinance, making ours the first county in the state to establish a commercial permitting system. And by the Aug. 23 deadline the county had received roughly 1,300 registration forms from people (and organizations) looking to grow weed under the full scrutiny of The Man.
As the industry begins to emerge from the black market chrysalis offered by our forested hills we're beginning to see the new form it will take as a taxed and regulated enterprise. Many growers have found themselves chafing under all the red tape, but the owners and operators of Emerald Family Farms have been preparing for this transition for years. Unlike the dozens of industry folks who protested a proposed excise tax back in July, Emerald Family Farms supports the proposal — for all but the small-scale growers, anyway.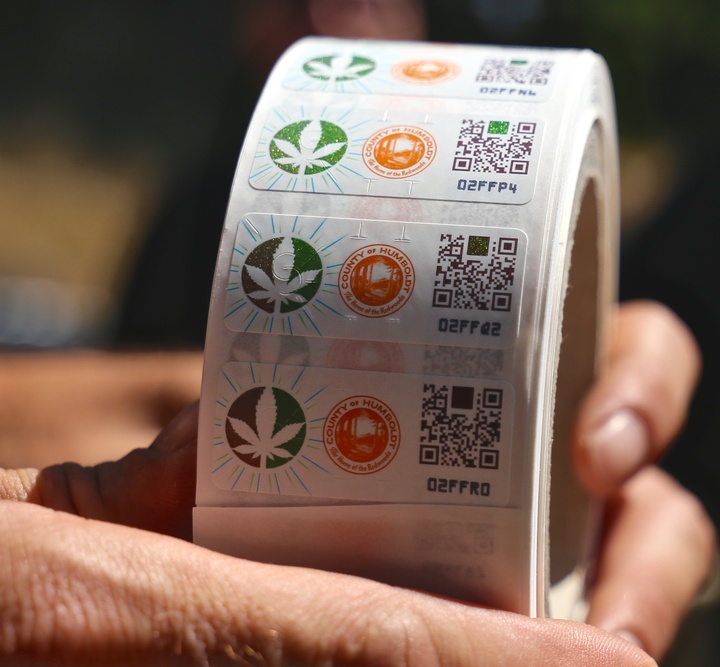 With their own grow operation near Berry Summit at 5,000 square feet, and plans to expand to nearly 30,000 square feet, Emerald Family Farms' owners have enlisted in the county's "track and trace" pilot program, which uses QR-coded stamps to follow cannabis through every step of the supply chain. They've hired public accountants, trademark attorneys and marketing experts. They've signed a distribution deal placing their product in roughly half the state's dispensaries. They even hold monthly meetings in Willow Creek to help other growers get compliant with regulations and participate in their agricultural co-operative, which stands at close to 100 growers strong.
In other words, Emerald Family Farms is diving headlong into the state-legal weed market and the bureaucracy that comes with it. "I've always wanted to be above ground," said founder and co-owner Patrick Murphy. In fact, he started asking government agencies for inspections and permits years ago, he said, long before such programs existed. "It's really hard being in a business where you can't market yourself, and if you're in the black market you can't distinguish yourself," Murphy said.
With a 1 million-gallon rainwater catchment pond constructed (sans permits) years ago, Murphy is looking forward to marketing his cannabis as "salmon safe," in part because it's the right thing to do but also because it'll be a great marketing tool, he said.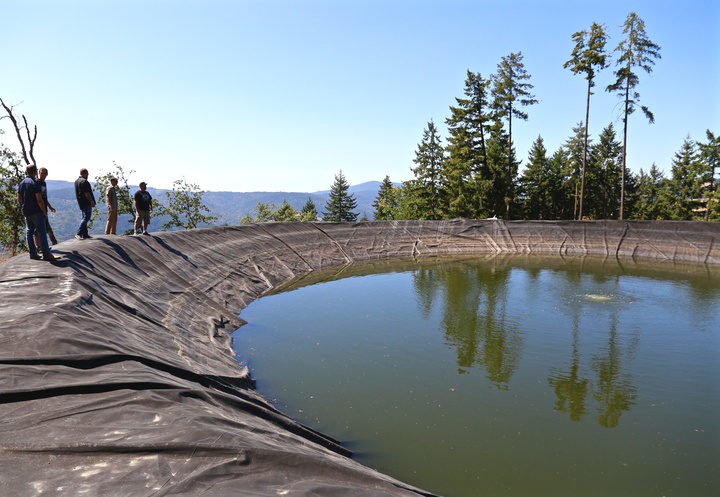 While the enthusiasm for legitimacy is unmistakable, Murphy's business partner Isaiah O'Donnell said it didn't come naturally. "As a farmer — I'm a second-generation farmer — you don't talk to law enforcement, you don't tell people what you do, you don't pay your taxes. You hide, you deny everything," he said. "That's what we're all taught growing up. Some of these people in Southern Humboldt are third- or fourth-generation outlaws. Breaking that mold is a hard thing to do."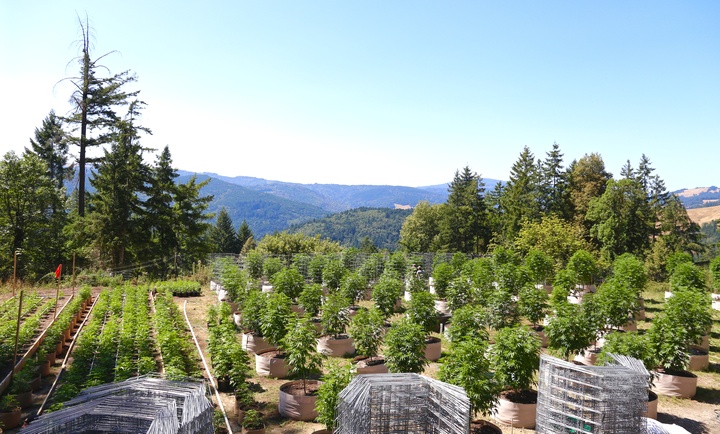 The tight-knit growing community has vivid memories of CAMP helicopter raids and overzealous code enforcement officers, but times have changed. The community has been infiltrated by large-scale greed growers willing to befoul the environment in their pursuit of profits while, at the same time, the government has softened its stance and, on the state and local level, at least, opened the door to collaboration. Which has its own benefits.
"Peace of mind is amazing in this industry right now," O'Donnell said. "I mean, I'm a father. I have kids, and the last time I was farming on a large scale I got busted, and I had a 1-year-old on my hip. That's a horrible experience to go through. And when I was a kid and my dad was farming he got raided by CAMP. Those are horrible things to go through as a kid."
Now, with permits from the county, California Fish & Wildlife and the North Coast Regional Water Quality Control Board, Emerald Family Farms has some degree of confidence that they won't get raided by law enforcement. The farm's owners can show up at government meetings and talk to officials without fear of arrest. "And having that peace of mind is an amazing lift off your shoulders," O'Donnell said.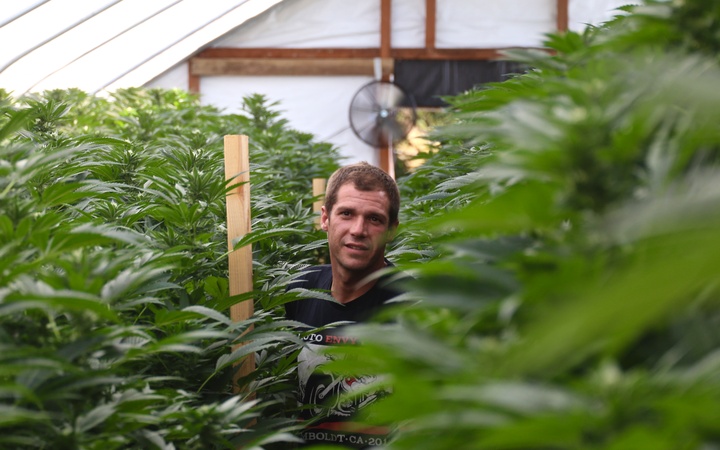 The excise tax measure approved by supervisors for the November 8 ballot will, if approved, tax commercial growers one dollar per square foot for outdoor growing operations, three dollars per square foot for indoor grows and two dollars per square foot for mixed-use operations.
Many growers have decried these fees as "onerous," saying the industry should be nurtured in the early days of legitimacy. But Murphy disagrees. "There's no way to go lower," he said. The county's proposal of $1-$3 per square foot "is the very lowest in the state, and I thank the Board of Supervisors for their leadership on that," he added.
As part of the political action group California Cannabis Voice-Humboldt, or CCVH, Murphy helped craft draft legislation that proposed essentially the same tax structure. (It also proposed more conservative size limits than what the county ultimately settled on.) Jurisdictions elsewhere in the state are considering much higher taxes. Monterey County, for example, has proposed a rate starting at $15 per square foot of canopy and increasing over time to $25 per square foot.
While Murphy and O'Donnell support Humboldt County's proposed rates, they say craft cannabis producers or "mom-and-pop" operations — those under, say, 3,500 square feet — should be exempt. "It's important for our small producers to survive," O'Donnell said. "It's important for the tourism dollar. Smaller farmers need direct-to-consumer access."
Murphy thinks the tax measure would still generate plenty of revenue for the county. "The wish is that this tax raises the quality of life here for everybody, and I think it's really, really doable," he said.