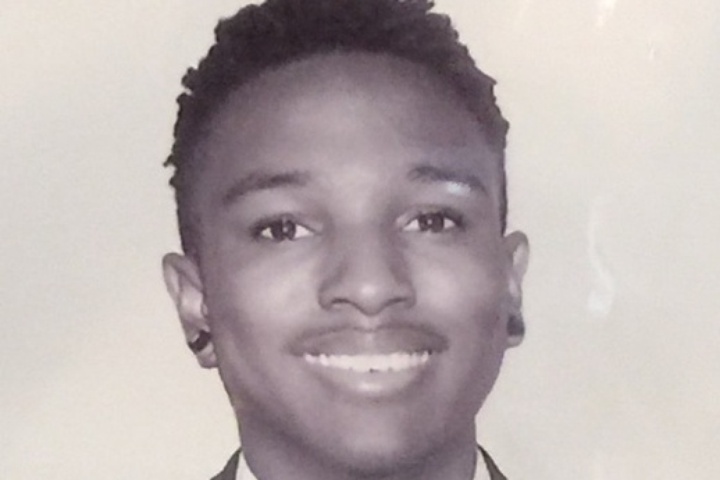 Katauri Thompson, a young Humboldt State University student from Southern California, stood under the arched beams of the university's Great Hall, microphone in hand, and asked for his fellow Brothers United to stand up.
The cavernous conference room, located on the second floor of HSU's College Creek Marketplace building, was packed with close to 150 people including students, faculty and administrators. At Thompson's request, seven young men wearily stood up from the crowd. These were the remaining members of Brothers United, a cultural club comprised of young, predominantly black men.
"This is just us, right here, man," Thompson said. "There's not many of us, man. We all come from similar backgrounds. And I'm not saying somebody's better than another, but y'all know Josiah was the one."
Three days earlier, David Josiah Lawson, the 19-year-old president of Brothers United, had been stabbed to death at an off-campus party. This gathering, which took place Tuesday evening, was billed as "a prayer service for healing" in remembrance of Lawson.
Thompson said his late friend was the baby of their group and recalled his "little goofy smile." He thanked people for coming and urged them to remember Lawson for who he was. As for the tragedy of his death Thompson said, "The only way you can kill this type of vicious act is with love and kindness."
A couple minutes later another member of Brothers United, Elijah Chandler, took the microphone and faced the crowd. His shoulders heaved as he took a couple big breaths.
"I tried everything not to hop up here," Chandler said. "I just came from the doctor; they gave me some Valium. … My heart is still just thumping in my chest."
He said he didn't want to relive the traumatic events from two nights earlier, but he felt compelled to tell his community.
"I loved Josiah right when I met him," he said. His voice was quavering with emotion, and two of his fellow Brothers United came to the front of the room and stood on either side of him, each resting a hand on one of Chandler's broad shoulders.
"That dude was 19," Chandler said with an air of disbelief, "but everything he did was just like I used to do when I was 19. He was loving, so caring and just, just happy all the time."
He recalled seeing Lawson arrive at the party where his life would end. It was an off-campus party on the 1100 block of Spear Avenue, a party that started Friday night and went into the early-morning hours of Saturday. Chandler remembered Lawson showing up. He remembered saying "yo" to each other. And he remembered Lawson's handshake.
"He always had the firmest handshake I ever felt. … He always wanted you to know he's the man," Chandler said. "I had to give it right back: 'Nah, I'm the man. You're still the little homie.'"
Chandler paused for a couple seconds, and when he continued his voice was strained, the pitch a little higher.
"The next time I saw Josiah I was fighting for his life," he said. "I'd never seen that boy off his feet."
Lawson was stabbed numerous times shortly after 3 a.m. Saturday following an altercation that, according to witnesses, involved an argument with two white girls about a phone. Twenty-three-year-old Kyle Christopher Zoellner, of Mckinleyville, was arrested at the scene and booked for murder. A knife was recovered at the scene, and as of Tuesday afternoon Arcata Police officers had interviewed more than 25 witnesses.
Chandler recalled running to his friend's side and falling into a puddle of his blood. He took his shirt off and began pressing it to the wounds, he said. Lawson's girlfriend was screaming. Chandler tried to calm her down and told her to put pressure on Lawson's wounds.
Chandler began giving Lawson chest compressions and calling out to him, "just, 'It'll be OK, Josiah, it'll be OK.' I'm just like, 'It's all good, man. You right here, you right here.' And then he stopped breathing."
Chandler grabbed Lawson and began to "give him some breath," administering CPR, he said. At some point he noticed that his face and lips were burning. "Come to find out they had maced him prior [to the stabbing]," Chandler said. "He couldn't even see before it happened."
Chandler remembers giving CPR to Lawson for 15 minutes before an ambulance arrived, with Lawson periodically regaining consciousness only to slip back under. "Every two minutes or so he stopped breathing and I kept giving him air again." Chandler was visibly distraught, his breaths catching in his chest. "And every time he just got back, and I'm like, 'All right, man! All right!'"
Finally Chandler couldn't talk anymore. He collapsed into sobs and his Brothers embraced him.
The Outpost has made multiple calls to the Arcata Police Department hoping to get some official information about the timeline of events that night, including how long it did take for an ambulance to arrive. We have yet to hear back.
Chandler previously told North Coast News that officers on the scene failed to offer help to the injured Lawson. "All they were focused on was making sure these people of color weren't getting out of control," he said.
Scanner traffic from that night reveals that emergency personnel were summoned to the scene not long after 3 a.m. Less than four minutes after the initial call scanner traffic indicated that Arcata police had the scene secured and "medical may proceed to victim." A minute and 20 seconds later the scanner indicated that CPR was being administered. However, there's no way to tell whether this was being done by EMTs or by Chandler.
Less than 10 minutes after the initial call law enforcement asked for backup, saying, "Can we have extra units respond? We have a very aggressive crowd."
Zoellner's mug shot shows that by the time he was booked his face was scraped and bruised, with one eye swollen shut. Thompson told the Outpost that the injuries must have occurred after the altercation that left Lawson dead.
Nearly 15 minutes after the initial call a voice on the scanner said there was a unit "en route to Mad River to provide security for the hospital."
Law enforcement ran Zoellner's name nearly 20 minutes after the initial call.
After Chandler was ushered away by his friends, Pastor Michael Burke of Galilee Baptist Church said a few words, trying to console the assembled group. Then Dr. Corliss Bennett, director of Humboldt State's Cultural Centers for Academic Excellence, addressed the crowd.
Bennett referred to the November 2015 incident wherein two black, female HSU students were walking in Arcata and got assaulted by two white men in a pickup truck. They threw a bottle at the women and "proceeded to taunt, harass, and chase them," according to HSU President Lisa Rossbacher.
"Race is all up in this," Bennett said regarding Lawson's stabbing. "Just in case you didn't know," she said, as the crowd started to applaud. "Just in case you didn't know," she emphasized.

Bennett mentioned partygoers "dropping N-bombs," though she acknowledged she wasn't present that night.
She went on to call on the HSU community to step up and address the underlying problems.
"We're here today because of a tragic situation, but I wanna know what's gonna happen next Tuesday, and next Tuesday, and in September, and October," Bennett said. "We've got to do better as a community."
In an interview following the prayer meeting, Thompson said Humboldt seemed idyllic when her first saw it. "A lot of us came out of inner-city areas thinking that this was a safe zone," he said. "Coming from Spring previews or summer tours up here, [it] was indicated that, hey, people of color, minorities, even the vast majority of the white population up here is liberal," making it seem like an "altogether safe haven spot for us as a community."
But that's not what he and his friends have found. Thompson and fellow Brothers United member Amir Staples said they were falsely identified by police officers in Arcata just two weeks ago. "And they had guns to our heads," said Staples, who came to Humboldt from Oakland. They never found out why they were stopped.
As Bennett kept speaking, Chandler, Thompson and other members of Brothers United came back into the room. They stood at the front and gestured for another man, a tall, white man, to join them. His name was Mike.
Thompson took the microphone back and spoke a bit more about what kind of man Lawson was. They'd grown up together in the inner city and frequently asked each other, "What now?" Thompson said. Whatever they faced — violence, racism — they'd look forward with that question.
"My question is, when you look at him," Thompson said, gesturing at the white guy, Mike, "and you look at me, what do y'all see? … He has a heart on the left side of his chest. So do I. We breathe the same oxygen, don't we Mike?" Mike agreed. "All of us are alike," Thompson said, "cuz your eyes are the biggest liar in the world. Look past what you see on the outside and know what's inside, whether it's knowledge, power and love. Josiah was all of that. … This is the hard part where we ask for the community: What now?"
Chandler had regained his composure. He took the microphone. "Corliss is asking what do we do next Tuesday? And the Tuesday after that? I know what we doin'," he said. "BU [Brothers United] is meeting at 7 p.m. And we gonna keep on meeting, and keep making sure that we become stronger and better."
Chandler was looking forward, but he was also clearly angry and frustrated. He talked about changing the community and relying on Josiah for inspiration. "Everything that happens next is because we want change," he said, breathing hard. "And if you don't want to be a part of that change, you need to get the hell out the way."
After the Brothers United men left the room for the final time, Pastor Roger Williams of Eureka's Seventh Day Adventist Church got up and talked about the challenges of growing up black on the North Coast. "I was the first African American baby born in Mendocino," he said. He urged the community not to react to the question "What now?" but instead to "thoughtfully respond to 'What now?'"
Bennett asked the crowd to gather around the perimeter of the large room and hold hands. They did so, forming a complete perimeter. The line was several people deep in some places. And with a woman playing piano at the front the crowd they sang a series of songs: "I Love You Lord Today" was followed by "Jesus Love the Little Children" and finally, they launched into a loud and heartfelt rendition of "Lean on Me."
Zoellner is being arraigned today.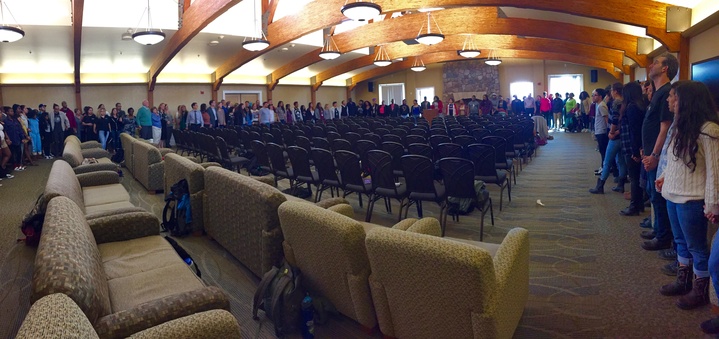 PREVIOUSLY:
ELSEWHERE: