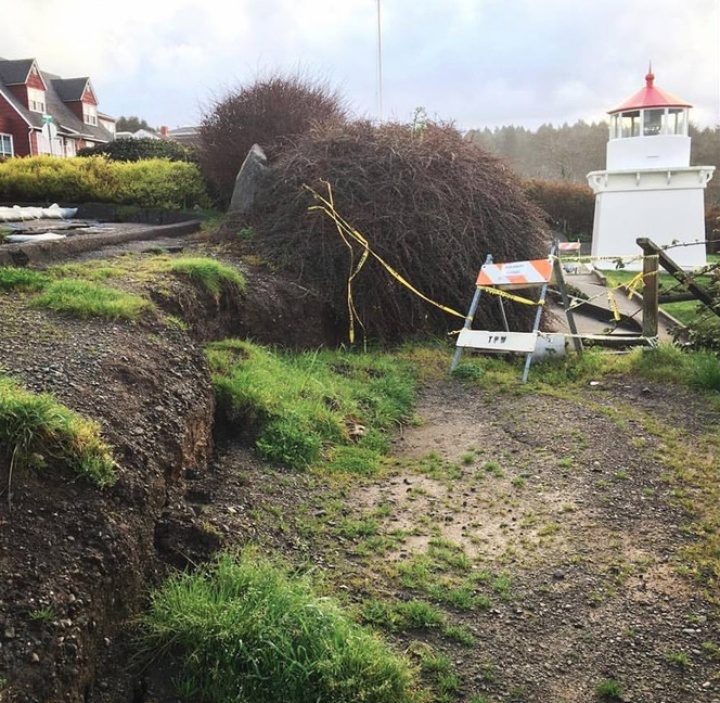 The Trinidad Civic Club has set up a GoFundMe page in hopes of raising enough cash to cover the cost of saving the Memorial Lighthouse from sliding into the Pacific Ocean.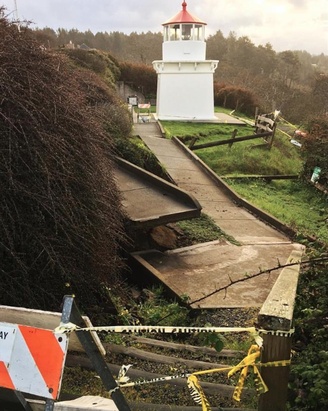 "Unfortunately, this unique monument is threatened by bluff instability and is at risk of sliding down slope," the Trinidad Civic Club writes. "Although the Memorial grounds as of this writing are largely intact, the bluff is eroding inches from the site. Remedial measures must be taken immediately to preserve it and we are looking for your help!"
Concerns for Trinidad's Memorial Lighthouse, one of Humboldt County's most iconic landmarks, arose after a large chunk of bluff began to slide away from the hillside surrounding the monument.
Tests were performed earlier this year by a local geological company, and it was determined that another rainy season would likely cause the lighthouse to sink down the hillside.
During a presentation at a civic meeting last month, The City of Trinidad was presented with the possibility of moving the lighthouse back roughly 15 feet, which the geological company believes would be enough to save it from further sliding.
Members of the Civic Club, which owns the lighthouse, stated at last month's meeting that it would likely be able to cover $50,000 of the estimated costs.
The Civic Club began sharing the GoFundMe page today, and has so far raised $540 of its $100,000 goal.