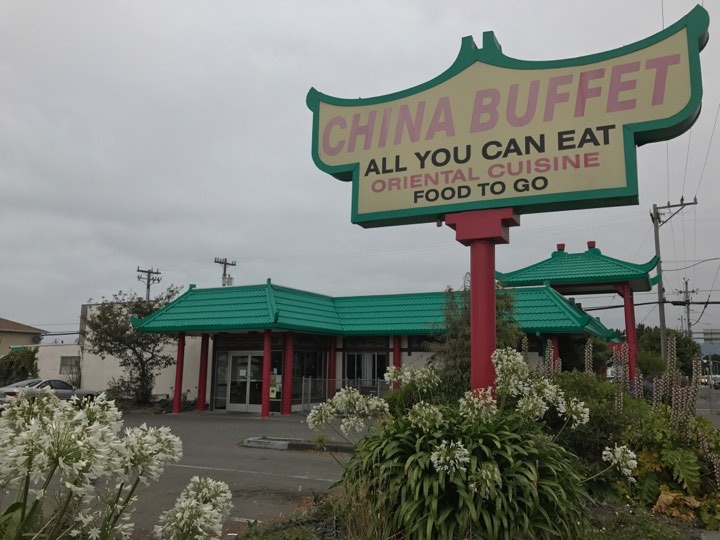 I'll be honest. While yesterday's news about the closure of Arcata's Taco Faktory food truck bummed me out, I'll probably still go back when it reopens. Those Korean BBQ tacos are so good! And my wife tells me bacteria strengthens the immune system. (I've strategically chosen not to investigate the science any further.)
But today we get news of another closure, and, well, the ick factor here is going to be a little harder to overlook.
During a re-inspection of Eureka's China Buffet (which the report calls China One Buffet) an inspector with the Humboldt County Department of Health and Human Services Department of Environmental Health identified 14 health and safety code violations including (appetite spoiler alert!) live cockroaches in the kitchen; rat feces and other evidence of a vermin infestation; raw chicken stored on top of broccoli in the walk-in fridge; and food stored directly on the floor.
"[T]he risk to health and safety suggest imminent health hazards exist in this food facility," the inspection report notes. "This facility has been closed the permit suspended by Humboldt County Division of Environmental Health."
The Outpost went by the restaurant this afternoon and found the following sign taped to the front door: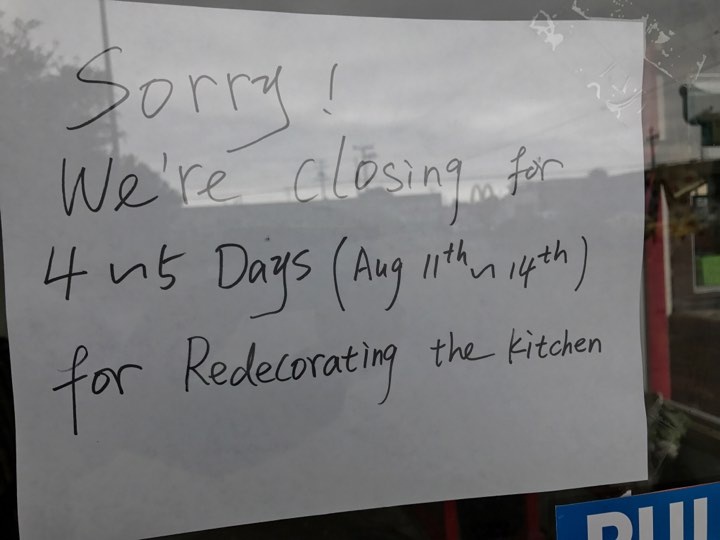 I suppose you could call it that.
Here's a more complete rundown of the violations:
Live cockroaches were found in a drawer next to the kitchen door, on a sticky trap, behind a refrigerator and in a floor sink under a prep table. Also, evidence of rodent activity, including feces and holes in the wall, was found in an employee bathroom, a dry storage area and near a refrigerator. ("This major violation requires immediate closure of the food facility," the report says.)
Employees didn't wash their hands after they'd been seen touching their skin and hair, trash cans and raw meat.
Cream cheese, which is supposed to be kept at or below 41 degrees, was measured at 70.5 degrees after being left in a bus tub overnight.

Frozen raw meats were left out overnight on a drainboard of a sink.
Meat was being thawed on countertops and in bus tubs with standing water, and other frozen foods were being thawed in the three-compartment sink.
Water used to thaw raw meat in a tub was seen splashing out of the tub and into the sink.
Various foods were being stored uncovered and unlabeled, plus the raw chicken atop broccoli, food stored in garbage bags, uncovered food in a bulk bin and on the cook line and an open can of food on a shelf.
Food was being stored directly on the floor of the walk-in.
Grease and debris was found throughout the cook line equipment, in floor sinks, on storage shelves and behind/under refrigeration equipment.
Grease and debris was also found in the dumpster area, the grease trap and near the back door.
An outdoor storage area was "full of debris and personal items," likely serving as a home for vermin, according to the report.
Some walls had holes in them, allowing vermin to come and go.
Nobody was in charge. (Apparently there must be a boss onsite.)
The restaurant's permit holder, listed as Yun Lan Chen, now has 15 days to request a hearing if he or she believes the closure was unwarranted. It probably goes without saying that the violations must be corrected before the restaurant can reopen.