PREVIOUSLY: (VIDEO) Humboldt County Correctional Deputy Assaulted by Two Inmates
Murder suspect Lorence Emmanuel Bailey, accused of stabbing a Hoopa grandmother to death in November 2016, is facing a long list of new charges after he and cellmate Jonah Dale Little reportedly tricked a correctional officer into their cell and attacked him.

According to jail records Bailey, 24, and Little, 21, were booked on numerous charges after the alleged assault on Correctional Officer Dillon Huffman on Wednesday evening. Allegations include using force or violence to resist an executive officer, conspiracy to commit a crime, battery causing injury to a peace officer, and committing a crime to further gang activity. Sheriff William Honsal said earlier this week that he believed the men assaulted the officer to impress outside gangs.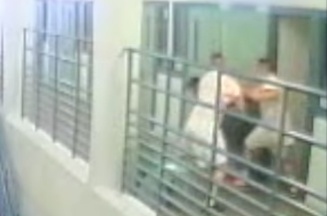 It will be up to the District Attorney's Office to decide what charges will be filed.
Huffman opened the men's cell door after they apparently called him over to look at their artwork. A video shows the officer fighting off the two men as they began wildly punching him when he entered the cell. They then followed him down the jail hallway as they continued the attack. About 30 seconds later other officers arrived, and Little and
Bailey hit the floor and surrendered.
Huffman was treated for facial injuries.
Bailey has been in jail for about nine months. He was arrested hours after he allegedly murdered 50-year-old Cheryl Bussell the day after Thanksgiving 2016. The mother of five and grandmother of three was stabbed multiple times.
Bailey's alleged attack on the officer is the latest incident in a history of violence. At age 17 he was accused of firing a gun during a home-invasion robbery. At age 19, in October 2012, he was jailed after beating up and seriously injuring a Hoopa man. Police reports say it took two officers to subdue him.
Little was jailed just weeks ago, on July 7, on a charge of probation violation. Records show he was arrested in August 2016 after a burglary was reported on Marshall Lane in Hoopa. Later he made it onto the county's "Most Wanted" list and was picked up again in February of this year.
No information was available today on how long he was out of custody before being jailed again last month.