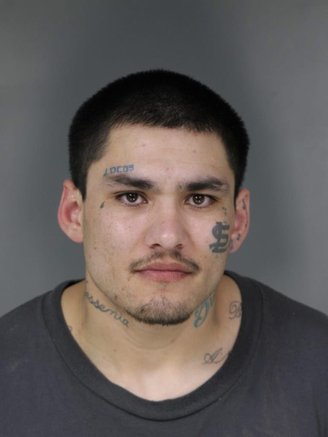 A Eureka man arrested Sunday night after fleeing from a traffic stop pleaded not guilty today to an earlier charge of robbery with personal use of a firearm.

Anthony Manual Burgess, wearing many tattoos and a cast on his left arm, entered the plea this afternoon before visiting Judge Bruce Watson. Public Defender Casey Russo was appointed to represent him.
Burgess was arrested by the California Highway Patrol on Sunday night after the Honda Civic he was riding in was pulled over for a mechanical violation. He fled on foot, but the officer chased and caught him several blocks away. Heroin was reportedly found in Burgess' bag in the car.
It was then discovered that Burgess was wanted on a warrant for armed robbery, a charge the district attorney filed Aug. 15. His co-defendant in that case is Riordan Eugene Cockrum, who was arrested earlier this month.
Burgess also is a potential witness in the upcoming trial of three gang members accused of murdering a 14-year-old Eureka boy in December 2014. Today Deputy District
Attorney Brent Kling, describing Burgess as "a material witness," asked Watson to order Burgess to be in court Oct. 23, the scheduled trial date.
"Let's wait until the next court date (for Burgess)," Watson said.
Burgess' preliminary hearing is set for Sept. 11.
The CHP also arrested another key witness in the same murder trial on Sunday night. Carolyn Florence Snow, who didn't show up in court last month as ordered, was picked up for suspected drunken driving. She was also booked on a warrant for contempt of court and remains in Humboldt County Correctional Facility.
###
PREVIOUSLY: