PREVIOUSLY:
###
A reluctant prosecution witness in the gang-related slaying of a 14-year-old Eureka boy has been jailed, joining two other potential witnesses in the trial of the suspected murderers.

Jail records show witness Carolyn Florence Snow, who failed to show up in court July 17 as ordered, was arrested late Sunday night on suspicion of driving under the influence. She was also booked on an outstanding warrant for contempt of court.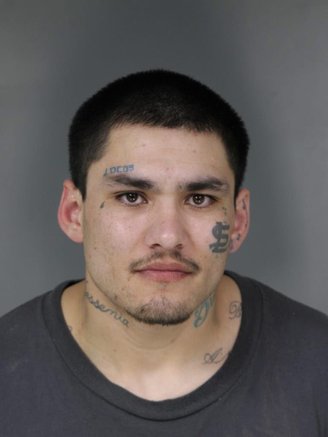 Potential witness Anthony Manuel "Creeper" Burgess was also arrested Sunday night after he fled on foot during a traffic stop and allegedly was found with heroin. Burgess was also booked on a warrant for robbery. And Michael Brandon "Tank" Grant has been in custody since June on a charge of attempting to murder his girlfriend.
In December 2014 murder victim Jose Romero Garcia was staying in Snow's apartment on P Street when he was stabbed three times, allegedly by Joe Daniel Olivo III. The alleged stabber was accompanied by his father Joe Daniel Olivo Jr. and Mario Nunez. All are validated gang members, and all are charged with Garcia's murder.
Snow's former boyfriend, Nicholas Leigl, was initially charged with murder but eventually pleaded guilty to participating in gang activity. He served about 18 months in jail and was released Aug.18.
During preliminary hearings in the case, Snow denied she told police she knew the Olivos and Nunez, and that they were the three men who came to her apartment the night Garcia was stabbed. According to testimony by Eureka police Detective Ron Harpham, Snow also said "Little Joe" was carrying a knife.
Snow and Leigl were in a back bedroom when the boy was knifed. The Olivos and Nunez allegedly left immediately afterward, and Michael Grant insisted Leigl drive the wounded Garcia to the hospital. According to court testimony Leigl put the boy in his black Volvo, but he never made it to the emergency room.
Instead Garcia was found, nearly dead, on a lawn about halfway there.
Pretrial motions in the Olivo-Nunez case are set for Sept. 13, and a trial confirmation for Sept. 19. The jury trial is tentatively scheduled to begin Oct. 23.
###
PREVIOUSLY: