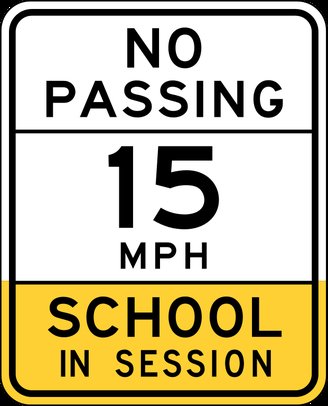 Eureka drivers may soon be required to slow way down while traveling through the city's school zones.

A resolution on the consent calendar for next week's Eureka City Council meeting would reduce the speed limit on roads surrounding six schools from 25 miles per hour to just 15 miles per hour while students are present.
Small stretches on the busy two-lane thoroughfares of Harris and Henderson streets, meanwhile, would see the speed limit dropped from 25 to 20 miles per hour when students are around. That's because Zoe Barnum High School is now located on the Lincoln campus, at 216 West Harris Street, while the private Catholic St. Bernard's Academy backs up to Henderson between C and D streets.
The proposed changes were requested by a group called the Safe Routes to School Task Force, which includes members from the county's Public Health branch, the Redwood Community Action Agency (RCAA), the Eureka Police Department, the Humboldt County Association of Governments, several local school districts and city's Public Works Department.
Similar school-zone speed reductions have already been implemented in Arcata, Fortuna and unincorporated portions of the county.
These moves are made possible thanks to a 2008 bill called the Safer School Zone Act, which, after being incorporated into the state's vehicle code, allows cities and counties to expand 25-miles-per-hour school zones and also drop the speed limit to 15 or 20 mph up to 500 feet from school grounds under certain conditions, according to a staff report.
The goal, of course, is to improve safety for kids who walk, cycle, skate, scoot — or, what, hoverboard?— to and from school. As for the "certain conditions" required to implement the lower speed limits, the law says the affected streets must have no more than two lanes of traffic and be located in a residential district where the a posted speed limit is no higher than 30 miles per hour.
Here's a list of the streets that would be affected and the proposed new speed limits: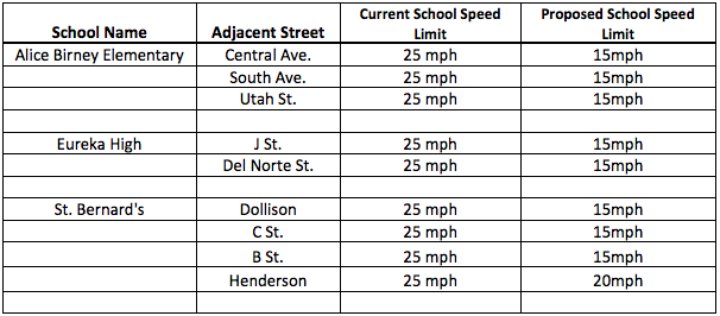 If you'd care to argue for or against these changes, the council meeting is scheduled for 6 p.m. Tuesday at Eureka City Hall.