Click video to play. Problems on iPhone? Turn your phone sideways.
Moments ago, in front of several hundred people who came to Redwood Bowl to hear her decision, President Lisa Rossbacher announced, to cheers, that the Humboldt State football program will not be cut next year, as had been threatened.
Rossbacher credited alumni and community boosters with finding the community donations to help fund the football program over the next five years.
"With the impressive and committed help of our boosters, HSU will be playing football next fall," Rossbacher said, to loud cheers. She added that the same goes for all sports at the university.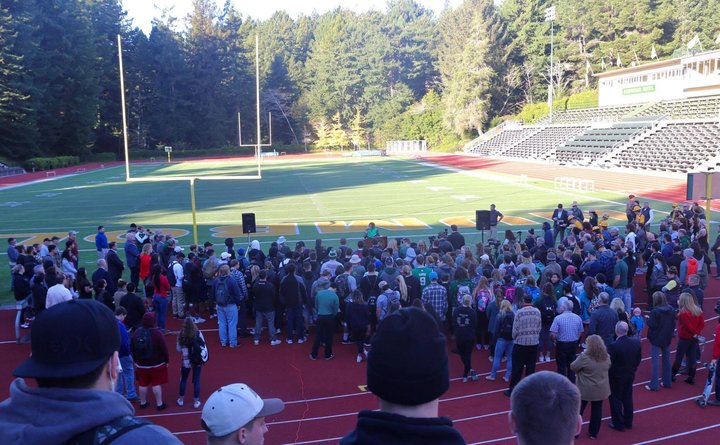 From Humboldt State University:
Humboldt State University President Lisa Rossbacher announced today that HSU would continue fielding its intercollegiate football team, thanks to an outpouring of support from alumni and community donors.

President Rossbacher said she was impressed by the passionate group of boosters who led a recent fund drive. They convinced her they could bring in the resources needed to help continue the football program.

"This is a good day for our football team, and a good day for Humboldt State," President Rossbacher said. "We're proud of our athletics program and our football team, and I'm so thankful for those who have stepped up to provide the financial resources to continue all our sports."

The announcement was made today in front of a crowd of student-athletes, coaches, and invited guests including prominent boosters. President Rossbacher was joined by Jim Redd, who helped lead the booster fund drive along with Ceva Courtemanche, Head Coach Rob Smith, and Interim Athletic Director Duncan Robins.

"I'm overwhelmed by what this community was able to do, in such a short period of time," said Jim Redd, who promised to support the process of collecting donations. "We worked hard, because it was something we cared about. We did this for the student-athletes, and for the University, and the community. It means that the long and proud tradition of Lumberjack football will continue."

The future of football, which is the University's most expensive athletics program, had been in question due to financial challenges. The Athletics Department is struggling to balance its budget, and the University as a whole is working to address an ongoing structural deficit.

The booster group led a fund drive to find additional resources for athletics, including football, and has committed to providing at least $500,000 for each of the next five years. Maintaining that high level of donor support will be a challenge, but it's one that boosters are sure they can meet. The University's plan is to collect funds through January to support the upcoming fall football season and other sports in the upcoming academic year. That will provide plenty of time for budget planning by HSU.

Those who made offers of support during the fund drive may fulfill their commitments online at hsujacks.com or by check (checks payable to "HSU Athletics" designated to Support Your Jacks on the memo line and mailed to: Gift Processing Center, SBS 285, Humboldt State University, 1 Harpst Street, Arcata CA 95521)
###
PREVIOUSLY: