A Humboldt State University student was handcuffed in court and taken to jail today to begin serving a one-year sentence for running over and killing an Arcata man while driving drunk.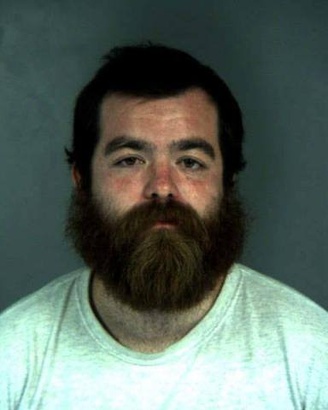 Bergeson.
Robert Willard Bergeson III had asked to have his jail sentence postponed until June, so he could complete this semester at HSU. But Judge John Feeney ordered him taken into custody today, as Bergeson's mother cried and pleaded "No!"

The sentence, which includes four years of supervised probation, was also a disappointment to the grieving friends and family of Alan Gradwohl, the man struck and killed in a pedestrian crosswalk on Sept. 4. They believed Bergeson deserved to spend the entire four years behind bars.
In fact, Gradwohl's brother Jeffrey Garami, speaking at the sentencing this morning, said it was a "lucky break" for Bergeson that he was charged with manslaughter instead of murder.
Garami pointed out that Bergeson never braked until after Gradwohl was hit and thrown onto the hood of the van, fell off and was run over by the front tires, and finally crushed under the rear tires. Until the final blow his brother had been alive and screaming for his life, Garami said.
"Bergeson killed my brother because he continued to drive and finish the act, " Garami said.
Kevin Johnson read a statement saying that losing their dear friend has forever changed life for him and his partner, Lisa. The day of his death Gradwohl had spent most of the day with them pressing apples for cider.
Now Lisa has withdrawn from her activities and friends, and "is pummeled by her sadness and guilt," wishing she would have asked Gradwohl to stay for dinner or just to chat.
Johnson said that about two weeks after the killing he saw Bergeson and two of his friends at The Alibi bar in Arcata. Bergeson wasn't drinking, he said, but his friends were.
"Robert and his friends have a lifestyle of drinking, and he is probably going to drink and drive once again," Johnson said.
Bergeson, 24, was driving with a blood alcohol level twice the legal limit when his van hit Gradwohl, 55. He pleaded guilty last month to vehicular manslaughter while intoxicated.
Facing Gradwohl's friends and relatives, he cried as he read a statement expressing his remorse.
"If I could take the pain away from you and place it on myself I would in a heartbeat," he said.
Bergeson's mother, Erin Wallace, also wept as she talked about how her son has no prior criminal record and has been doing well at HSU. She said her son is "heartbroken" over the death, and she asked the judge for mercy.
Although at least a half-dozen of Gradwohl's friends and family members attended the hearing, an even larger group accompanied Bergeson to court. And Bergeson had received 29 letters of support, which Gradwohl's brother called "an insult."
Judge Feeney expressed his sympathy to those grieving for Gradwohl.
"In 19 years on the bench I've seen too many of these cases and it never becomes easier," he said, "much less for those impacted by (the death.)"
Feeney noted that Bergeson is the latest of several young defendants in DUI-related fatalities. He said in those cases he had ordered community service consisting of speaking to young people about the dangers of drinking and driving.
Feeney did the same for Bergeson today, ordering him to complete 100 hours of community service speaking at high schools or to youth groups. He told Bergeson he believes he will succeed on probation, and he doesn't expect to see him back in court again.
Under California law, drunken drivers can only be charged with murder if they have a prior conviction and have been warned they could face murder charges if they are convicted again.
###

PREVIOUSLY