Maxx Carson Robison says murder wasn't part of his plan when he opened fire on a car parked outside Room 12 at the McCullen's Motel on June 30.

"There wasn't supposed to be anybody in there," Robison told his girlfriend during a tape-recorded phone call he made from the jail. "There was just supposed to be a car. I was aiming at a car."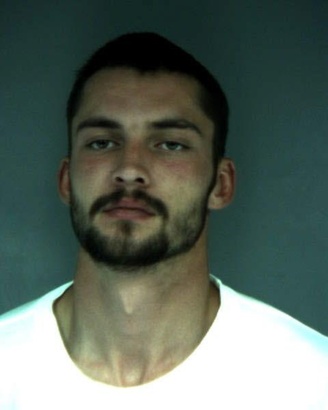 Whatever his intent, those bullets fired from a semiautomatic rifle killed 19-year-old Rihanna Skye McKenzie, who was sitting in the Chrysler 300 with her boyfriend Elisha Mansell. He wasn't injured, but later a Eureka police detective pointed out the bullet hole in his ballcap.

Today Judge Dale Reinholtsen held Robison to answer on charges of murder, attempted murder, shooting from a vehicle and firing at an occupied vehicle. He also must answer to several related weapons allegations.
Robison, 22, called his girlfriend from jail shortly after he was arrested. He told her about the confrontation he'd had with a man at McCullen's Motel, saying the man had tried to scare him by firing a couple of shots from a small handgun.
He admitted he had then gone home to get a gun, and he returned to the motel.
"I obviously made my own decision to go back and do the same thing," Robison said. "I guess I'm going to be in prison for the rest of my life."
Robison said he felt that because the other man had shot at him, paying him back "was handling business."
The tape-recorded phone call was played today at Robison's preliminary hearing, held to determine whether there is enough evidence to warrant a trial. His arraignment was set for March 8, when a trial date will be set.
Robison was accompanied that night by Calvin Aubrey and Matthew "Bolt" Adams-Johnson. Aubrey testified during the hearing that Robison was on a mission to find drugs and had gone to the motel to get some. But the transaction ended poorly, with a man (presumably Mansell) following Robison back to the car and cursing at him.
During the phone call from jail, Robison told his girlfriend that he asked the man "What are you going to do? Shoot me or stab me?" The guy reportedly responded "Maybe, if you don't shut your mouth."
"… I shot the shit out of his car," Robison told his girlfriend. "And it turned out some poor innocent lady got hit by a stray bullet."
Under questioning today by Deputy District Attorney Roger Rees, Eureka police Detective John Gordon said there were bullet holes in the passenger side of the Chrysler, where McKenzie was sitting, and also in the driver's side. He said those were apparently exit holes.
After the shooting Mansell drove to St. Joseph Hospital, with Eureka police Officer Dustin Nantz in pursuit. Nantz said Mansell was running stop signs and driving at speeds up to 60 mph. In the emergency room parking lot, Mansell jumped out of the car.
"He was crying and asking me to help his girlfriend who had been shot," Nantz testified. He said he initially pulled his gun, ordered Mansell to the ground and handcuffed him. Another officer went into the emergency room to get help.
McKenzie was pronounced dead within minutes of arriving at the ER, Nantz said.
Before Reinholtsen made his ruling today, Deputy Public Defender Jennifer Dixon argued that Robison's only intention was to commit "felonious vandalism against a vehicle." She said he had no idea anyone was in the car.
Reinholtsen said Robison's intent will be the ultimate issue in the case. But using the "probable cause" standard applied in a preliminary hearing, he held Robison to answer.
Robison recently turned down a second-degree murder deal that would have put him in prison for 37 years to life. He remains in custody on $1.6 million bail.
###

PREVIOUSLY: