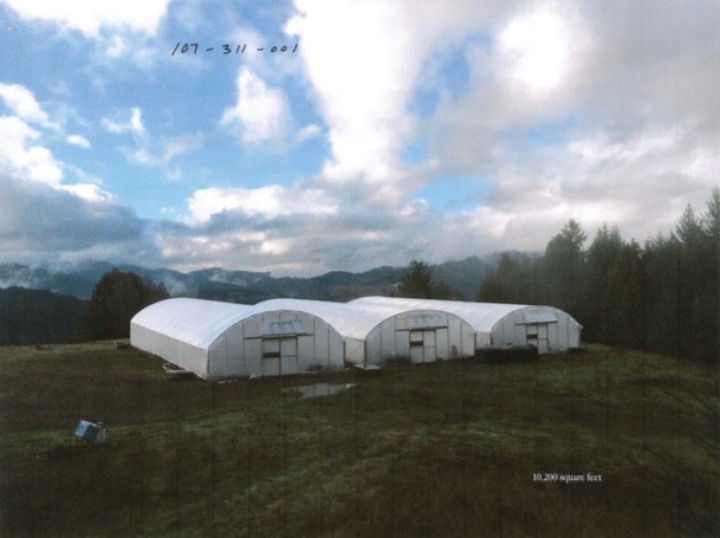 A big selling point of Humboldt County's Medical Marijuana Land Use Ordinance (MMLUO) was the prospect of bringing a black market industry out of the shadows, thereby improving transparency and bringing accountability to our region's No. 1 agricultural product.
While everyone agrees that the people who came forward to register and apply for permits represent just a fraction of the weed activity going on in Humboldt County, the paperwork still reveals a great deal about the state of the industry today and people's aspirations for the future.
The Outpost went sifting through the list of 2,314 permit applications to get a better understanding of the state of Humboldt's cannabis industry at this unprecedented point in history, when California voters have finally approved recreational use yet President Donald Trump has appointed hardcore weed demonizer Jeff Sessions attorney general.
What can we glean? For one thing, much of the industry is indeed moving out of the darkness. Just over 75 percent of the applications (1,740 of them) are from people or corporations that have existing operations. From greenhouses to indoor grow ops, sun-grown fields to kitchen facilities for manufacture of edibles, these operations are among the first in the state to line up for legitimacy.
What else? Well, legality offers its own shadows. While all applications must include the name of the applicant and property owner, they don't have to be humans. The list includes more than 200 limited liability corporations, or LLCs, plus dozens of other business entities, making it hard to determine, in some cases, who's actually behind the endeavors.
For example, something called "Farm Family Expediting" filed an application for new cannabis activity on property owned by Sequoia Investments X, LLC. As it happens, Sequoia Investments X, LLC, is one of the many corporate entities held by Eureka businessman Robin P. Arkley, II, and the Assessor's Parcel Number (APN) on the application represents Arkley's Fairhaven dock facility on the Samoa Peninsula.
We can also see where demand is highest, geographically. The map below shows where in the county people are conducting — or planning to conduct — cannabis activities for which they're seeking permits. It's divided by watershed: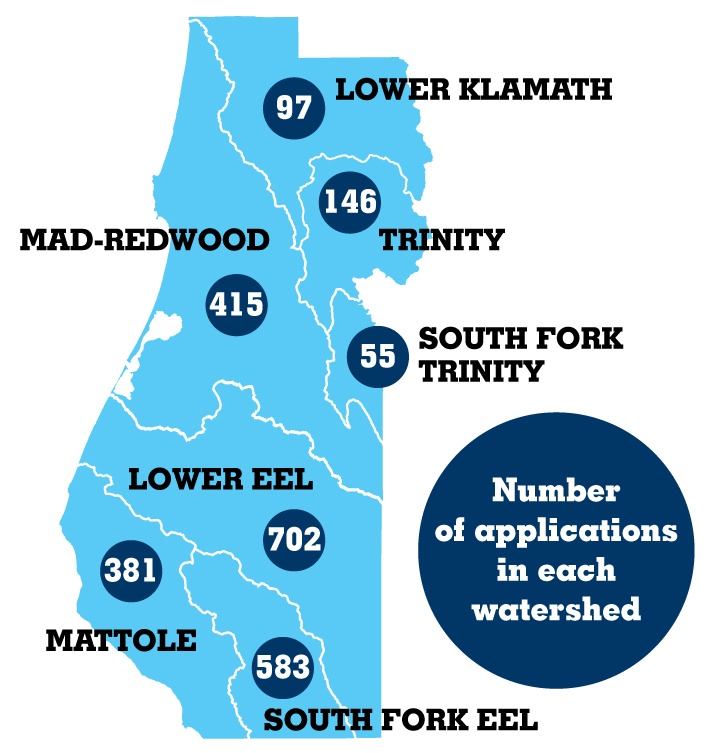 A note for those checking our math: Yes, the numbers add up to more than 2,314, the total number of permits received. That's because some properties straddle the boundaries between watersheds and were counted twice.
We can see that the majority of demand, unsurprisingly, comes from Southern Humboldt, which mirrors the results we got with the Outpost's "Weed or No Weed" game back in 2015. More than 70 percent of the applications are for property located in the Mattole, Lower Eel or South Fork Eel watersheds.
It's important to note, here, that since the MMLUO is a county program, it excludes any operations located within the boundaries of our incorporated cities. Take a look at the next map, which divides the permits by supervisorial districts: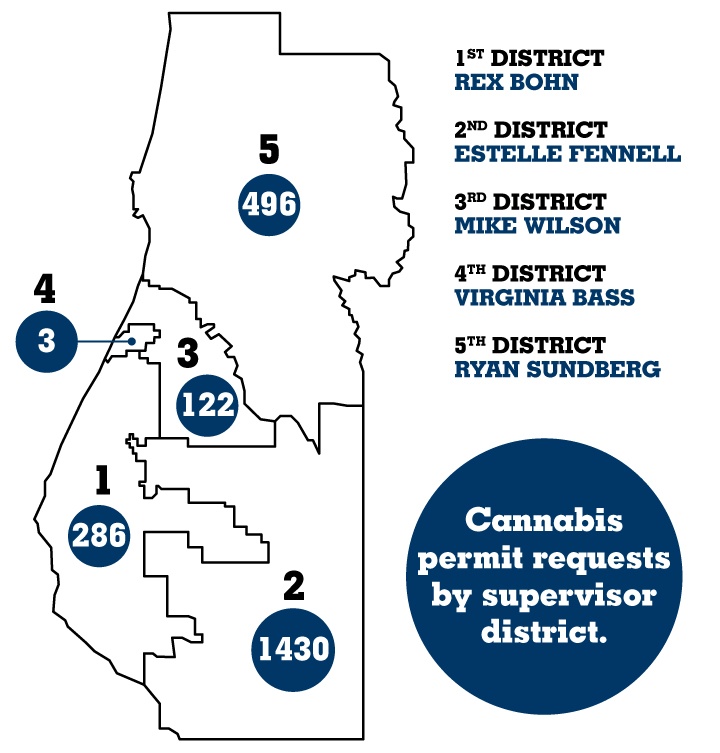 This makes the geographic divide look even more dramatic, with almost 62 percent of applications coming from Estelle Fennell's 2nd District and just three permits, or 0.1 percent, coming from Virginia Bass' 4th District. But Bass' district is almost entirely comprised of Eureka, which is developing its own permitting system and will eventually be home to dispensaries, manufacturing facilities and other businesses licensed through the city.
Of course, it will be years before this many permits are actually processed and approved in Humboldt County. Hundreds of applications were submitted in the final days and hours before the Dec. 31, 2016 deadline. Nearly 1,700 of them are incomplete, and another 554 are in a state of "suspense," which means they're not currently eligible to continue processing.
Senior Planner Steve Lazar explained that a "suspense" status could mean that the applicant just submitted a "bare bones" application as a placeholder to get their toe in the door before deadline, or it could mean that county staff reviewed the application and "the applicant has been tasked with addressing an issue," Lazar said, "say, a biological concern or an issue with an access road. The ball is back in their court."
Very few endeavors have gone legit thus far. As of the most recent county report, issued Feb. 6, only 19 permit applications had been approved. Among the projects:
Seven conditional use permits for cultivation on roughly six-and-a-half acres of property owned by Alexander Moore of Honeydew Farms.
A cannabis oil extraction lab located near the south entrance of Avenue of the Giants. [See note below.]
A new 6,000-square-foot building in The Meadows business park near Redway (pending design review) for processing and manufacturing including edibles and solvent-based products from CO2 and butane extraction.
A distribution facility in Redway.
A multi-stage operation near the Rohnerville Airport including multiple greenhouses, a processing building, two storage sheds, a new well with water storage tanks and just under 10,000 square feet of cultivation area.
[Note: After publication of this post, the Outpost received the following message via email from Steve Santos, development assistance unit manager in the county's Planning and Building Department: "Your article yesterday regarding approved cannabis permits contains an error because the February 6 data extract it relies upon contains a data entry error. We apologize for any inconvenience this caused. Application 10689 should not have appeared as an approved project on the February 6 report. This project was mentioned in your article in the second bullet summary of approved projects as 'A cannabis oil extraction lab located near the south entrance of Avenue of the Giants.'"]
Staff in the county's Planning and Building Department is only expected to approve a small fraction of the remaining applications this year. The amount will depend on what resources can be brought to bear given the other demands on staff in that department, including the ever-ongoing General Plan Update. For a specific estimate Lazar referred the Outpost to Planning and Building Director John Ford (not to be confused with the beleaguered insurance agent of the same name), but staff told us Ford is out of the office until next week.
Regardless, the remaining applications tell us a few more things about the nascent legal weed industry in Humboldt. Businesses from both well-established and long-diminished local industries are looking to diversify into marijuana endeavors. Eureka-based construction firm Mercer-Fraser, for example, has filed several permit applications, including one for a general plan amendment and zone reclassification for the company's gravel yard in Willow Creek.
They're asking to have the land use designation changed from Commercial Recreation to Industrial and the zone classification changed from Highway Service Commercial to Heavy Industrial, which they say will "better reflect the existing use of the property." But they also want permission to operate a 5,000-square-foot cannabis products manufacturing facility onsite.
Meanwhile, a Steve Nunes (it's unclear whether he's the same man who recently ran for mayor of Ferndale) filed several applications for new activity on agricultural land parcels between Hydesville and Carlotta, property owned by Clinton and Christina Victorine, of Eel River Organic Beef fame.
Other businesses have more ambitious plans. Emerald Family, LLC, a company owned by the people behind Emerald Family Farms, wants to build a large-scale weed operation near Willow Creek that would include seven acres of outdoor cultivation, more than 75,000 square feet of indoor cultivation, a four-story, 95,000-square-foot building with 131 parking spaces and a 3 million-gallon rain catchment pond.
It's also clear that, as many have warned (and others pursued), companies from outside the region are looking to invest in Humboldt weed. A Portland-based company called Clearwater Real Estate Holdings, LLC, filed permits for activity on timber production land near Maple Creek owned by Guynup Logging Co., Inc.
Rainmaker Properties, LLC, a subsidiary of Silicon-Valley-based Sereno Group Real Estate, wants a permit for 20,976 square feet of mixed-light cultivation in roughly 10 greenhouses fed by a proposed 250,000-gallon rain catchment pond, all located just north of Petrolia.
[Correction: the Rainmaker Properties LLC registered with the county shares a name with the Silicon Valley corporation but is, in fact, a separate entity. The Outpost regrets the error.]
There are countless other revealing morsels buried in the long list of permit applications. Taken together they paint a picture of a robust industry that's ready to go mainstream — if the feds allow it.