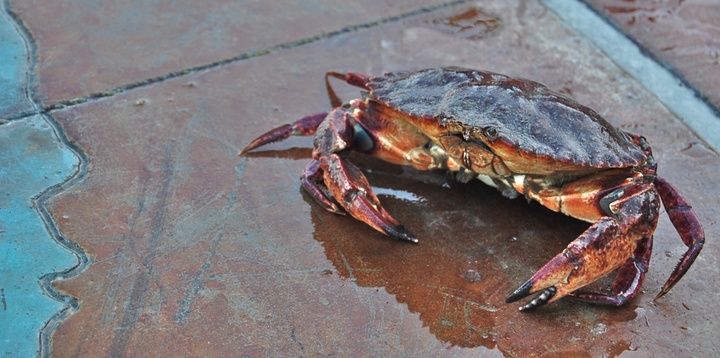 PREVIOUSLY:
###
From the Humboldt Fishermen's Marketing Association:
As of 10:00 AM January 2, 2017 the West Coast Dungeness crab fleet remains tied up. Nearly 1200 boats, captains and crews are holding coast wide for re-establishment of the $3.00/pound price for Dungeness Crabs.

Background

On Monday, December 26, 2016, one very large West Coast fishing industry conglomerate (Pacific Group) instructed its subsidiary Pacific Choice Seafood in Eureka, California to reduce the price paid to fishermen for Dungeness crabs from $3.00 per pound to $2.75 per pound. This attempt to lower the ex-vessel price for crabs was scheduled to take place upon the opening of District 7 (Point Arena to Humboldt Bay) on California's Northern Coast. Many fishermen believed that Pacific Group picked what was perceived as the weak link in West Coast fishing communities as a way of causing cascading price reductions in all West Coast ports that are fishing crabs north of San Francisco. Other companies buying Dungeness crabs were taken by surprise by Pacific Group's move to reduce prices paid to fishermen.

Pacific Group may have believed that the fishermen in the ports of Fort Bragg, Eureka, and the minor ports of Shelter Cove and Point Arena would just roll over and accept the lowered price offered by Pacific Group because of winter financial demands on fishermen's families from having to wait for District 7 in California to open to crab fishing. Instead, those fishermen tied up their boats, refusing to fish for less than the previously agreed on price of $3.00 per pound which Pacific Group and other companies have been paying fishermen since November 15, 2016.

The news of the tie-up in District 7 quickly spread both north and south on the U.S. West Coast. The Dungeness crab fleet is now tied up from Morro Bay, California in the south to Westport, Washington, on the north.

While smaller fish companies are willing to resume buying Dungeness crabs from their fishermen at the original $3.00/pound price, the same companies are concerned about the possibility of retribution or punishment in the seafood market. If, for instance, a smaller buyer purchased $3.00/pound crabs, then processed and flash froze those crabs for later sale, a larger company with substantial cash reserves could, in theory, depress the price for frozen crabs by selling frozen crabs at a loss. This could potentially put smaller companies into a forced position of selling their crab inventory at a significant loss, maybe to the point of financial insolvency for that small fish company. While this speculative example might seem extreme, these things have happened in the past.

While no one can predict the outcome for the ongoing effort by fishermen to regain the original $3.00 price per pound for fresh West Coast Dungeness crab, a number of things have taken place as a direct result of Pacific Group's action. Fishermen, crews, fish company workers, truck drivers and specialty seafood buyers and exporters have all been relieved of their jobs related to the Dungeness crab fishery over the New Year's holidays. More importantly, the public, our customers and supporters, have been denied fresh Dungeness crab, a traditional holiday fare on the West Coast.

Fishermen and their families are very concerned that if successful, Pacific Group's ex-vessel price reduction attempt will depress prices to fishermen for years to come.