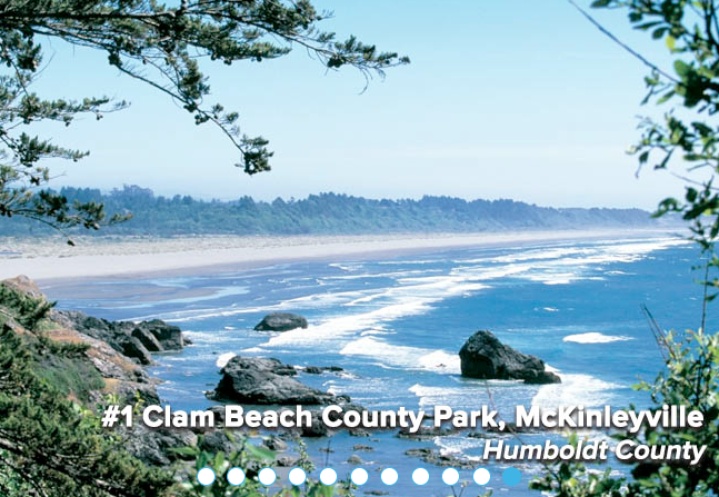 PREVIOUSLY:

After climbing up the charts for the past four years, Humboldt County's own Clam Beach has earned the dubious distinction of landing atop Heal the Bay's annual "Beach Bummer" list, which ranks the 10 nastiest beaches in the state based on bacterial pollution measurements from county health agencies.
According to the Santa Monica-based nonprofit, the pollution problem at Clam Beach may stem from private septic systems along Patricia Creek and Strawberry Creek, which flow down to the beach. "The Humboldt Public Health lab is developing Bacteroides testing to help pinpoint the source," the group reports.
Clam Beach was one of four beaches in the state to earn an F grade from the environmental group.
More bad news? Luffenholtz Beach, just a few miles north, also landed on the Beach Bummer list, scoring a D grade and coming in as the eighth-most-polluted beach in the state. "Private septic systems in Trinidad are culprits," says Heal the Bay.
This year's heavy rainfall caused bacterial pollution to spike at beaches up and down the state, with polluted runoff pouring into storm drains, flowing down hillside creeks and flowing into our oceans. This can be problematic for surfers and other sea frolickers.
"Polluted ocean waters pose a significant health risk to the tens of thousands of year-round ocean users in California, who can contract a respiratory or gastrointestinal illness from one morning swim or surf session in polluted waters," notes Heal the Bay.
But the group's vice president, Sarah Sikich, added says you can reduce your risk: "The reassuring news is that if you swim at an open-ocean beach in the summer, away from storm drains and creek mouths, you statistically have very little risk of getting ill."
You can read more about Heal the Bay's 2017 beach report card here and view the complete report, with info on methodology, by downloading the pdf file here.