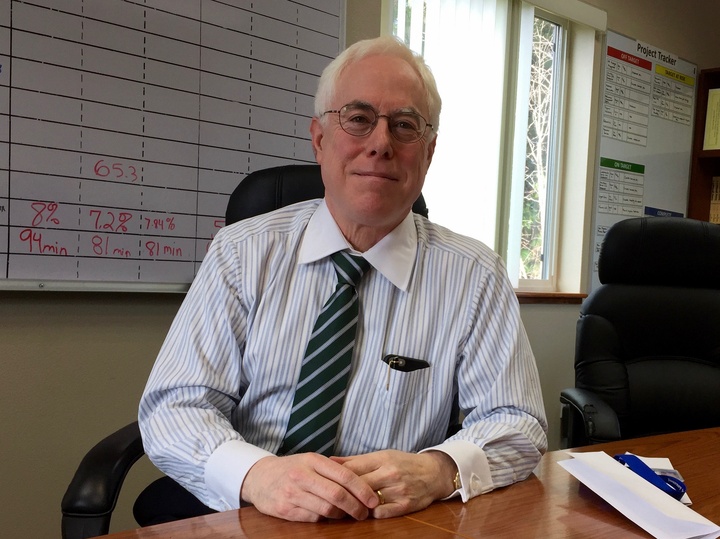 Dr. David O'Brien, president of St. Joseph Hospital, sent out the following letter yesterday announcing his resignation from St. Joseph Health-Humboldt after nearly four years in the position. (Here's the announcement of his hiring back in 2013.) His last day will be June 2.
During O'Brien's tenure, Southern-California-based St. Joseph Health merged with another Catholic group, Providence Health and Services, to create the nation's third-largest nonprofit health system. The merger led to a strike last summer by members of National Nurses United, who argued that St. Joseph Health had been underinvesting in staffing and patient services.
Back in 2015, health care unions protested hospital wages with public protests and detailed reports, leading O'Brien to argue that St. Joe's offers "fair and competitive wages and benefits."
In an interview with the Outpost earlier this year, O'Brien noted that during his tenure the hospital launched a trauma program, expanded its cancer program and became a ST-Elevation Myocardial Infarction (STEMI) receiving center. He also said the hospital had hired roughly 16 new doctors over the previous year and now has "a good working relationship with unions."
Another trend during O'Brien's tenure has been St. Joseph's buy-up of local private practices, bringing them under the umbrella of Humboldt Medical Specialists, which recently changed its name to St. Joseph Health Medical Group. O'Brien explained to the Outpost that there's a nationwide trend of doctors leaving private practice in favor of collaborative models like those offered by Kaiser Health.
The medical group model, O'Brien said, is the best option for dealing with the shortage of local specialists. "We are creating a platform for doctors to stay in the community because we really have no other model that will keep them here," he said.
Below is O'Brien's letter. It's followed by a memo from Kevin A. Klockenga, CEO of St. Joseph Health-Northern California.
May 9, 2017

Dear St. Joseph Health-Humboldt County Family,

After much contemplation, I have made the difficult decision to resign my position and leave St. Joseph Health and the Humboldt area. I will be relocating to Washington State, joining MultiCare, a non-profit healthcare organization based in Tacoma.

This change was not planned or sought after but came about unexpectedly. While I am truly happy here and proud of all we've achieved together, this is an opportunity where I can be of service in a new capacity. It is ultimately the right move for my family and me though the decision was not easy. I have deep regard for this ministry and community. Above all, I value the relationships I've made with each of you.

The North Coast is dear to my heart. It is where l began my career in medicine and where my wife and I raised our family. Our success as a ministry is a testament to your dedication, trust and faith. During the past four years we have overcome many obstacles and we have worked together to capitalize on opportunities- growing, evolving and succeeding at a time many hospitals were faced with challenges and uncertainty. Together we've worked to strengthen physician partnerships and bring much needed services to our community; we've invested in new technologies and programs, ensuring the community has access to the highest quality health care for years to come; and we've worked to improve communications between administration and caregivers, creating a work environment reflective of our values and responsive to making positive workplace changes.

Thank you for the opportunity and privilege to serve among you these past four years. I leave happy and assured, knowing that you are in capable, professional hands. Our executive leadership team's commitment to the North Coast, caregivers and the people we serve is unwavering. I have no doubt they will continue to serve conscientious and collaborative leaders, taking our ministry forward to even more stability and future success.

In the coming months Kevin Klockenga, CEO, Northern California Region, will work with the Board of Trustees and local leadership to identify my successor. He will keep you informed regarding the progress of the search.

Sincerely,

David O'Brien, MD
Here's Klockenga's memo:
It is with mixed emotions that I share with you David O'Brien, MD, has made the decision to resign from his position as President of St. Joseph Health-Humboldt County. He will be joining MultiCare, a non-profit healthcare organization based in Tacoma, Washington, where he will be responsible for overseeing and leading the system's eastern Washington region. His last day with us will be June 2, 2017.

I have the utmost professional and personal respect for Dr. O'Brien, who over the past four years has served our Humboldt ministries extremely well. He has kept our mission and values at the forefront of his actions and decisions. Always engaged and visible, Dr. O'Brien has had numerous meaningful and lasting impacts on St. Joseph Health. We will miss him.

Under Dr. O'Brien's leadership, Humboldt County emerged to be a strong, vibrant ministry. From a successful financial turnaround to improvements in physician and employee engagement, he has helped the ministry perform beyond expectations. His communication skills and expertise in physician relations has helped the ministry recruit a number of primary care and specialty physicians to the area, and he has set new expectations for achieving the highest standards of patient safety and experience. Working closely with the board of trustees and foundation, Dr. O'Brien has also brought new technologies, programs and state-of-the-art equipment to Humboldt, ensuring the community has access to the highest quality health care for years to come.

Dr. O'Brien became President of St. Joseph and Redwood Memorial hospitals in August 2013. He began his clinical career as a family practice physician in Eureka in 1988. In 2000, he completed his master's degree in administrative medicine from the University of Wisconsin which allowed him to take a path outside of clinical medicine and into management. He has held numerous positions within St. Joseph Health over the years including serving as VP of Medical Affairs and CMO, Vice President and COO, and Interim President and CEO at St. Mary Medical Center in Apple Valley.

I am grateful for what Dr. O'Brien has brought to St. Joseph, Redwood Memorial and the North Coast community overall. His contributions and collaborative spirit will live on for years to come.

Please join me in thanking Dr. O'Brien for his service and in wishing him success and happiness in his new role.

Thank you.