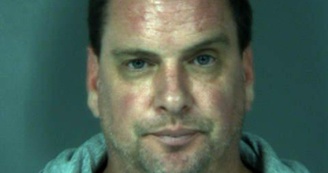 About a dozen sad and angry Southern Humboldt residents were in court today to hear murder suspect Eric Jason Lively plead not guilty to killing a much-loved member of their community.

Lively, 45, is accused of deliberately running over 42-year-old Jesse Earl Simpson in Shelter Cove on May 3. Simpson died shortly afterward.
Today private attorney Russ Clanton entered a not guilty plea on Lively's behalf. He has been in jail since the killing. Clanton requested a speedy preliminary hearing, and Judge John Feeney scheduled it for May 23.
Outside the courtroom Simpson's grieving friends and relatives said Jesse Simpson was a kind, non-judgmental person who was wonderful with children and offered his help to everyone. Anyone who knew him came to love him, they said.
But Lively, they claimed, is a violent man who has made so many threats that people stopped paying attention.
"Then he goes and takes out my brother," said Thomas Simpson, who is also Lively's next-door neighbor.
Thomas Simpson said his brother was using a weed-eater and wearing headphones when he was struck by the truck. There were no witnesses.
"(Lively) said my brother jumped out in front of him," Thomas said, "but he was hit multiple times." He said he and Lively have been feuding for years, "and I think he took my brother out to get back at me."
Lively was arrested in 2013 after he struck and injured another Shelter Cove resident with his truck. At that time he was charged with assault with a deadly weapon. Members of the group in court today indicated that Lively has a habit of using his vehicle as a weapon.
"Sociopath" and "worthless piece of shit" were two of the adjectives used to describe him.
Todd Athey, a friend of Jesse Simpson's, said Jesse had lived in the community for only eight years.
"But when you see the funeral that he has," Athey said, "it's going to be a funeral reserved for long-term Humboldt people."
###
PREVIOUSLY: