UPDATE, 10:02 a.m.: Caltrans: Highway 36 Construction Will Pause to Ease Traffic Redirected Due to Wildfires; Highway 20 Open For Now
UPDATE, 8:04 a.m.: AT&T, Frontier Internet/Cell/Phone Service Down, Almost Certainly Due to Fiber Meltage From Mendo, Sonoma Fires
# # #
Yesterday evening's flash wildfire in Blue Lake was swiftly brought under control. After deploying bombers, a helicopter and numerous ground crews, Calfire and several local fire agencies were able to hold the fire — which broke out during a dry, windy, "red flag warning" day — to between 25 and 30 acres, with only one structure destroyed.
But the night brought far more serious threats to our neighbors to the south, with high-speed wildfires breaking out in Mendocino, Lake and Napa counties. Highway 101 is closed south of Willits, and Highway 20 is closed near Clear Lake. Large areas of Mendocino, Lake and Sonoma are under evacuation orders.
Here's what we know at this time.
Mendocino
A major fire broke out somewhere near the town of Redwood Valley — located between Willits and Ukiah — around midnight. Neighborhoods on both sides of the highway are under evacuation, and the highway is completely closed. School has been canceled in Ukiah and the eastern Mendocino County town of Potter Valley, which has been affected by a separate fire.
The Mendocino Voice quotes a Calfire spokesman saying the Redwood Valley-centered fire at 4,500 acres this morning, and the Potter Valley one at 1,500 acres.
Graphic by National Weather Service, Eureka. Posted at 5 a.m. The big dot in the center is between Willits and Redwood Valley.
LINKS:
Sonoma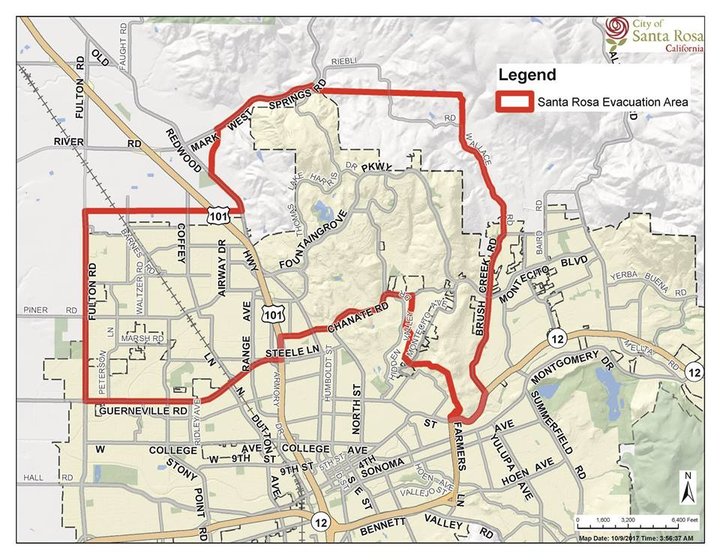 A number of fires are burning around Cloverdale, Healdsburg, Sonoma, Santa Rosa, Sonoma and Yountville, prompting evacuations all around the county, including in the northern part of city of Santa Rosa itself. The Santa Rosa Press Democrat reports that two hospitals are among the structures being evacuated.
The Sonoma County Sheriff's Office has posted a complete list of areas currently under evacuation orders, along with centers for people to displaced people to gather.
Graphic by National Weather Service, Bay Area.
LINKS:
Lake
Lake County News reports that as of 3:30 a.m. around 1,200 acres near the towns of Clearlake and Clearlake Oaks, prompting evacuation orders in both places. Highway 20 is closed.
LINKS: