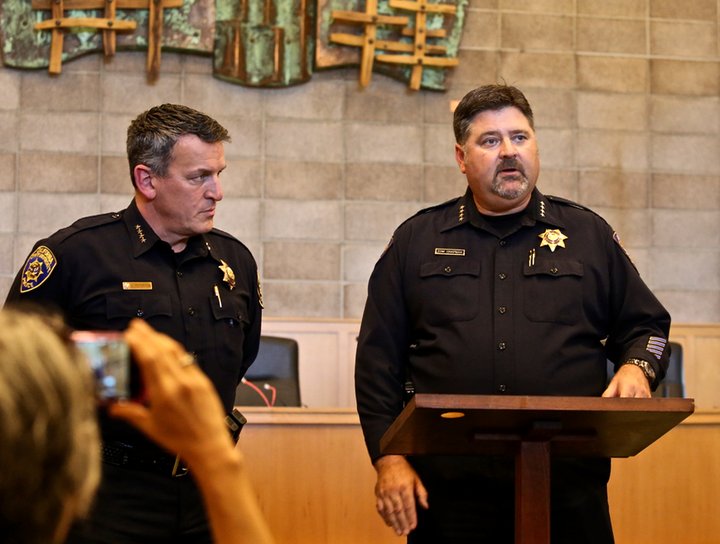 The Arcata Police Department and the University Police Department are right now holding a joint press conference on Saturday morning's officer-involved shooting on the Arcata Plaza.
We'll have more on that soon. In the meantime, the APD has issued a press release.
From the Arcata Police Department:
On September 9, 2017, at about 1:25 a.m., the Arcata Police Department received a 9-1-1 call reporting a group of males physically fighting in the street near 9th and H Streets. Officers from Arcata Police and University Police Departments arrived on-scene at 1:27 a.m. When the officers arrived they did not see anyone involved in a fight. While they were in the area investigating, a bystander reported to an officer that one of the people involved in the fight had brandished a handgun. The bystander pointed out a vehicle with which they believed the person to be associated.

An Arcata Police in-car camera captured video showing 26-year-old Ervin Eugene Sweat Jr. from Antioch, Tennessee, get out of the rear passenger seat of the vehicle and immediately point a handgun at the police officers. The video does not capture the entire incident.


Initial reports indicate Sweat fired two shots at the police officers, one of which struck University police officer Louis Altic in the upper right leg. Officer Altic and Arcata police officer Matthew O'Donovan returned fire with nine total shots, all of which hit Sweat. The handgun used by Sweat to shoot Officer Altic was recovered at the scene. The handgun, a .40 caliber semi-automatic Smith & Wesson was reported stolen from a local sporting goods store in 2015. [Ed. note — see here for possible source.]

Immediately after the shooting, police officers began life-saving efforts on Sweat. Arcata Ambulance transported Sweat to the Mad River Community Hospital where he was pronounced dead.

Officer Altic was transported to Mad River Community Hospital where he was treated and released. Although his injuries are serious, he is expected to make a full recovery. Officer Altic has 12 years of law enforcement experience, the last two years with University Police. Officer O'Donovan was not physically injured. He is a five-year veteran of Arcata Police Department. As is normal protocol in officer involved shooting cases, both officers have been placed on administrative leave.

This investigation is being led by the Humboldt County Critical Incident Response Team (CIRT). CIRT is a multi-agency team comprised of local law enforcement agencies that train and respond to officer involved injuries and deaths. In the case of incidents where an officer is involved in a shooting, it is the best practice for outside agencies to conduct the investigation.

The Humboldt County Critical Incident Response Team for this investigation includes the Eureka Police Department, Humboldt County Sheriff's Office, Humboldt County District Attorney Investigators, Fortuna Police Department, California Highway Patrol and the Department of Justice Crime Laboratory. The results of the CIRT team investigation will be forwarded to the Humboldt County District Attorney for review.

Anyone who may have information about this case is asked to call the Arcata Police Department, (707) 822-2426.
###
Here is a press release from the Humboldt County District Attorney's Office from Sept. 2016:
Today, Humboldt County District Attorney Maggie Fleming announced that after a six-day jury trial before Judge Marilyn Miles, jurors convicted Tennessee resident Ervin Sweat, 26, of driving recklessly while evading a police officer, a felony violation of the California Vehicle Code. The case against Sweat arose after an incident on June 28, 2014, when a Fortuna Police officer approached him in the McDonald's parking lot on South Fortuna Boulevard in response to a citizen's call regarding a driver who was possibly intoxicated. Sweat fled in his vehicle, driving at speeds exceeding 100 mph and failing to stop at several intersections. Fortuna Police were able to apprehend Sweat after he abandoned his vehicle and attempted to flee on foot. Officers recovered prescription pills, marijuana, and over $2000 in cash from Sweat's vehicle after the chase. Prosecution of the case was delayed after Sweat failed to appear in court, and charges were brought against him in Santa Barbara for unrelated criminal misconduct.

The case has been referred to the Humboldt County Probation Department for a pre-sentencing report. Sentencing is scheduled for November 7, 2016. He faces a maximum sentence of 3 years.
Deputy District Attorney (D.D.A.) Luke Bernthal prosecuted the case with assistance from D.D.A. Brent Kling and the Fortuna Police Department. Sweat was represented by Deputy Public Defender Meagan O'Connell of the Humboldt County Public Defender's Office.
###

PREVIOUSLY: