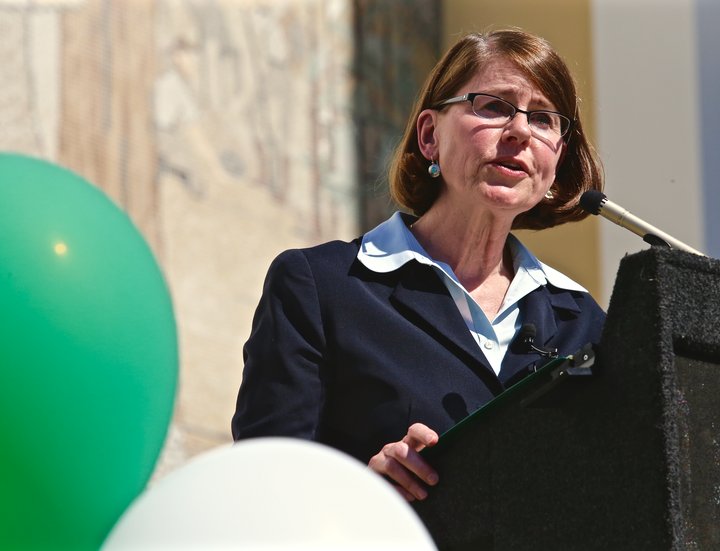 Humboldt County District Attorney Maggie Fleming launched her re-election campaign this afternoon from the steps of the Humboldt County Courthouse, flanked by green and white balloons and surrounded by a supportive crowd of nearly a hundred people.
With the exception of today's sunny skies, the scene looked nearly identical to Fleming's initial campaign kickoff event three years and eight months ago, when she stood in the same exact spot and promised to bring effective prosecution and "the highest levels of ethics and professionalism" to the office.
"I'm happy to say that our office has met the commitments I made that day and during the campaign," Fleming said today. "We have retained and recruited excellent people to the Humboldt County District Attorney's Office, people who work extremely hard each day to accomplish our mission: to achieve justice, protect the community and protect individual rights."
Fleming was introduced by Zuretti Goosby, a retired field rep for the State Senate, and Lynne Soderberg, a domestic violence investigator in the DA's office. Goosby said Fleming's record has been "exemplary" and that the office "has substantially improved its consistency and efficiency under her conscientious management and personal leadership."
Soderberg said Fleming "shows empathy and compassion" for victims of crime, and she commended the DA for reinstituting a system of "vertical prosecution" in domestic violence cases. Vertical prosecution is when the prosecutor (and, in some cases, an investigator and/or victim witness advocate) stays with the victim through the criminal procedure.
Fleming said that during her first term she has spent more time on personnel issues than she had anticipated, and she noted that the team of prosecutors she has assembled is young. But she said she's eager to provide them with the training and mentorship they need.
She also made mention of the more experienced prosecutors who have worked for her office temporarily, including Andrew Isaac, who prosecuted the murder trial of priest killer Gary Lee Bullock, and Paul Sequeira, an assistant DA from Mendocino County who came up and successfully prosecuted the double-murder trial of Jason Warren.
Fleming also said that she has personally made "a large proportion" of the charging decisions in weekly trial assignments and has improved the timeliness of justice. "
"For example, a backlog of pending police reports has been eliminated," Fleming said.
And echoing a promise from her first campaign launch, where she said partisan politics have no place in the DA's office, Fleming said, "We've done our work with no regard to politics or preconceptions."
The Humboldt County DA's Office completed 42 jury trials last year, Fleming said, and she expressed a desire "to help people better understand the role and ethical duties of prosecutors. … I can assure you: We always have good reasons for our choices, reasons firmly grounded in the law and our commitment to achieve justice."
With next year's primary election just over eight months off, there hasn't been even a hint of a challenger in the DA race. Fleming, who beat out a field of three fellow candidates four years ago, makes a formidable incumbent, as her first term has seen little in the way of controversy or scandal.
She wrapped up her lunchtime speech thusly:
"I am running again because I believe I have proven to be the right person for the job, and I look forward to building on progress made during my first term. Our ability to represent the people in the criminal justice process is getting better every day. We can continue and strengthen that trend. I ask for your support during the next election."