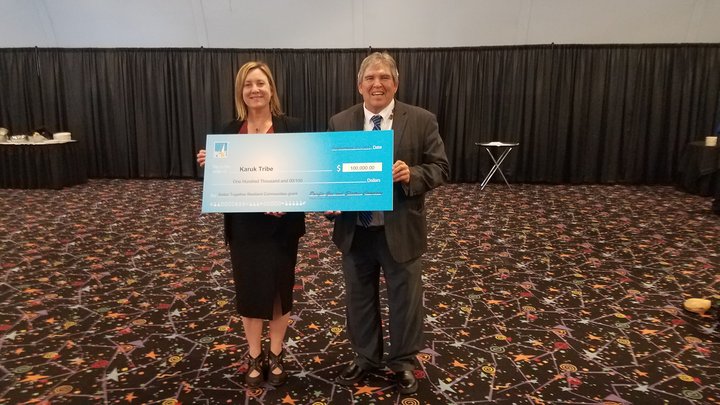 From the Karuk Tribe:
Today Pacific Gas and Electric Company (PG&E) will award the Karuk Tribe $100,000 to develop a plan for addressing infrastructure needs and community protections necessary for the implementation of prescribed burns in eastern Humboldt County. The award will be presented to Karuk Chairman Russell 'Buster' Attebery at the Blue Lake Casino's Sapphire Place Event Center located at 428 Chartin Road, Blue Lake, CA 95525 at 1 pm.

The Karuk Tribe is one of two recipients of PG&E's Better Together Resilient Communities grants – a program created to support local initiatives to build greater climate resilience throughout Northern and Central California.

"We have used fire as a management tool since the beginning of time," notes Karuk Ecocultural Revitalization Director Bill Tripp, "but in recent decades, the Forest Service has suppressed nearly all fire activity with disastrous results. Now our traditional knowledge is informing a new approach to forest management that uses fire to reduce fuel loads, improve watershed health, and reduce the risk of catastrophic fires. We welcome PG&E as a partner in this effort."

The goals of the Karuk project include:

Identifying areas for prescribed burns as part of the Tribe's Climate Adaptation Plan.
Promoting community resilience to wildfires and climate change at both regional and community levels.
Strengthening the region's capacity to respond to wildfires in support of local communities in the Mid-Klamath River Basin.

This year's fire season highlights the need for such programs as well as the value of prescribed fire projects like those the Karuk advocate.
The current fires in the Klamath Basin illustrate the need and benefits of such programs. The Prescott fire on the Klamath National Forest burned in an area where fire has been excluded by fire suppression activities for a longer period of time and the result has been a dangerous fire impossible to manage, growing as much as 9,046 acres in a single day. By contrast, the Fork, Blue, Elk, Little Chimney, Dill and Dillon fires on Six Rivers National Forest started at a time and place closely resembling prescribed burning conditions. This resulted in reduced fuel loads, and a manageable wildfire with beneficial effects on the watershed.
The Karuk Tribe will use these funds to plan activities that will further foster collaboration with the Six Rivers National Forest, Mid-Klamath Watershed Council, Salmon River Restoration Council, The Nature Conservancy and others participating in the Western Klamath Restoration Partnership. "Managing fire and forests is a community endeavor, always has been and always will be." adds Tripp.

To further support the long term sustainability of actions like those being planned as part of this project, tax deductible gifts, are being accepted by The Endowment for Eco-Cultural Revitalization Fund at hafoundation.org/ecocultural.