A Fortuna man accused of trying to murder a game warden during a back-road car chase is scheduled for trial in November.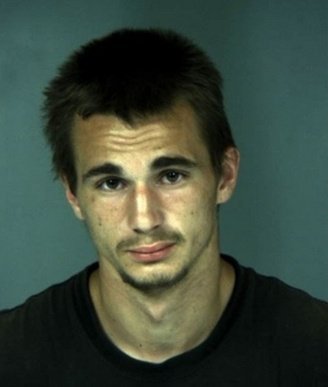 This morning Judge Christopher Wilson set a Nov. 20 jury trial for Shawn Eugene Hof Jr., charged with attempting to murder a Fish and Wildlife warden by firing about 10 shots at his pursuing patrol vehicle. Hof was held to answer after a preliminary hearing earlier this month.
At Hof's arraignment this morning, Public Defender David Marcus entered not guilty pleas on his behalf. Hof is charged with attempted murder of a peace officer, assault with a firearm on a peace officer, being a felon in possession of a firearm and spotlighting for game. He's also charged with numerous special allegations of use and discharge of a firearm. His previous felony conviction was in 2012 for car theft in Shasta County.
Hof, 25, and his close friend Thomas Wheeler were allegedly spotlighting for deer on Aug. 21, 2016, when Warden Matthew Wells saw them and gave chase with lights and siren on. Wells testified during Hof's preliminary hearing that a man standing in the bed of a pickup truck opened fire at him with a handgun. The man then climbed into the truck cab and continued shooting out of the passenger window.
Wheeler wrecked the truck and he and his companion escaped on foot. Wheeler was caught immediately and gave a statement implicating his friend Hof, who was a fugitive for nearly a year before turning himself in.
Attorney Paul Gallegos was hired to represent Hof through the preliminary hearing, but the Public Defender's Office was appointed this morning to handle the remainder of the case.
Gallegos had argued that if Hof was the gunman, his only motive was to slow the game warden down by shooting out his radiator. No bullets hit Wells' truck. He was not injured, though he testified he was in fear for his life as the bullets were flying.
Deputy District Attorney Adrian Kamada, prosecuting the case, said Hof's motive was to escape, whether that involved shooting Wells' tire out or shooting Wells himself.
###