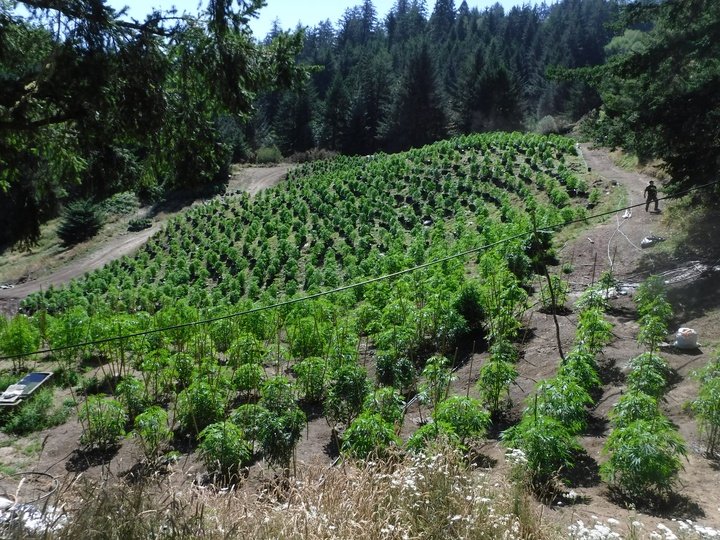 Virtually everyone in Humboldt County will be affected in one way or another by the coming advent of legalized recreational marijuana, but you'd have to be a dedicated policy wonk or diligent environmentalist to read all 1,038 pages (counting appendices) of the county's Draft Environmental Impact Report (DEIR) for proposed new weed rules.

Such people exist. One of them is Tom Wheeler, executive director of the nonprofit Environmental Protection Information Center (EPIC), which has been engaged in local weed regulations for many years now.
After consuming the mammoth document over several days, Wheeler told the Outpost he thinks it's strong, as is the associated ordinance. A farm that follows all those rules would probably not have a significant impact on the environment. The trouble, he said, is all the other farms.
"What EPIC is concerned about is the large number of farms not trying to come into compliance," Wheeler said. He's worried about the county continuing to let new growers come into the system "despite not getting a grip on the vast number of farms not making an attempt to become legal."
He pointed to the Outpost's estimate that there were roughly 3,320 weed grows countywide in 2014 and compared that to the roughly 1,200 applications for permits on file with the county. The majority of growers aren't even trying to come into compliance.
"Until we do a better job of either getting those folks permitted or getting them out [of operation], our position is that we should not permit any new operations," Wheeler said.
Larry Glass, executive director of the Northcoast Environmental Center (NEC), agrees. He said the county's "feeble" attempts at regulation have only given cover to those growing illegally.
"People are still going wild in the black market and planting ridiculous amounts, doing light dep, harvesting three, four times a year, and trying to make as much money as they can until real regulation kicks in with enforcement tied to it," Glass said.
The whole idea behind a countywide cannabis ordinance was protecting the environment, he said. But the members of the NEC's environmental coalition say that's not happening, and they're angry about what's happening in the hills.
"The NEC is ready to take a stand on this," Glass said. "We want to see the environment get protected, and that's not happening right now."
The county is accepting public comment on the DEIR through Oct. 16. Below you'll find links to the document itself as well as instructions for offering feedback:
The Draft Environmental Impact Report (DEIR) (SCH # 2017042022) for the proposed amendments to Humboldt County Code Regulating Commercial Cannabis Activities (proposed ordinance) is now available for review. Public comment on this document is invited for a 45-day period from September 1 through October 16, 2017.

PROJECT LOCATION: The proposed ordinance would apply to all unincorporated areas of Humboldt County.

PROJECT DESCRIPTION: The project would update the county's existing Commercial Medical Marijuana Land Use Ordinance (Section 313-55.4 and 314-55.4 of Chapter 3 of Division 1 of Title III of the County Code), as well as repeal the medical cannabis testing and research laboratories provisions and on-site consumption prohibition found in Sections 313-55.3.15, 314-55.3.15, 313-55.3.11.7 and 314-55.3.11.7 of Division 1 of Title III of the County Code, respectively. These establish land use regulations for the commercial cultivation, processing, manufacturing, distribution, testing, and sale of cannabis within the county.

SIGNIFICANT ENVIRONMENTAL IMPACTS: The DEIR evaluates whether the project would result in significant impacts in the following California Environmental Quality Act (CEQA) environmental issue areas: aesthetics; agriculture and forest resources; air quality and greenhouse gases; biological resources; cultural resources; geology and soils; hazards; hydrology and water quality; land use and planning; noise; public services; traffic and circulation; utilities and service systems; energy; and cumulative effects. As described in the DEIR many of these impacts can be fully mitigated, but some cannot, and would remain significant and unavoidable. Significant and unavoidable impacts include effects on air quality (Impact 3.3-2), exposure to odors (Impact 3.3-4); provisions of sufficient water supplies and infrastructure needs (Impact 3.13-2), and their cumulative impacts.

ADDRESS WHERE COPY OF DRAFT EIR IS AVAILABLE: The DEIR and proposed ordinance are available for public review and download on the Humboldt County website.

Printed copies of the document are available for public review at the following locations during normal business hours:

Humboldt County Humboldt County Library
Planning & Building Department Eureka (Main Library)
3015 H Street 1313 3rd Street
Eureka, CA 95501 Eureka, CA 95501

PUBLIC REVIEW PERIOD FOR THE DRAFT EIR: September 1, 2017 through October 16, 2017

To be considered, all comments on the DEIR must be received by the county no later than 5 p.m. October 16, 2017. Pursuant to Section 15088a of the CEQA Guidelines, late comments will only be considered at the county's discretion. Direct comments to the following address:

Humboldt County Planning & Building Department
Attn: Steve Lazar
3015 H Street
Eureka, CA 95501

or via email to slazar@co.humboldt.ca.us.

Please note that the Humboldt County Planning Commission will hold workshops on Sept. 7 and Sept. 21 at 6 p.m. on the proposed updated cannabis ordinance. In addition, the Planning Commission will hold a public hearing on the DEIR and the proposed updated ordinance on Thursday, Oct. 19 at 6 p.m. in the Board of Supervisors Chambers and the County Courthouse.