Ten days after his 17th birthday, Joe Daniel Olivo III allegedly stabbed 14-year-old Jesus Romero Garcia to death in an act of gang revenge.

Now Judge John Feeney must decide whether Olivo III, now 20, should remain in Juvenile Court or be transferred to adult court, where a conviction for gang-related first-degree murder means life in prison.
In Juvenile Court, the same conviction would likely result in him being released from a state facility six months before he turns 23.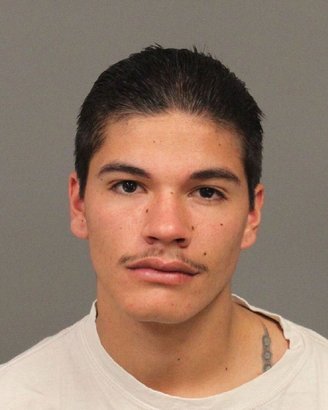 During a two-day "transfer" hearing on the issue, defense attorney Andrea Sullivan argued Olivo III acted under orders from his father, Joe Daniel Olivo II, a member of the Mexican Mafia prison gang. Olivo II and gang member Mario Nunez were present when Garcia was stabbed.
"If my client did not participate he would have died," Sullivan said. "His father would have killed him."
But Deputy District Attorney Brent Kling said the killing was just a milestone in Olivo III's "entrenched" gang lifestyle, a lifestyle he chose. Olivo III told no-one he feared his father or was being controlled by him, Kling said.
Garcia was stabbed to death on Dec. 17, 2014, while hiding out in a Eureka apartment. He had made the fatal mistake of telling people that Olivo III requested protective custody while in Juvenile Hall, and he feared the repercussions. He was found on a lawn on 15th Street, gasping his last breath. He had lain there all night in the rain.
Garcia's alleged killer was born in jail on Dec. 7, 1997, in San Luis Obispo County. It's unclear when the family moved to Humboldt. But according to testimony during the hearing, there were 10 referrals to child welfare services for possible child abuse — eight when Olivo III was a toddler and two when he was a teen. He claims he was "jumped" into a gang at the unheard-of age of 6 or 7. He was 14 when first placed on probation in Humboldt County, and he has been in probation most of the time since.
Juvenile Probation Officer Patrina Fennell testified Olivo was first placed on an informal contract with probation in April 2012. Because of misbehavior the contract was revoked. He was placed on probation, but violated it in April 2013 after "absconding" from his mother's home. He was released back to his mother, this time wearing an ankle monitor.
In a couple of months "he cut off the ankle monitor," Fennell said. "He just couldn't handle being in the house anymore."
Caught and placed back in Juvenile Hall, Olivo III escaped.
"He scaled a fence and then ran," Fennell recalled.
A few weeks later he etched gang graffiti on his cell door: "Oceano Sureno 13'' and "Southside Till We Die and Heaven We Go."
A gang expert testified during the hearing that Oceano 13 is a San Luis Obispo chapter of the Sureno gang. Southside is a general reference to Southern California gangs.
Olivo III was transferred to a wing of Juvenile Hall known as the regional facility, which provides more intensive services. He graduated from there and completed at least part of the "New Horizons" program, which provided anger management classes, life-skills classes and counseling.
Olivo III kept a picture of his father in his room, and was looking forward to his dad being released from Pelican Bay State Prison. He seemed proud of his dad's muscular appearance.
In March 2014 Olivo II was paroled to Eureka. Not much good happened after that.
Probation Officer Barbara Boerger testified Olivo III left his mother's home and started staying with his girlfriend. One night he was found in a motel room with his dad. On March 14, 2014, he was caught on video stealing butane canisters from a local gas station mini-mart.
About this time Olivo III's mother decided to move out of the area. Boerger said Olivo III had problems with local kids affiliated with rival gangs, and he was eager to leave so he "wouldn't be running into old friends or foes."
"He was going to live with his grandmother, go to school, work in a business, get on a new path," Boerger recalled.
At the time, she was optimistic about his chances.
"I thought he had a high potential for success," she said. "He had skills. I had seen him make good decisions."
In the summer of 2014 the family moved to Sacramento. But Olivo III ended up near San Luis Obispo with his paternal grandparents when his mother signed over guardianship because she couldn't handle him anymore.
Olivo III is a handsome young man with a wide and ready smile. He even grinned at the probation officers who came to court to testify for the prosecution.
One of those was Probation Officer Jennifer Frame, who took over Olivo III's case in San Luis Obispo in May 2014. He violated probation in July, October and November. He kept testing positive for meth and marijuana, Frame testified. He was usually in possession of gang-related art. (By all accounts Olivo III is a talented artist who does intricate work.) He was photographed at school making a gang sign. He tried to buy a gun from another gang member. He was ordered to stay away from another probationer, "Rose," but instead got her pregnant.
Olivo III now has a young son. His name wasn't mentioned during the hearing.
Frame said Olivo III was ordered several times to get counseling and participate in a drug and alcohol program. He attended one counseling session and never went back, she said. He ended up, after months of refusing orders, being involved in drug treatment "for 20 days."
It was Frame who Olivo III told that he had been jumped into a gang at age 6 or 7.
"I could have gone free but I didn't want to," he reportedly said. When Frame asked why he kept breaking the law, he said "This is my life and the life that I chose." He was 16 at the time.
It's a mystery how Olivo III could have been initiated into a gang at age 6 or 7. One gang expert testified that being jumped in involves either being beaten up by a group of people or doing some "work" for the gang.
Probation Officer Tony Verdugo, an expert on Southern California gangs, testified he had never heard of a child so young joining a gang.
"But based on my knowledge of the Olivo family, it would not surprise me."
Both Frame and Verdugo said the Olivo name is infamous in their area.
In December 2014 Olivo III told someone "the Jefe" (his father) was going to bring him to Eureka.
After the fatal stabbing, Olivo III returned to San Luis Obispo. He was arrested at a Boys and Girls Club there in February 2016, after the Eureka Police Department completed its investigation of Garcia's murder and issued warrants for both Olivos and Nunez. Olivo II and Nunez were already in state prison on other charges when arrested.
Olivo III has now been in Humboldt County Correctional Facility for a little more than two years, and he apparently has done very well. According to testimony he has taken advantage of every program available and has never failed to miss a presentation by a motivational speaker. He dreams of working with kids who grew up as he did.
At least two people from the jail are so fond of him, they volunteered to testify in his behalf. They call him Baby Olivo.
Jail volunteer Laura Montagna described Olivo as a "wonderful artist," and she brought to court a drawing he did about a month ago. The drawing includes a cross and the words "Father forgive me for I have sinned." A man sitting on a cot holds a crucifix in his hand. The Grim Reaper is there, and an hourglass.
"The cross has some writing in it," Montagna said, and she asked to read it in court. Olivo III had written a poem about all the things he is grateful for. "Grateful for life, grateful for rebirth, grateful to live, and to live joyously on the Earth," among many others.
Defense attorney Sullivan asked Montagna for her thoughts on Olivo. Does she have a high opinion?
"Yes," she said. "I wanted these papers to be seen. I think this young man has worked very hard. He has an amazing plan to make the world a better place for kids in his situation."
Then, prosecutor Kling began his cross-examination.
"Do you have any experience with gang undertones or gang symbols in artwork?"
"No."
Kling proceeded to point out the number 13 in Roman numerals. The man in the sketch has three dots in a triangular pattern tattooed on his elbow, identical to the three dots on Olivo III's elbow. There is a reference to "Sito," apparently short for Osito, which is one of his gang nicknames. In addition to "Father forgive me for I have sinned," Olivo III also penned the phrases "Fuck the police" and "No regrets."
Montagna looked chagrined, and Sullivan asked whether Olivo's gang association changes her opinion of him.
"Nope," she said, "because I know he's a good person who didn't get a fair shake in the beginning."
Another witness from the jail was programs coordinator Vanessa Vrtiak, who said Olivo has participated "in everything I've ever done."
That includes motivation-enhancement therapy, moral recognition therapy and art therapy.
"Has he had any behavior problems?" Sullivan asked.
"Absolutely not," Vrtiak said. "He's incredibly empathetic and loving, vulnerable, open, compassionate, a leader in the groups."
Vrtiak said Olivo had told her he was raised in a home where he was exposed to a lot of drugs, alcohol and violence.
"He was encouraged to be violent and careless."
Olivo described his father, the man he once was proud of, as "an active gang member for a long time, and that he's violent and and has been very disruptive to our community."
Kling asked Vrtiak whether it might change her mind if she knew Olivo III is charged with first-degree murder.
"Absolutely not."
"Do you know that Osito is his gang name?"
"I imagine it's because he looks like a bear."
"Who else have you testified for?"
"This is the first one, because I believe adamantly that he deserves the right to be a father, to come back to our community and be rehabilitated."
Sullivan's defense is that Olivo III was forced to participate in Garcia's killing by his father, and she asked every witness about what he'd said about his dad. One witness was John Hinely, a criminal defense attorney who spent 14 years as a correctional officer in California state prisons. Most of that time he was gathering intelligence on gangs.
In gang culture, Hinely said, the father is dominant and the son submissive.
Sullivan asked what would have happened if Olivo III hadn't participated in Garcia's slaying.
"He would have been murdered."
"Couldn't he have just opted out?"
"Not unless he wanted to die."
As to Olivo III's claim that he was jumped into a gang when he was as young as 6, Hinely said he wouldn't have dared lie about that.
"That's a death sentence," he said. "You don't (falsely) claim membership."
During cross-examination, Kling pointed out that as early as 2013, Olivo III was creating artwork featuring "Oceano" and "Southside till we die."
"Does that mean he's a Sureno until death?"
"Yes."
Kling asked about the piece of art done in the jail just a month ago, depicting the Sureno tattoo on the man's elbow.
"Would it be in somebody's best interest to create art like this if they were not affiliated with the Sureno gang?"
"No."
Hinely went on to say the drawing needs to be viewed in "totality." There are some gang features, he said, but "No regrets," for example, portrays an individual "who is now recognizing that he is sitting in prison for the rest of his life."
Most witnesses said, somewhat tentatively, that it's possible Olivo III could succeed if released from custody in as little as 18 months.
"Anything's possible," Probation Officer Boerger allowed.
Dr. Michael Ramirez, the clinical psychologist who evaluated Olivo III in late 2017, said the prognosis is "guarded to good," depending on whether Olivo III takes advantage of extensive social services and counseling, including in anger management and parenting. Ramirez also stated in his report, however, that Olivo III might be good at "bluffing or outwitting" those in charge of him, and he also is highly inclined to escape.
During closing arguments, Sullivan pleaded with Judge Feeney not to "lock him up and throw away the key."
"The idea that my client wasn't under the influence of his father is laughable," Sullivan said. At the time of the crime Olivo III was "closer to 16 than 18," and his brain was still developing. As to being jumped into a gang as a young child, "he had no choice."
Olivo III wept as his attorney said he should be given a chance to succeed. He used his orange jumpsuit to dab the tears.
"Don't punish him for the sins of his mother and the sins of his father,'' Sullivan said. "We have to draw a line. Children are different from adults. He was cultivated into a gang life."
Sullivan reiterated that if her client had not participated in the deadly knifing, "his father would have killed him."
But Kling argued that if Garcia's "up close and personal" killing had happened just 350 days later, there would be no question about Olivo III being tried in adult court.
And it's absurd, Kling said, to claim Olivo II "was the driving force behind his criminal behavior."
The entire time Olivo III was rampantly breaking the law in San Luis Obispo, Kling said, his father was in Pelican Bay State Prison. Yet he continued to flout authority. He accumulated three probation violations in Humboldt and four in San Luis Obispo.
"He continued to associate with gang members," Kling said. "He tried to buy a gun from a gang member."
Kling pointed out that Olivo III has not been diagnosed with major psychological problems and in fact is "a smart, intelligent capable human being who is capable of choosing between right and wrong."
Probation departments in both counties "went to great lengths" in providing Olivo III with counseling and services, the prosecutor said. Yet he continued to pursue a life of crime. He quoted Olivo III's statements that "I have could have gone free" and "This is the life I chose."
"What we have here is a series of choices that he continued to make," Kling said. "He's a 20-year-old man who has constantly claimed membership, loyalty and participation in a street gang … Mr. Olivo III has engaged in adult behavior, has continued to make adult choices and should be tried in adult court."
Kling pointed out that if convicted in Juvenile Court, he'd be incarcerated for 18 months before the state loses jurisdiction.
"He cannot be rehabilitated in such a short time," Kling argued. "He's had successes, but all in an adult facility."
Feeney is expected to issue his ruling next week.
###
PREVIOUSLY: